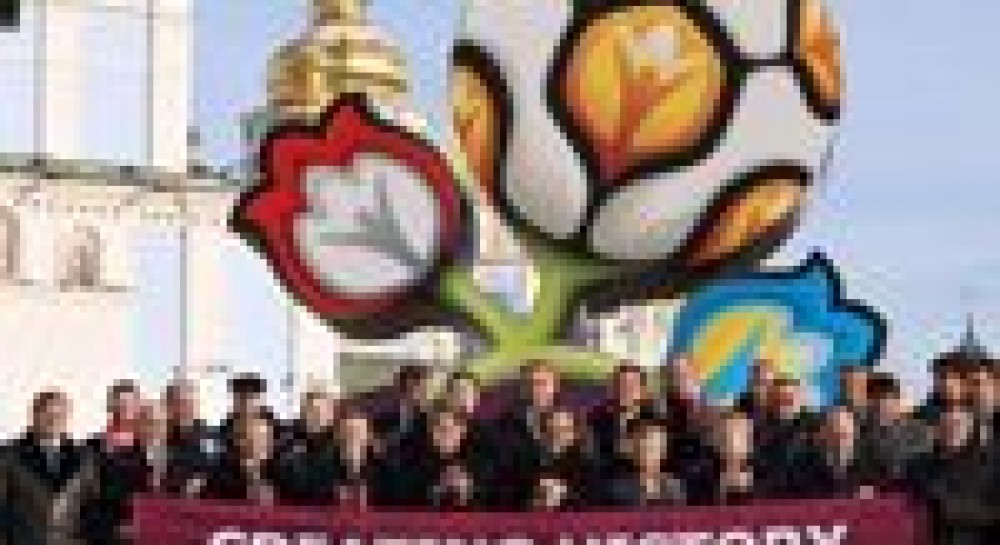 Euro 2012 Special: Ukraine Have Made Huge Progress, But There's Just 600 Hotel Rooms In Semi-Final Venue Donetsk
Goal.com`s Marcus Haydon has been investigating the progress made by Euro 2012 co-hosts Poland and Ukraine, and is pleased to announce some major, if not decisive, advances by the latter...
It's fair to presume that a rather large sigh of relief could be heard from Ukraine when, in December, the UEFA Executive Committee announced that EURO 2012 would have four host cities from both Poland and Ukraine, according to Goal.com.
UEFA would certainly have been hoping that such a confirmation could have been issued months earlier – preferably without the need to issue numerous public reproaches – but given the habitual sluggishness of the Ukrainian authorities in pushing through funding for crucial construction projects, UEFA was left with little alternative but to issue a number of ultimatums, and set a December deadline for concrete evidence of progress.
The issue for Ukraine has not been in the development of four top-class stadiums, but more in convincing UEFA that sufficient progress is being made with regards to improvements to infrastructure such as roads, airports and hotels. Bureaucratic disorganisation is nothing new in the former Soviet Union, but combine that with the debilitating effects of the recent global recession, and Ukraine's label as an already risky choice as joint host has teetered on the brink of worsening as the government has perpetually struggled to muster the finance and organisation necessary to get projects off the ground.
Aside from planning issues delaying construction of its stadium, the capital Kiev is the only city amongst the four in Ukraine which hasn't had severe questions asked about its suitability. The eastern cities of Kharkiv and Donetsk have had serious problems improving infrastructure and increasing the number of hotel rooms available. While the more developed western city of Lviv has hotels, but has dragged its feet in getting the local airport extended.
"In September, we had to reserve our opinion on three of the four candidate cities in Ukraine – considerable progress needed to be made," said UEFA President, Michel Platini, after the announcement in December. "I can say to you that today, thanks to the enormous efforts and great sacrifices undertaken by the Ukrainian government, we can finally give the green light to a symmetrical tournament with four cities in Poland – Warsaw, Wroclaw, Poznan and Gdansk – and four cities in Ukraine – Kiev, Lviv, Kharkiv and Donetsk. The final will take place in Kiev."
Even taking into account the progress that has been made, a visit to either Kharkiv or Donetsk today will leave you struck by the dearth in the numbers of hotels available. For instance, in Donetsk, less than 600 hotel rooms exist in a city which is due to host a EURO 2012 semi-final in a gleaming new stadium which seats 50,000. UEFA alone require 40 hotels rooms to accommodate their officials, and each competing team will use a minimum of 60 rooms. It's no surprise then that the local authorities have been looking to convince UEFA of the feasibility of bussing fans to surrounding cities after matches in search of beds to sleep in.
Amongst all the prattle regarding Ukraine's preparations, little space has been reserved to highlight the progress achieved by their Polish compatriots. Having already benefitted from considerable developmental funding since joining the European Union in 2004, Poland has had significantly less work to do to prepare for the tournament. Consequently, it was in the position to offer six capable host cities should Ukraine not have been capable of fulfilling UEFA's requirements. Indeed, such is the strength of the Polish portfolio that the southern city of Krakow, one of the most established tourist destinations in Eastern Europe, and home to one the country's top clubs, Wisla Krakow, was left unutilised on the reserve list.
"The work is not finished," Platini added. "UEFA experts will obviously continue to accompany the two countries towards the final tournament. The decision of the Executive Committee was unanimous. We have confidence in Poland and Ukraine."
Confidence he may have, but given the amount of progress still required by the hosts, Platini may well be joining the Ukrainians in that sigh of relief should everything be ready when the tournament kicks off in the summer of 2012.
If you see a spelling error on our site, select it and press Ctrl+Enter