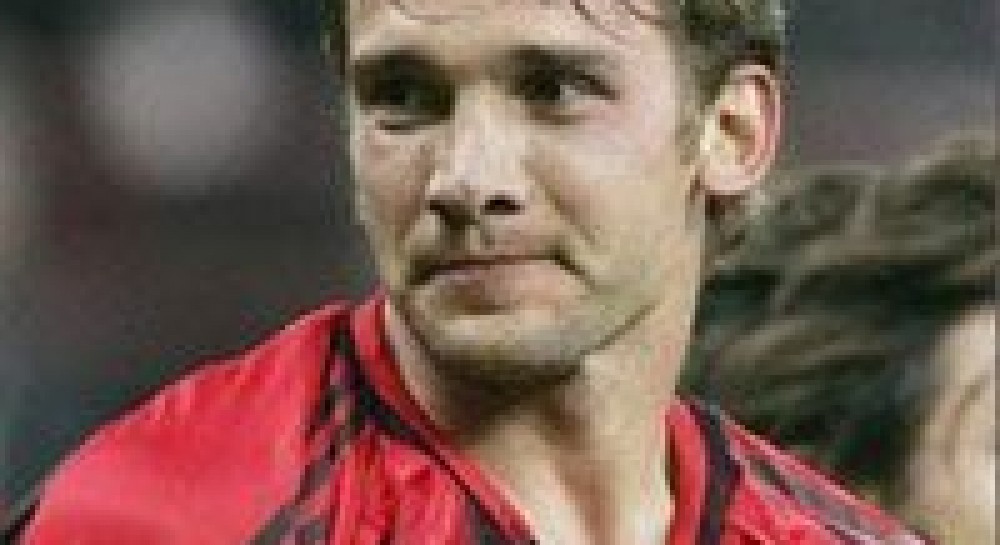 Andriy Shevchenko: the burden of a nation`s hopes
18:44, 06 June 2006
4 min.
10350
Shevchenko has been carrying that burden for some time. In spite of the rise to power of Ukraine`s president, Viktor Yushchenko, the AC Milan forward is easily the world`s most famous Ukrainian, and the fact that he shares a surname with Ukraine`s greatest poet only strengthens the perception of him as the modern figurehead of his nation.
At the start of PE lessons in Ukraine, pupils would be required to line up from shortest to tallest so they could be divided into teams of equal physique. Lidiya Serenko taught maths, but she remembers in the late 1980s the exasperation of her school`s PE teacher at one particular student. He was of only average height, but he would insist on pushing to the head of the queue.
What did height matter, he would ask, when he was so clearly better at sport than the rest of the class. That pupil was Andriy Shevchenko, and almost two decades on, he will carry the hopes of his nation at the World Cup.
Shevchenko has been carrying that burden for some time. In spite of the rise to power of Ukraine`s president, Viktor Yushchenko, the AC Milan forward is easily the world`s most famous Ukrainian, and the fact that he shares a surname with Ukraine`s greatest poet only strengthens the perception of him as the modern figurehead of his nation.
Even his place of birth, the village of Dvirkivshchyna, locates him in the national tradition. Taras Shevchenko wrote of the "wide-brimmed steppes" of his "beloved Ukraine", awakening a nationalism that embraced the landscape as he celebrated the rolling hills and the villages, the ponds and the rivers that are typical of Ukraine`s vast central plain. Dvirkivshchyna lies in the middle of it, 60 miles east of Kiev, some way off the main road to Kharkov.
His parents, Mykola Hryhorovych and Lyubov Mykolayivna, both grew up there, but they moved away for 10 years when Mykola, an ensign in a tank regiment in the Soviet Army, was posted to East Germany. Andriy`s elder sister, Olena, was born in Germany, but the Shevchenkos returned home before the birth of their son.
Quick, good in the air and a clinical finisher, he has developed into probably the most complete centre-forward since Marco van Basten, the Dutch striker turned coach. But for a long time young Andriy was a disappointment to his father.
"I was never a football fan," Mykola told me when I met him in Kiev. "I dreamt that my son would become a military man like me. He probably got it from my father Hryhoriy. He was just as skilful and lively. You should have seen him dance: the whole village would come running to watch."
Andriy, though, was always devoted to football. "I don`t think he ever walked," said his mother. "From about 10 months old he was running all over the place." Dribbling soon followed.
"We once sat down and tried to remember who had first brought a ball to the house and given it to Andriy," his uncle Volodymyr said. "It seems to me that he began to kick a ball even before he was walking."
He was only two when he picked up his first football injury. "I remember going to visit," Volodymyr said, "and he was sitting there with a bandaged head. He`d gone chasing a ball into the kitchen and ran into the door of the stove. After that I only ever saw him with a ball. He would be out in the yard the whole time thrashing a ball against the wall of the drying-house."
When Shevchenko was three, his father, because of his military status, was offered an apartment in a new five-storey block in Kiev. An absence of fields to run in, though, did not dim  Shevchenko`s appetite for the game.
"All day long, Andriy would disappear to the waste ground behind the  school," his mother remembers.
"He would come home dirty and covered in scratches, but telling everybody proudly that he`d scored three goals. We would scold him and tell him that we couldn`t afford to buy him new boots every month, but he was prepared to play barefoot.
"There was once when he broke his hand, but even the next day he was desperate to get back playing. That was when we understood that we`d  never kill the footballer in our son."
Games were arranged between the local housing associations, and it was during one of them, when Shevchenko was nine, that he was spotted by Oleksandr Shpakov, the head of Dynamo Kiev`s youth academy.
"He was playing as a defensive midfielder," he said, "but he had one great feature: wherever the ball was, whether his side were attacking or defending, he would be there. I liked him for that, and that was why I invited him to join my squad at the Dynamo school."
Mykola, though, was concerned that all the time spent playing football was impinging on Andriy`s schoolwork, which in turn might harm his chances of being accepted into the army. "I would punish him - forbid him to go to training and shut him in his room," he said. "It helped a bit, but we lived on the first floor, so he`d often just climb through the window and run away. You`d turn away for a second and he`d be out there on the pitch."
Only when Shpakov agreed to discipline his son if his grades slipped did Mykola sign the consent forms to allow him to join Dynamo.
Almost immediately, they ran into problems as large numbers of children were evacuated from Kiev following the explosion at the Chernobyl nuclear power station.
"The Dynamo school was unable to move all of its pupils away from Kiev," Shpakov explained. "So we met the parents of some of the younger ones, explained the situation and agreed that training would restart after people had returned to the city.
"I`ll never forget what we had to do to get Andriy back. His father wanted him to go into the army, and didn`t think that football was a proper career for him.
"I managed to convince him that even if Andriy wasn`t going to become a footballer, the training would help his general physical development and self-discipline and would be useful preparation for entering a military institute. I hope neither father nor son will be angry with me now for this trick."
On the contrary, the whole of Ukraine has reason to be grateful. He progressed rapidly through the youth teams, making his international debut against Croatia in March 1995 when he was only 18.
Those were bleak times for Ukrainian football, as the national team finished fourth - behind even Lithuania - in their qualifying group for Euro 96, and got through three coaches in the space of six months.
With Shevchenko at the head of a highly-talented generation of players -  and the great Valeriy Lobanovskyi back from his sinecure in Kuwait to  coach them with both country and club - Ukrainian football rose.
Dynamo twice held two-goal leads before succumbing to Bayern Munich in  the Champions League semi-final in 1999, while the national side made a  similar specialty of failing at the last.
They lost to Croatia - who eventually finished third - in a play-off to reach the World Cup in 1998, and then to Slovenia in a play-off to qualify for Euro 2000. Four years ago, Germany denied them in another play-off.
This time, though, thanks to the development of a younger generation, they made it, topping a tough qualifying group that also included Greece, Turkey and Denmark. Their coach, Oleh Blokhin, is right to point out that Ukraine is not a one-man team.
But there is no doubt it is to Shevchenko they will be looking for inspiration - and goals.
His father once drove tanks in Germany; he will be looking to provide a different kind of firepower.
The article was monitored by The Action Ukraine Report (AUR) Monitoring Service, Morgan Williams, Editor.
By Jonathan Wilson, Financial Times

London, United Kingdom, Monday, June 5 2006
If you see a spelling error on our site, select it and press Ctrl+Enter