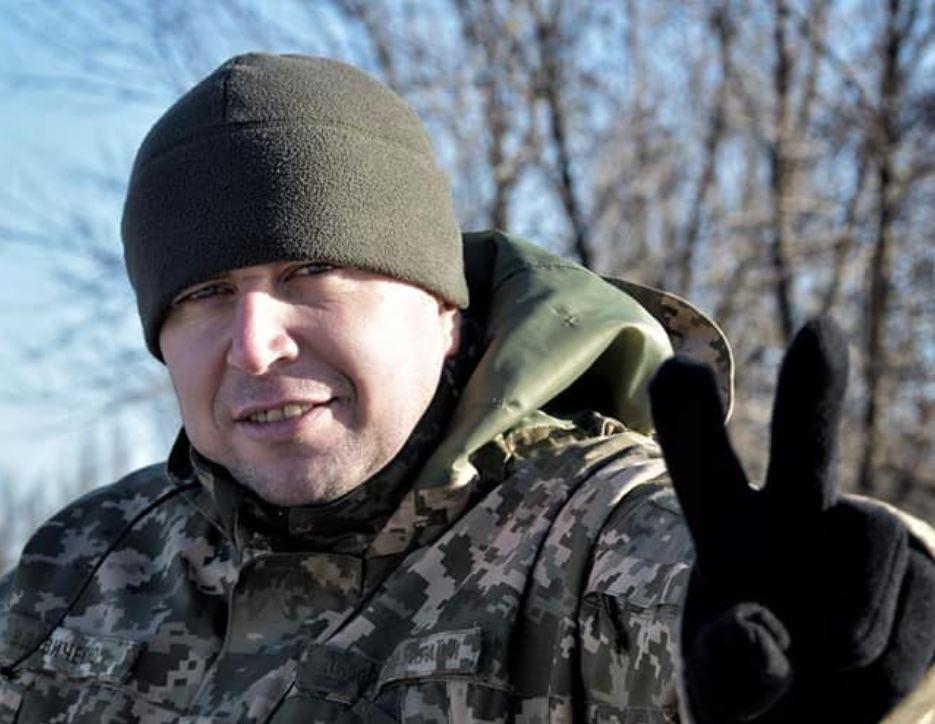 Former battalion commander with 72nd Brigade Oleksandr Vdovichenko: My first thought in Avdiyivka was: "I guess I'm going to die here"
17:50, 27.01.2020
7 min.
17121
Interview
Former battalion commander with the 72nd separate mechanized brigade, chief of staff of the 28th Brigade, Lieutenant Colonel Oleksandr Vdovichenko (callsign "Slavian") sat down with UNIAN to tell about his troops forcing militants in Donbas to retreat, repelling the attacks of the "elite" DPR troops, preventing an offensive on Avdiyivka with the help of journalists and photos of tanks, surviving and following his "don't die" order.
Many battles in the Donbas warzone can be called a symbol of resilience and courage of Ukrainian military, who have been fighting to death for every piece of Ukrainian land.
Avdiyivka, a town just 10 km from Donetsk, was liberated in July 2014, but hostilities nearby and enemy shelling in its residential quarters never subsided. After such shelling in January 2015, local residents were left without heat, electricity, and water supplies for weeks.
At the beginning of 2016, battles for the industrial zone near Avdiyivka have intensified. Control over this "gray zone" allowed ensuring safety to the locals and gaining control of the Donetsk-Luhansk and Debaltseve-Horlivka motorways. Confrontation climaxed in the fall of that year and lasted until the spring of 2017. The enemy heavily engaged Ukrainian troops with weapons proscribed by the Minsk agreements. Several times the militants stormed the industrial zone, but their offensive efforts were repulsed, while Ukrainian forces advanced and gained better positions.
In those battles, the 72nd Separate Mechanized Brigade played a really important role, holding ground in Avdiyivka for 375 days and nights. Six fighters were awarded Bohdan Khmelnytsky orders (including one posthumously). The order of courage was awarded to 20 fighters (seven posthumously). Lieutenant Vasyl Tarasiuk and Captain Andriy Kizilo (posthumously) were awarded the title of Hero of Ukraine.
Oleksandr Vdovichenko (call sign "Slavian"), a former battalion commander and now chief of staff with the 28th Brigade, told UNIAN how his fighters forced the militant grouping led by an infamous warlord Givi (who was later assassinated in Donetsk) to retreat, repelled the attacks of the "elite" DPR troops, and prevented an attack using photos of their tanks as a decoy, survived, and complied with their commander's order: "Don't die!"
Tell us about the first days at Avdiyivka's industrial zone.
We deployed in the Avdiyivka industrial zone in October 2016, and on the very first day, we came under enemy fire. Before that, we had not been involved in the ATO for six months, working with NATO instructors at a training ground, then we were held in reserve, based in the rear of Donetsk region. And my first thought in Avdiyivka was: "I guess I'm going to die here."
It was really scary. First, we came under mortar fire. Everyone rushed into the basement and just waited. As we were moving along our positions, we came under machine gunfire. We ducked and lay there with our chief of recon, and after a few minutes I said to him: "Actually, it's not scary anymore." And he went: "it's alright, you'll get used to it."
At that time, shelling never stopped. While artillery could be silent during daytime, automatic "chatter" did not subside, it was constant. When the first frost hit, the leaves fell from the trees and we were at the enemy's plain sight. There were no trenches at all. There were perhaps just two of them throughout the industrial zone. So we began to dig in order to survive.
I will say that we were pretty well supplied at that time already. What we lacked was camouflage nets, thermal imagers, and generators ... But volunteers would bring this, too.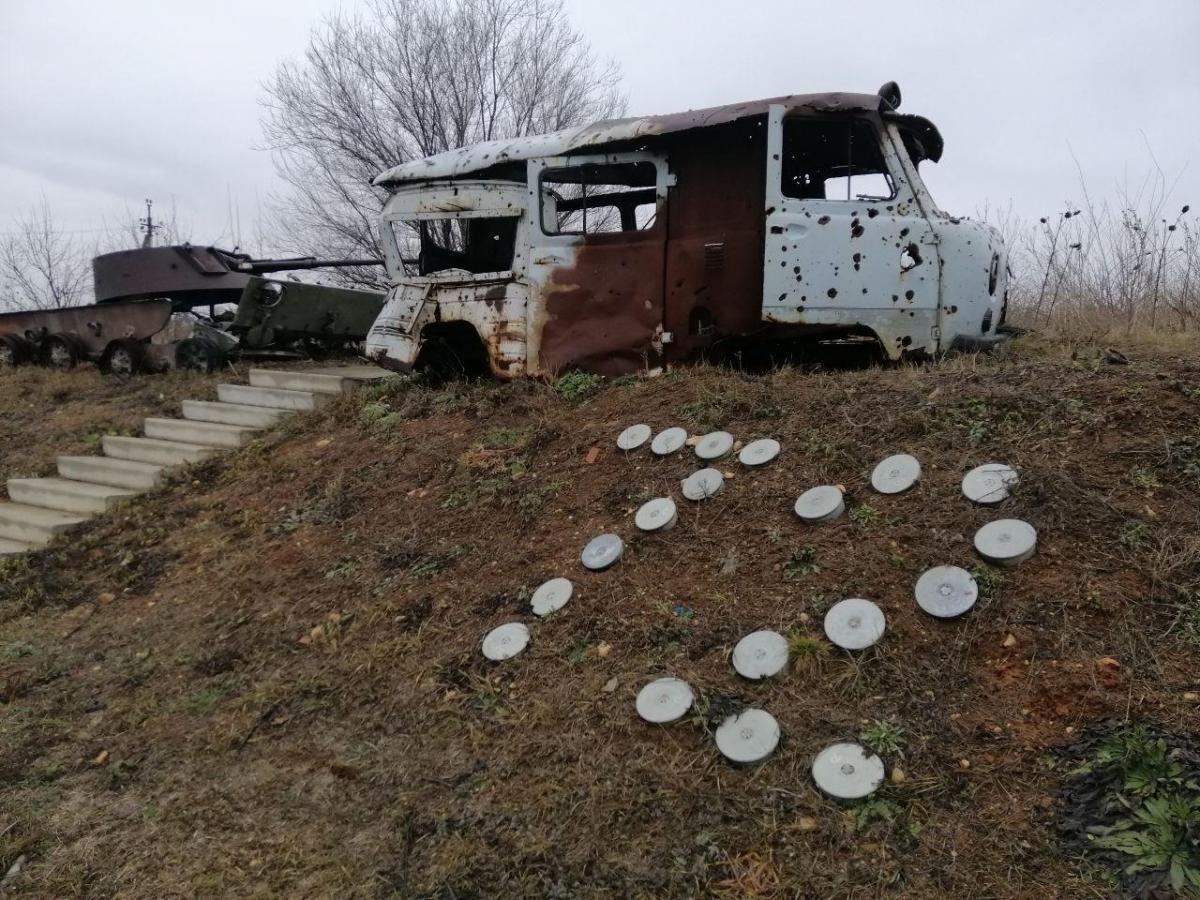 The troops with the 72nd brigade deployed in the Avdiyivka industrial zone in October 2016 and immediately came under fire / A memorial at the entrance to the Avdiyivka industrial zone / UNIAN
When did the militants go for an offensive?
Three days later, we changed positions and the airborne assault unit came in, and that's when I took command of the area and that very evening we got intercepted enemy communications. "Sparrow", the commander of the reconnaissance platoon of the Somali battalion, wrote to Givi: "Man, we are in position, ready for the assault." The response was: "Wait, let the artillery work a bit more." We could not understand where exactly they would strike ... But time passed, and from the forefront, our "Romeo" and "Dragon" report: the enemy is around them. The enemy started to try and penetrate so we repelled their offensive with grenades.
Then we had three of our men wounded. The enemy also suffered losses, but they were ready for this and did not retreat. In intercepted comms we heard Givi commands: "Take them alive."
I sent in a reserve group, but their artillery worked so hard that we could not approach those positions, we could not even get out of our command post. I just didn't know what to do. And then for the first time I gave the command to open fire at the enemy, practically next to our positions.There were basements, I drove everyone there and wrote to the commander of our mortar battery: "Eugene, please, don't hit our men… "And he dropped about forty mines on those bastards.
Thank God, we suffered no losses, while they had seven or eight KIAs. But Givi was only pumped up by those losses. He deployed the reserve and began to prepare for a new assault. And only after our artillery hit his command post and he was injured, he ordered to retreat.
We asked the JCCC (Joint Center for Monitoring and Coordinating Ceasefire and Stabilization of the Contact Line) to evacuate the wounded but they didn't hear us...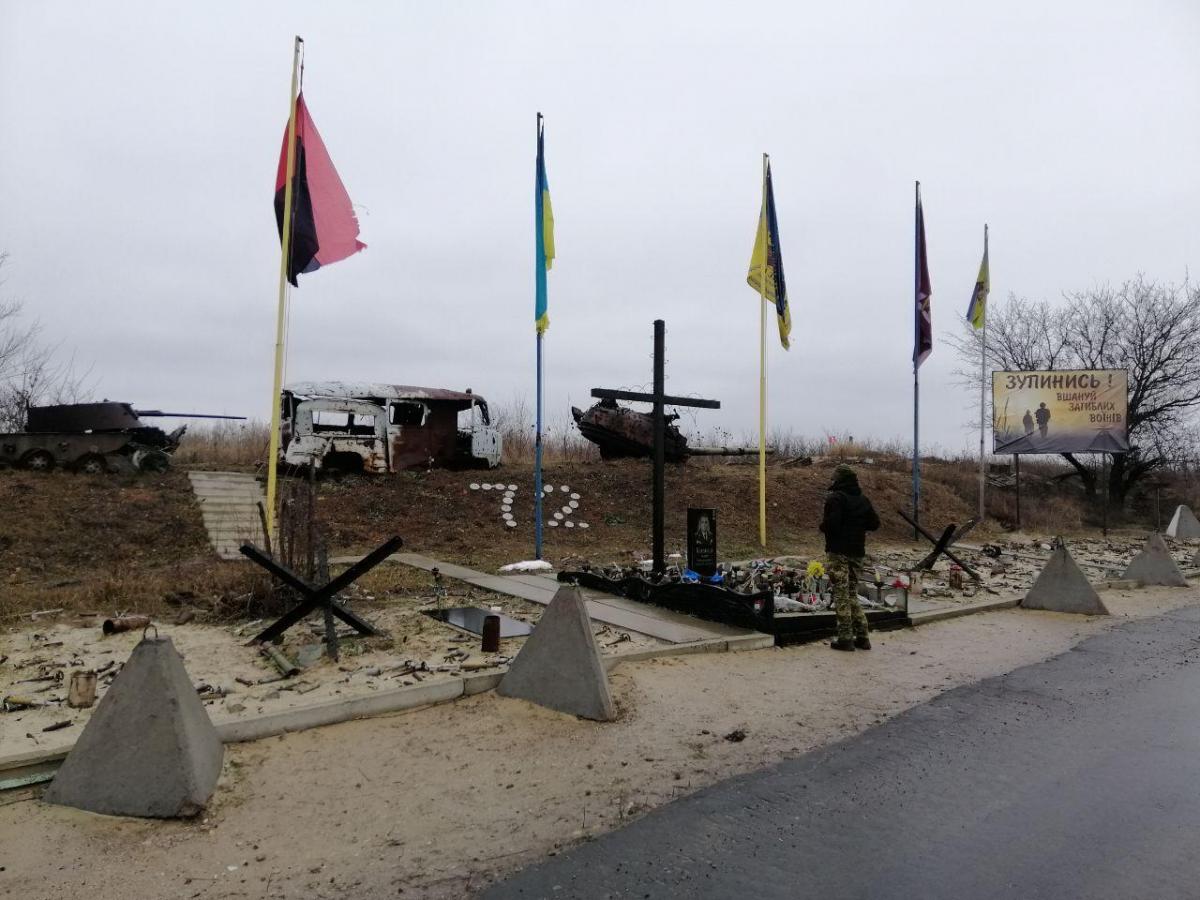 Vdovichenko recalled how his brigade got into a battle with "Somalia" grouping / a memorial at the entrance to Avdiyivka's industrial zone / UNIAN
And how did further battles unfold?
The next day we reviewed the defense system and strengthened it. We planted more MON-50s (anti-personnel mines), stocked up on grenades and all we had at disposal. We realized that there is only one way out: it's either we or they. It became clear that if we didn't open fire, we would be dead. So we hit them with everything we had – mortars, tanks, IFVs... The order to open fire was: "Death to Novorossiya."
Day after day, the industrial zone was practically bleeding, but we managed to stabilize the frontline in an incredible effort. At first we were in a semi-encirclement, but gradually we advanced along the flanks and deployed a "horseshoe" towards the enemy. Givi realized that he was finished so he retreated to be replaced by the "Vostok Battalion".
We survived. And we had no losses for a long time... But in three weeks we had one of our men killed.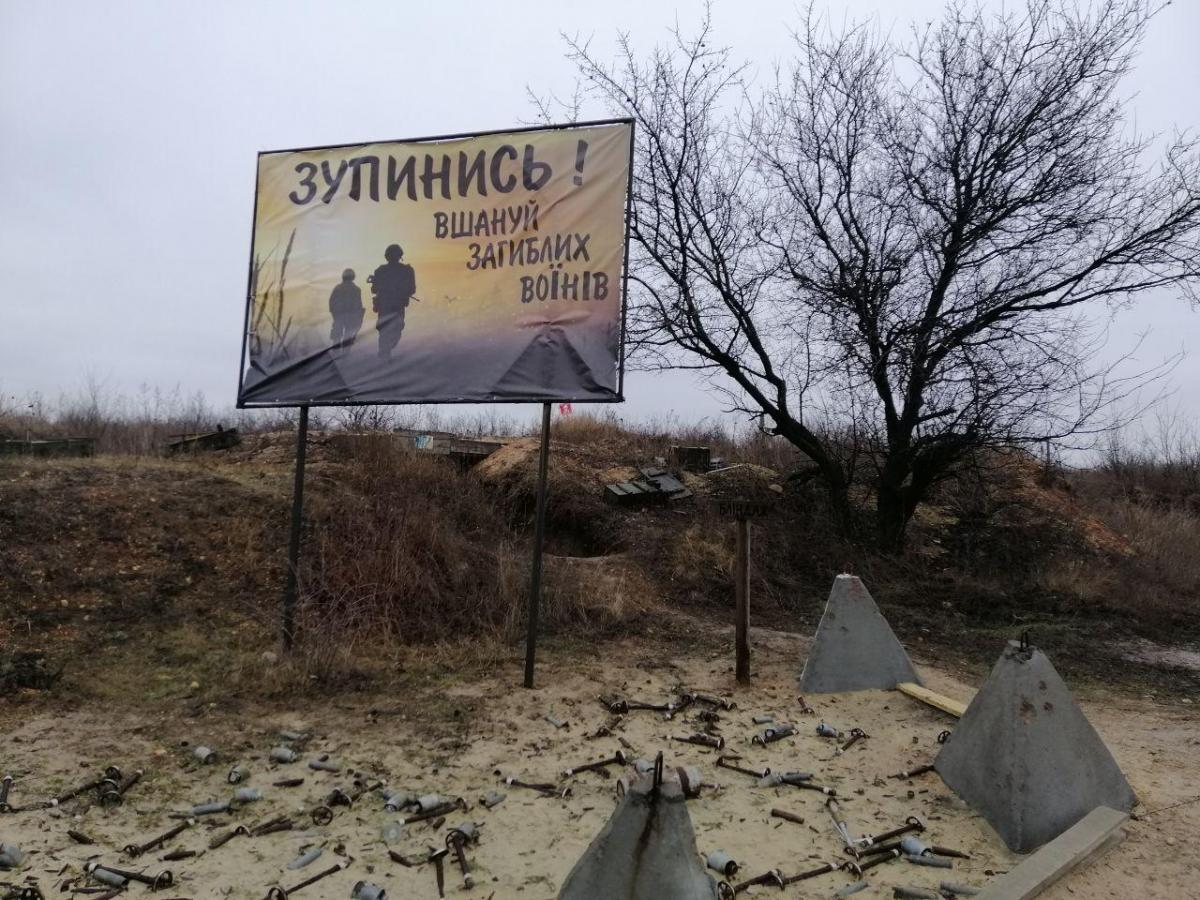 The ex-battalion commander recalls: during the days of the battles, the industrial zone literally bled to death / a memorial at the entrance to the Avdiyivka industrial zone / UNIAN
I tell everyone that I was in command of the best people. They could do everything. All of the "DPR" and the Russian Federation were against us. In February 2017, battles were ongoing from morning to night hours. Artillery fire never stopped. We once had no sleep in five days. It was freezing, but there was no trace of snow – everything was black at our positions. Some say: "The shell will not hit the same spot twice." Not true. It does, two, three, and four times. Everything was plowed. Everything was drenched in blood. And no one was originally going to fight like that for this piece of land. But after our guys were killed, it became a matter of principle.
It was like in those movies about Stalingrad. We would bring 16 men to the positions in the morning only to take them back out during the day. Volunteers also went to the positions: cooks, artillerymen, tankers. There was a doctor in the second company, callsign "Seagull", a nice, positive guy. Shelling began at the Almaz position, and at some point, he took over command and managed things no worse than some officer. The whole team was fighting for this piece of land, the position later renamed in honor of my late deputy Andriy Kizilo callsign "Eagle".
But the militants weren't giving up. They shelled Avdiyivka with "Grad" missiles and used heavy artillery. There was a time when the evacuation began, our forces were getting ready to retreat from the city ... But we put two tanks at the "nines" (nine-story buildings on the outskirts of the city), where journalists could take pictures of them. And so came news reports: "Ukraine Army is ready for an offensive. There is no ceasefire deal." And the enemy abandoned their offensive plans. That's how we tricked them. We survived.
What was the hardest moment for you back then?
Once I was called to the headquarters to get awards for my men. I took several dozen orders in Kyiv to take to the battalion. I called my chief of staff: "Tomorrow I'm going to greet my men, so tell me who's where." I come to him next morning and several boxes with rewards are still on his table. I exploded: "What the hell? Why didn't you complete the task?" He said, "There is nobody to reward ... " It turned out that some of them was killed and the rest were injured. At that moment I wish I were dead...
Then a tough truce began. In the spring, three of our men were killed in mortar shelling. Then a direct hit to a dugout – and another two KIAs. I almost lost it. I gave the order: "Don't die" and told them to make sure everyone heard that order...
You know what was my biggest reward? At the Eagle position we once came under mortar fire. A soldier was injured when he covered me from a fragment hit with his body. I yelled at him: "What are you doing?" He said, "If you're killed, then we're all finished." Two times my soldiers covered me. I think there can be no better reward. All who participated in those fierce battles are heroes. Legends were born there that are now defending the country. I had the honor of commanding the best people.
Deputy Brigade Commander Andriy Kizilo died defending Avdiyivka / a memorial at the entrance to Avdiyivka's industrial zone / UNIAN
Did you talk with POWs then? And what did the militants say about you?
They [militants] loathed and feared us.
We were so bad we could launch 40 mines in response to a single gun burst in our direction. They were just waiting for us to go for a rotation. And when we were leaving, they didn't fire a single shot at us.
I talked with prisoners in 2014-2017, and every year their faith in victory was becoming stronger and stronger. This is not the case with us. The war divided our country into two parts. The ATO or JFO is interesting to those who are in the ATO and to a small part of the country. The rest are weary. And in the news we hear all the time: "A veteran killed someone", "A veteran is a suspect", " A grenade was found", crap like that... And no one cares where you fought, how you fought, and if you have a PTSD… Nobody tells anyone how we fought and how we survived. Right now we have a truce, but day after day there are new losses. It seems as if there are no battles but another sniper shot and there goes another "200" (KIA, killed in action).
I wrote a book about how we fought, to let people know about the heroes… I don't want to talk about what is happening now in the Army, I am an officer with the Armed Forces, my task is to defend the country and follow orders. But who is Lieutenant Colonel Vdovichenko now? One of the hundreds of lieutenant colonels. But who was battalion commander, lieutenant colonel Vdovichenko back then? A man followed by hundreds of best fighters, without hesitation, into fiercest battles. Something like this...
Many times in Avdiyivka I wanted to die, I was looking for that death, but it never came by... But I reconsidered my life. A year ago, my wife gave me a son, my little Sasha! Now I want to live as long as possible. I have drawn conclusions. There are things that we can't change, we can only change our attitude towards them. I learned to let go of situations and people. Whoever's with me I'm glad to have them around, and whoever's not – I'm not trying to change anyone and I don't want to understand anyone. In one film, I heard: "Everything always ends well. If it ends badly, that's not the end yet."
Vlad Abramov