Experts on children's "upbringing" in occupied Donbas: This somehow resembles "Hitler Jügend"
14:00, 05 February 2020
6 min.
1391
Russian propaganda is raging in schools across the temporarily occupied parts of Donetsk and Luhansk regions. Militarization of young minds in these areas is entering a new round amid preparations for the celebration of February 23 (Russia's Homeland Defender Day) and May 9 (WW2 Victory Day). But it's not only marching in formations that local schoolchildren are taught – it's also planting landmines.
Children's militarization in the self-proclaimed "DPR" and "LPR" has been blooming for several years, and every year the pressure on school kids increases. Unfortunately, this already bears rotten fruit.
"There are reports on militants killed in action who were 18-20 years of age, which means that at the beginning of war they'd been 12 to 14 years old. These were teenagers who fell victim to propaganda," says Anatoliy Shtefan, a prominent Ukrainian military serviceman and blogger who keeps track of casualties in invaders' ranks and information warfare tools employed by the enemy.
After Russia announced 2020 a "year of victory", Russian puppet authorities in certain parts of Donbas stepped up their "military-patriotic education" efforts targeting local youths.
"Not so long ago, compulsory study of pseudo-heroes' life stories (including those of notorious warlords Motorola, Givi, and Zakharchenko, all of whom had been killed) was introduced into the curriculum. Schoolchildren write essays about their parents, relatives, and acquaintances who took part in hostilities. Special youth volunteer teams look after militants' graves at cemeteries and visit the wounded in hospitals. In every major city there are "military-patriotic units," set up by an example of the Russian "Yunarmia" [Young Army]" says Shtefan.
In social networks, reports can be easily found on such units. Kids are regularly taken "on excursions" to military bases. Children learn to shoot firearms, study topography and combat tactics, as well as field medical aid. Teenagers get to learn about different types of weapons and study UAV operation principles. Judging by the reports of their handlers, children's safety is not on top agenda.
The key point in "training" is to teach kids how to use weapons. "The Yunarmeans learned about the minefield construction [mining] and elimination [demining]. At the end of this training phase, a lecture was held on the prevention of mine-explosive injuries," the occupation administration wrote in a report.
Also, it seems that training courses are managed by random figures. In social networks, we found a photo of Olga Proskurina, the "Heirs of Victory" project manager, where she poses in a revealing dress, while no pictures have been posted that would testify to her work experience with children before the war. But vulgar pictures are not the worst part of what we learned about the children's training "leaders".
There are reports that certain counselors were arrested on pedophilia charges. "Over the past six months, four top executives have been detained for pedophilia: two in the Russian Federation, and one each in the occupied Crimea and Donetsk," says Shtefan.
But, despite scandals, more and more "military-patriotic detachments" emerge. "Children sport military uniforms, some educational facilities become a kind of cadet schools where they teach kids how to use weapons and clearly identify the adversaries, whom they are supposed to shoot," says Ihor Kozlovsky, a religious scholar, who earlier taught in a Donetsk university before spending almost two years in militant captivity.
"The teacher asked the children: 'Is there a future?' The whole class said, 'No'"
"Often, children are taken on excursions to military bases during school hours. But there's also propaganda in class. A few years ago, the 'DPR' and 'LPR' schools switched to the Russian curriculum, but local educators are now molding the new "modern history" (at least they authored a rather "impressive" textbook).  The "textbook" is full of manipulation, pseudo-facts, and propaganda cliches. For example, a photo showing a long queue at a dairy store accompanies a piece about 1990s in independent Ukraine instead of illustrating USSR history. The authors describe the "oppression" of Russian speakers, telling schoolchildren that supposedly as early as 2005 Ukraine started implementing the new rule: "Ukraine is for Ukrainians." Against a variety of other false allegations, the textbook says: "DPR seeks to be friends with all countries and nations."
Donetsk residents say not all teachers are into zombifying their students with hardcore propaganda. "Adequate principals and teachers try not to do this with their children. But there are those who try to score points with the supervisors so they mess with children's minds a lot. In Makiyivka, this happens in many schools, while in Donetsk, they say, there are fewer such cases," says Tetiana, who recently took her kid and the rest of the family to Kyiv.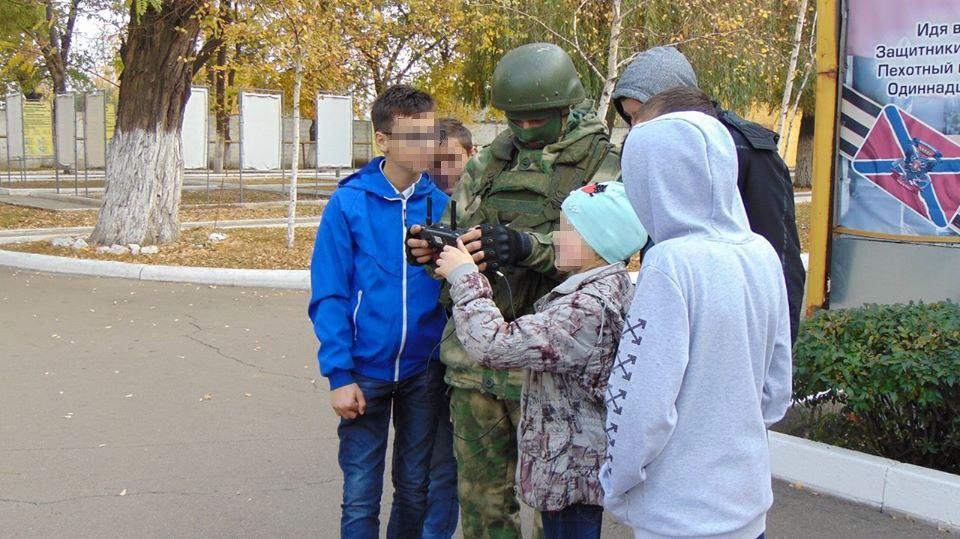 Locals also say that reprimand is individual if students defy the "official agenda".
"My son had this class at school about 'patriotism'. One day, his teacher asked the class about the prospects of a new state: 'Is there a future?' The whole class said, 'No'. This offended the teacher so she tried to argue with her students. This teacher is a 'patriot', she wanted to put 'necessary' and 'valuable' information in their heads, but they aren't some small children so it's difficult to interest them in such a way," says Inna, a displaced woman.
She adds, there was just one boy in her son's class whom his father took to warlord Zakharchenko's funeral, so he tried to tell something about it, but his classmates weren't too willing to listen.
"A school cannot make kids 'patriots', it's parents whose views are important," she said.
Parents admit that "patriot teachers" sometimes threatened them.
"My son had a Ukrainian-made diary. The teacher taped the pages with the coat of arms. She told him to put on a cover so that a small blue-yellow flag couldn't be seen. When we refused, she called me and threatened me, saying there would be consequences: 'In the notebook there are insignia of the country that is killing the children of Donbas.' The teacher is obsessed with 'DPR' and even wears a badge. Now we are studying in Ukraine," recalls another relocated mother, Oksana.
Rights activists tell about cases where patriots were thrown behind bars for likes in social networks.
"A rough propaganda machine works there, aimed at promoting the ideas of the 'Russian world' and burning out everything Ukrainian, inciting hatred for our country and the EU. All media are controlled. There is no alternative journalistic opinion. Even personal pages on social networks are controlled, and tough measures are applied to all those who dissent," says Vira Yastrebova, head of the NGO Eastern Human Rights Group. "We are working with the case of Andrei Rusinov, a former student from Luhansk, who was sentenced to 5.5 years for likes under pro-Ukrainian posts. This guy is serving a sentence at a colony. And he is not alone. We will seek to have him included in the exchange lists, and we will fight for them to be released so that they return to their normal life."
"Their methods are primitive, but sometimes, primitive works better than perfect"
Rights activists unanimously say they are concerned about the fact that stereotypes are being imposed onto children, who are also taught to use firearms. By zombifying them, they can mold both a new generation of militants and also lobbyists for the ideas of the "Russian world". There's also an opinion of the "lost generation."
"They work with children quite primitively, but efficiently. There are no good experts there, but there is a routine, directing children's minds to a certain plane. Their methods are primitive, but sometimes, primitive works better than perfect. This somewhat resembles the creation of the "Hitler Jügend" at the end of World War 2," said Kozlovsky.
Drawing parallels, he says that after the war, special programs were set up in West Germany for those who had gone through Nazi youth organizations. "There were additional classes in schools set up for them, they were taken to former concentration camps, sites where people had been massively slain. This was done to influence with information, as well as emotionally, and gradually change their minds. How effective was it? The former pope, Benedict XVI, also came from Hitler Jügend. People have different fates. But Germany made deliberate efforts to clean up people's minds," says Kozlovsky.
It is worth noting that in Ukraine, psychologists work with teenagers who have suffered traumas of war and occupation. But, according to experts, these efforts aren't systemic. And it may seem that the generation is really lost.
"After the fall of the Berlin Wall, the GDR, which was in a different hard space, acceded to the Federal Republic of Germany. Yes, there is still a difference between the 'East' and the 'West' Germans. But, say, Angela Merkel came from the East. History shows that nothing is absolutely static; there is dynamics. Huamns are adaptive creatures, their minds adapt," sums up Kozlovsky.
Children rights envoy to Ukraine Parliament Aksana Filipishina notes that Ukraine is planning to change the law and tighten responsibility for attracting children to illegal armed groups. If the bill passes Rada, perpetrators will face 10-15 years in prison. And while there is no such law, brainwashed minors will be coming to the frontline as "soldiers" of the "DPR" and "LPR".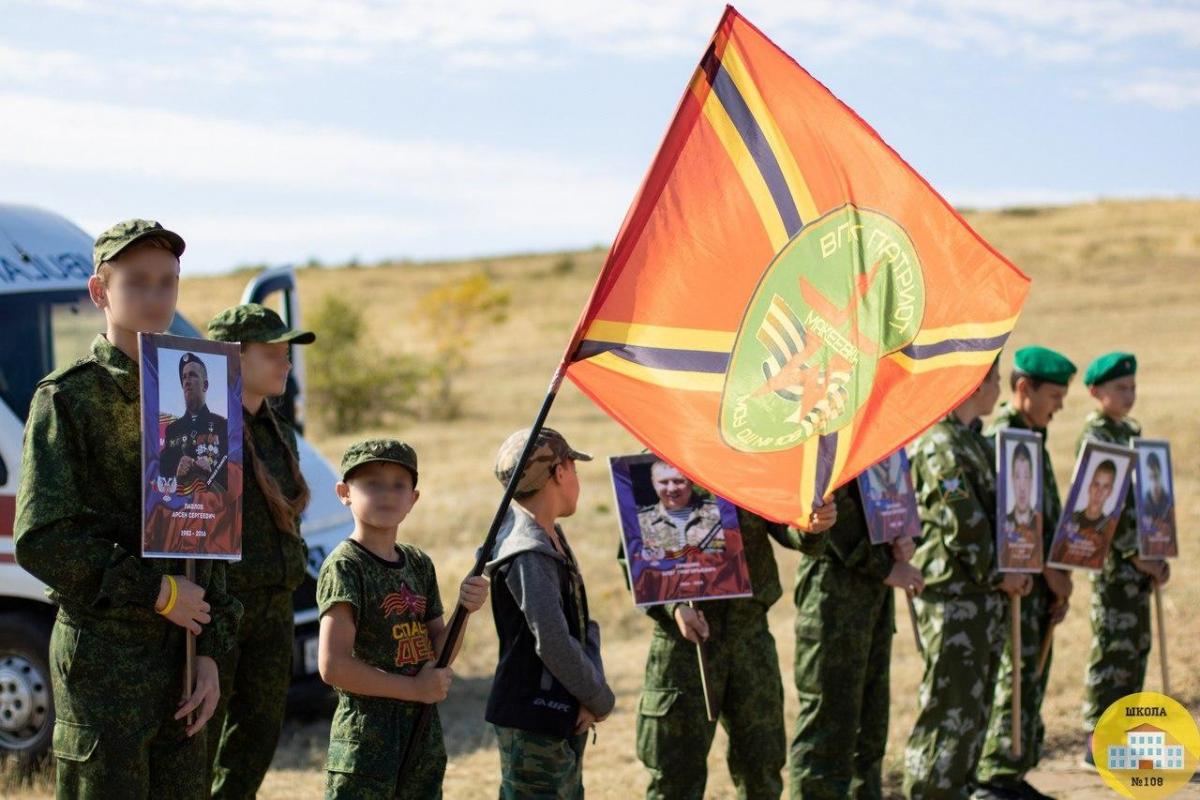 Filipishina notes cases where young people are sentenced for what they committed in Donbas in 2014-2015, when they were still teenagers.
"We are concerned about this situation. A child cannot be an instrument in the hands of adults. But influencing this situation is very difficult. We hope that children will choose joining universities in government-controlled territory. The admission procedures are as simple as possible and information about them is publicly available," she says.
Indeed, IDPs say the number of those who study remotely in schools across Ukraine has been growing. Many high school students dream of leaving the occupied areas.
"They hate their 'reservation' with 'patriotic classes' more than the IDP children, whom the occupation has deprived of everything," the IDPs say. "You ask them: 'Well, how is it going?' 'There is only one wish – to finish school and get out of here as soon as possible'."
Vlad Abramov
If you see a spelling error on our site, select it and press Ctrl+Enter