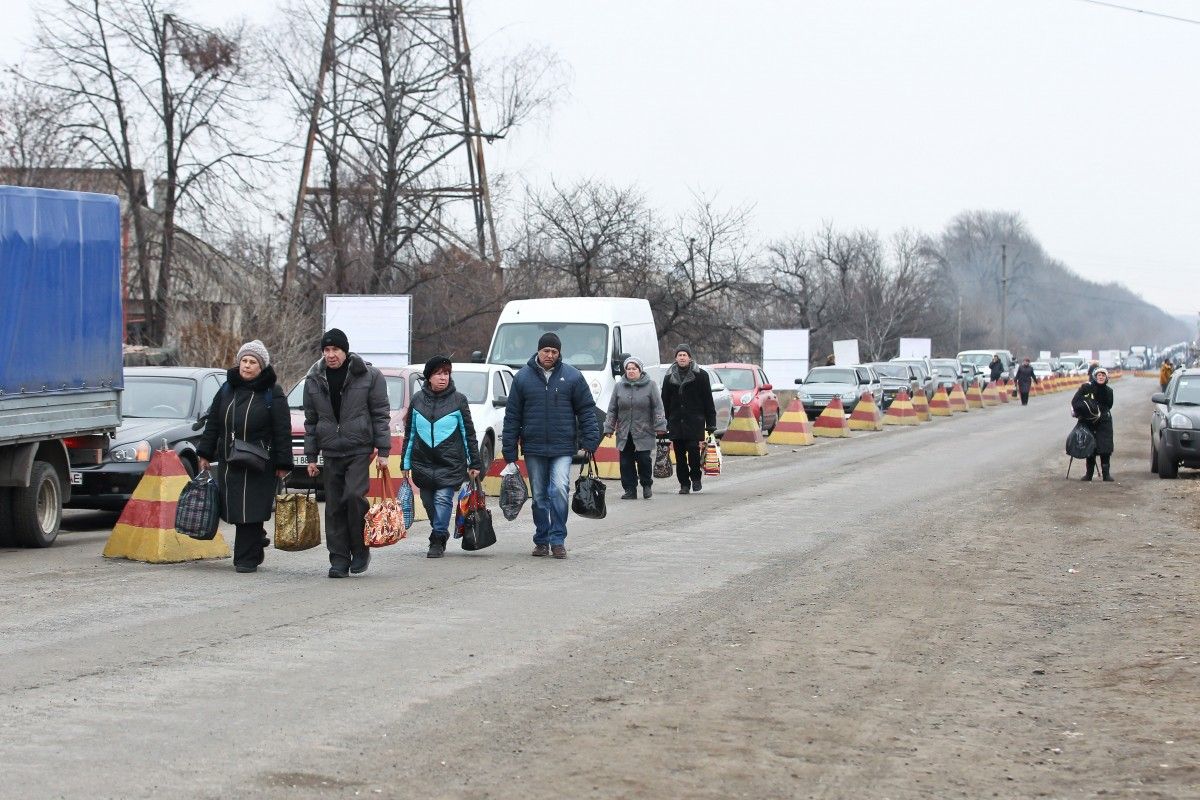 Territory without tomorrow
19:50, 29 November 2016
7 min.
923
Hopelessness is exactly the word that most vividly illustrates the lives of the people along the demarcation line in Donetsk region.
The road to war, like any other road, begins casually - in this case, from the central train station in Kyiv. A high-speed train is heading East: the passengers travel toward the sunset away from a misty twilight of the capital, through the frosted fields and groves, slightly entertained by mobile internet and coffee. "Station Slavyansk. One-minute stop," the dispatcher's voice rustles from the speakers. It is so casual and yet so scary. It is scary because some two years ago, there were real hostilities raging here...
Now there are other "battles" underway, and these battles are for the people living in these areas. At least, profile agencies in Kyiv report that they have been working with local residents with their sleeves rolled up. In reality, the locals see no prospects whatsoever, they "live today" and the only thing they really want is peace.
"We don't need your help," a Donetsk woman in line at the Maryinka checkpoint says, visibly aggravated. "Just stop shooting. You know, our nerves are shattered, you know." The woman suddenly breaks up in tears, wiping the freezing tears from her face: "I'm from Petrovsky (a district of the Donetsk city), I travel here almost every day here, my mother is now alone in Maryinka – my father died recently. I wish I didn't have to stand here in lines under fire, I just want to live in peace!"
A Donetsk woman in line at a checkpoint: "I wish I didn't have to stand here in line under fire, I just want to live in peace!" / Photo from UNIAN
Shots are really fired here often. Less than half an hour before this conversation, small arms fired from the "DPR" side at the Ukrainian military guarding the checkpoint. But people here can't remember any cases of attacks precisely on civilians standing in line at the checkpoint. "There was no such thing," says one of the border guards.
The people in line  agree. Some people, heading from the "DPR", admit: they remained in the bus during the aforementioned shooting (the transportation for traveling across the "zero" zone between the positions of "DPR" and government-controlled territory is provided by local commuter services), even though they know that the checkpoint is equipped with a special shelter. "Why hide?" a middle-aged woman with a large checkered bag asks helplessly. "If they kill me, at least I'll stop suffering." This fatalist lady admits that she is traveling from "that side, from Luhansk" to visit her children who live in Donetsk region on the territory controlled by Ukraine. Why this checkpoint exactly? Because another checkpoint, in Zolote of Luhansk region has been failing to open, while at the other checkpoints, one could wait for as long as a whole day to get to the government-controlled area. "Here, I only waited for three hours," she says.
At a Maiorsk checkpoint, people can wait in line for 12-14 hours / Photo from UNIAN
Indeed, at another checkpoint in Donetsk region - "Maiorsk" – people can wait up to 12-14 hours in lines. The thing is that this checkpoint is widely used by those who travel from Luhansk region on cars (there are simply no checkpoints for vehicles in Luhansk region). On the other hand, there are better services at Maiorsk: heating points are set up right within its perimeter, while in Maryinka people have to walk up to 3 km to get to warm tents.
The greatest influx of people is seen at the end of the month / Photo from UNIAN
According to the border guards, the checkpoint's capacity is 7,000-8,000 pedestrians and up to 1,500 vehicles per day. "On average, it takes two minutes for an inspector to check one person. They can check up to 25 people per hour," they say.
The greatest influx of people is seen at the end of the month: local residents are heading from the uncontrolled territories to get pensions and social aid, which is paid between the 20th and 25th day of the month. On the way back, they often carry groceries and medication. A roundtrip in these days can take up to two days.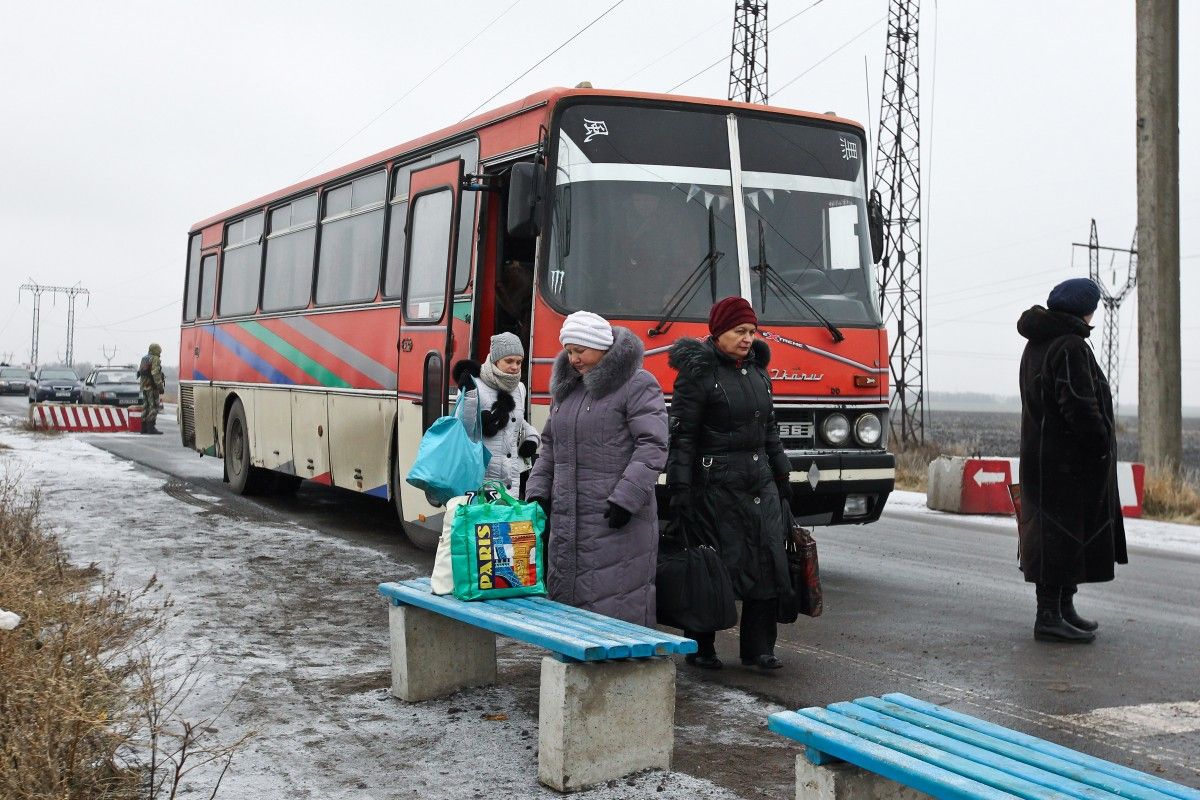 Minefields make it impossible to go round the line / Photo from UNIAN
Driving around the line is impossible because of the minefields all across the area. Roadsides are densely lined with signs and large banners saying "Beware Mines". Moreover, the locals well remember the February incident when a bus heading from Donetsk to Maryinka exploded on a landmine.
However, people still attempt to cheat the system. Places in lines are being bought and sold. The average price is UAH 250. There are also attempts to bribe border guards. Hoping to speed up the process, some people would try to give some UAH 200. But the border guards assure that such individuals are immediately forwarded to the local police station...
"Huge queues are a big problem. Especially in the winter," according to the UN Office for the Coordination of Humanitarian Affairs (OCHA).
In the winter, long queues are a big problem / Photo from UNIAN
Shorter days also shorten the operation time of checkpoints - from 8:00 to 17:00. Moreover, as the dark sets in, a so-called curfew is introduced in the territory controlled by the so-called "DPR". Therefore, people who are stuck at checkpoints have to spend the night there. For the most part, they stay in their vehicles. They can also warm up by the stoves, drink hot tea and take a nap under a blanket in heating points – big tents with dozens of warmed beds. Emergency services, representatives of the Red Cross and volunteers from other humanitarian missions are on duty there providing necessary assistance.
According to Yanna Thay, an officer at OCHA UN, simplification of checking procedures could reduce queues as at the moment, the Border Service, the fiscals, and the SBU often duplicate the same functions. The border guards retort that double control helps detect perpetrators more effectively. "We have detained people with weapons as well...Recently there was a man detained who was on a wanted list. He was handed over to the SBU," they say.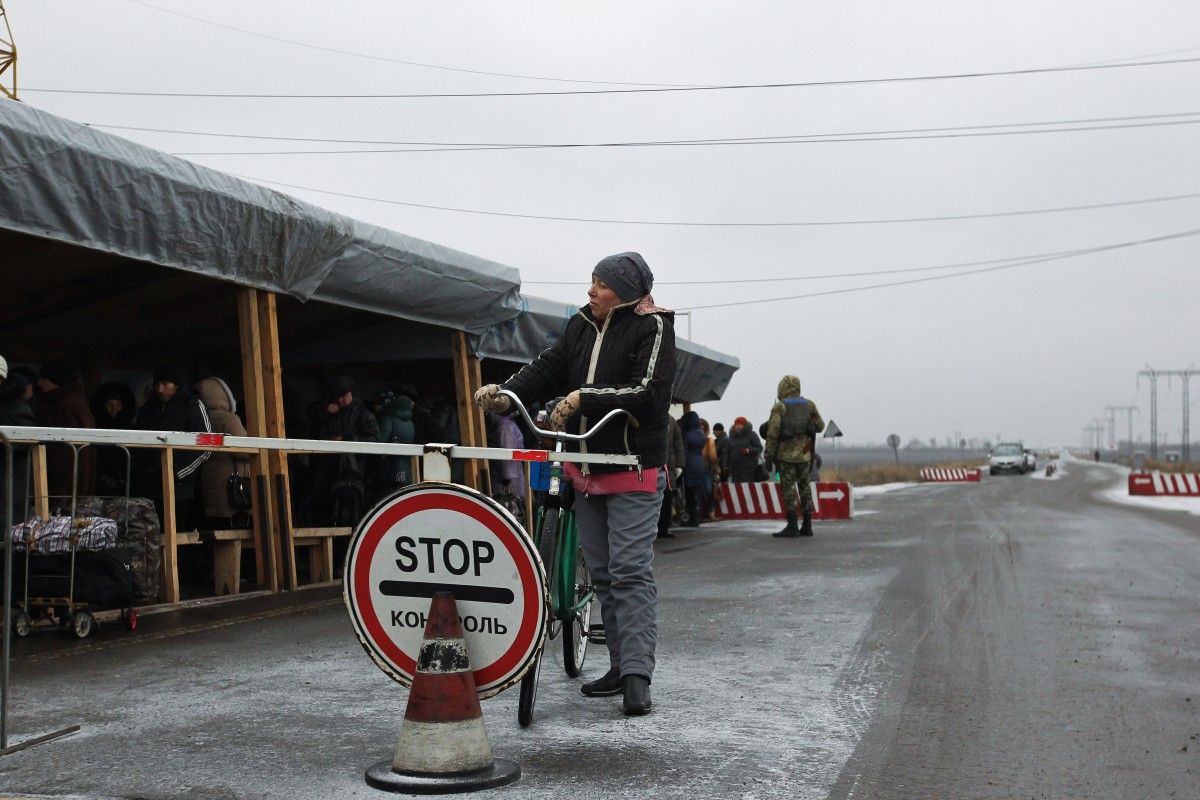 People stuck at checkpoints have to spend the night there / Photo from UNIAN
In general, it seems that the checkpoints are the safest place in the region. Maryinka, which is a mile or two from the checkpoint, is shelled more often. And it's not only gunfire from small arms, it's artillery that is involved. As soon as our "delegation" in cooperation with UN OCHA and the Ministry for the Occupied Territories left the "borderlands", Maryinka and people living there got under fire again: the city was shelled and one of its inhabitants (a man born in 1949) was taken to a Kurakhovo hospital with shrapnel wounds – he got into a booby trap when trying to check on his relative's house.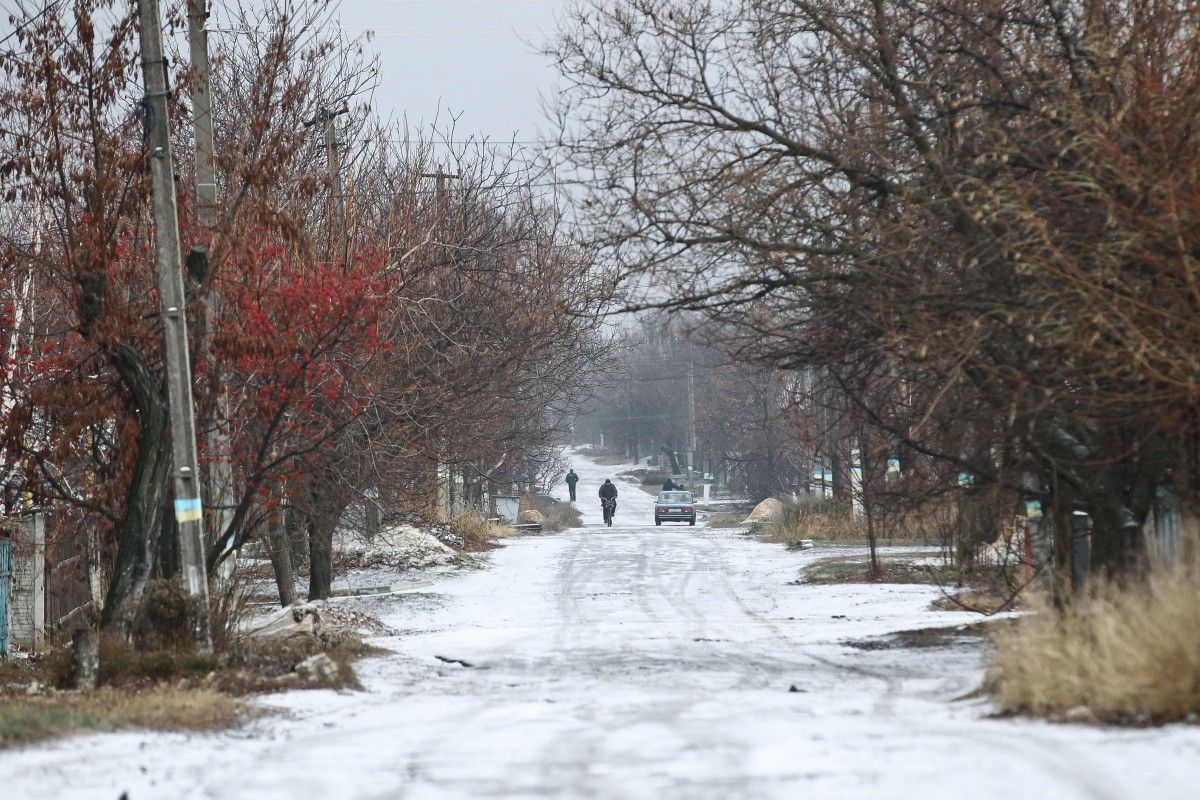 At the end of the street there is a barrier and the uncontrolled territories start behind the next street / Photo from UNIAN
"This street is controlled by the National Guard, at the end of it there is a barrier, and behind the next street there is already the uncontrolled territory," says Head of UNHCR's Mariupol Field Office Dinu Lipcanu. "Shots are fired often here... But people live here, they do not leave. I asked them: "Why are you here?" But they have nowhere to go, this is their home."
This part of Maryinka is adjacent to the Petrovsky district of Donetsk, and it gets into a crossfire. In every backyard you can find an imprint of the war: bullet holes, scattered traces from shrapnel, damaged roofs, broken windows (no glass now but pieces of plywood or particle board), and some houses stand half-demolished. An elderly couple - Maria and Mykola – live in one of such houses. "When there was a shelling, we were not home," an 80-year-old Maria tells us in good Ukrainian. "Everything was on fire: wardrobes, clothes, cupboards ... Now, here, people brought us some firewood."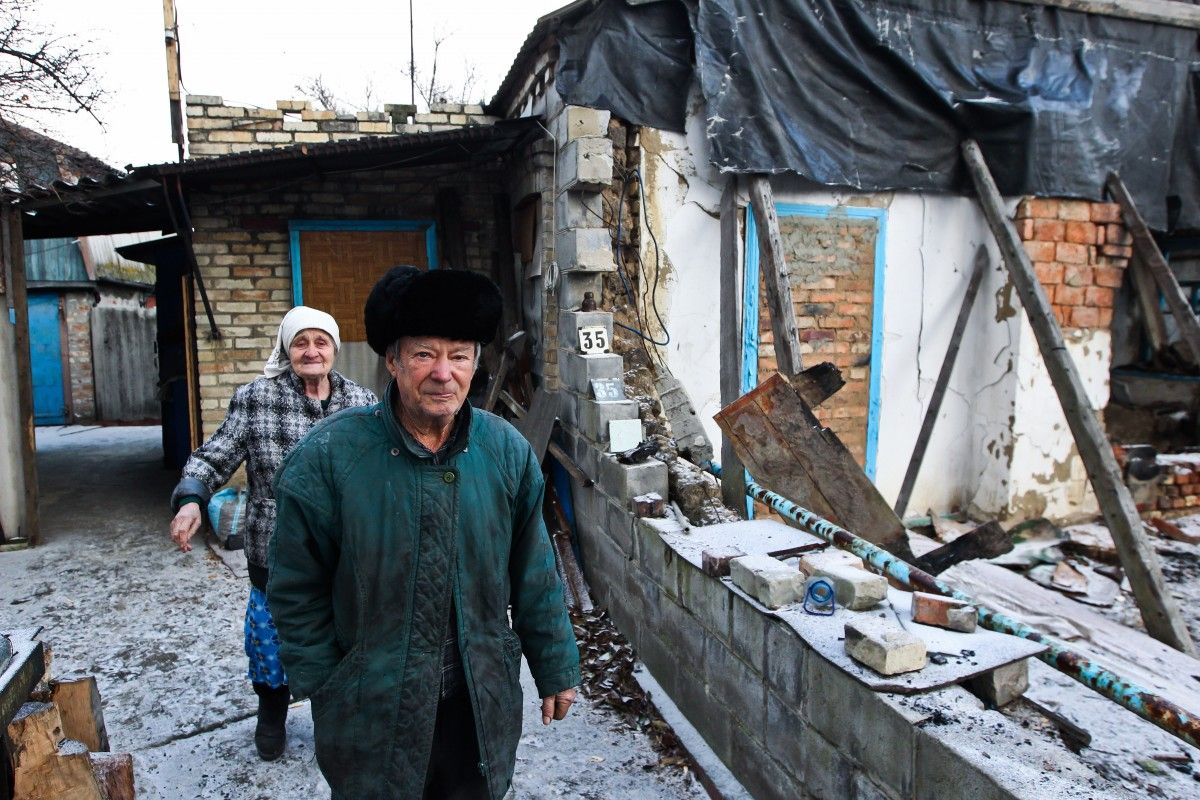 An elderly couple - Maria and Mykola – saw half of their house demolished in a shelling / Photo from UNIAN
However, a pile of firewood is not big at all. Perhaps, it will only be enough to heat a "summer kitchen" – there is no way they could heat with it half of their house full of holes. But people value and take any assistance that helps them survive. The woman admits that her children in Kyiv and Dnipro offered her to move over to them, but the old couple doesn't want to leave their home: "How much more time have we got to live after all?
"Since last year, as soon as conditions allowed us to bring in construction material and workers, we have been helping the residents of Maryinka with repairs," said Dinu Lipcanu. "During this time, some 200 families received such assistance - all materials and the work of construction crews were paid for from the UN funds." In addition to repairs, the UNHCR and other international and local non-governmental organizations that have been working on the demarcation line provide people with legal assistance, help them with firewood, charcoal, and warm clothes. "Last year, we provided fuel to 200 families, this year it is planned to allocate coal briquettes for 300 families. But it's the whole town that needs help, not just a few streets," Lipcanu says.
But while the humanitarian missions are engaged in helping the neediest ones, the split between people from "borderlands" and the rest of the population is growing. Low living standards, constant shelling, and standing in queues at the checkpoints for hours have all provoked an increasing irritation. One may say countless times that it's the Donbas people who invited war into their homes, themselves. One can also recall the general depression across the region, which had successfully been looted by "local" politicians long before the outbreak of hostilities. One can also ban Russian movies and TV shows, hold de-communization, and call for patriotism. But this just doesn't work.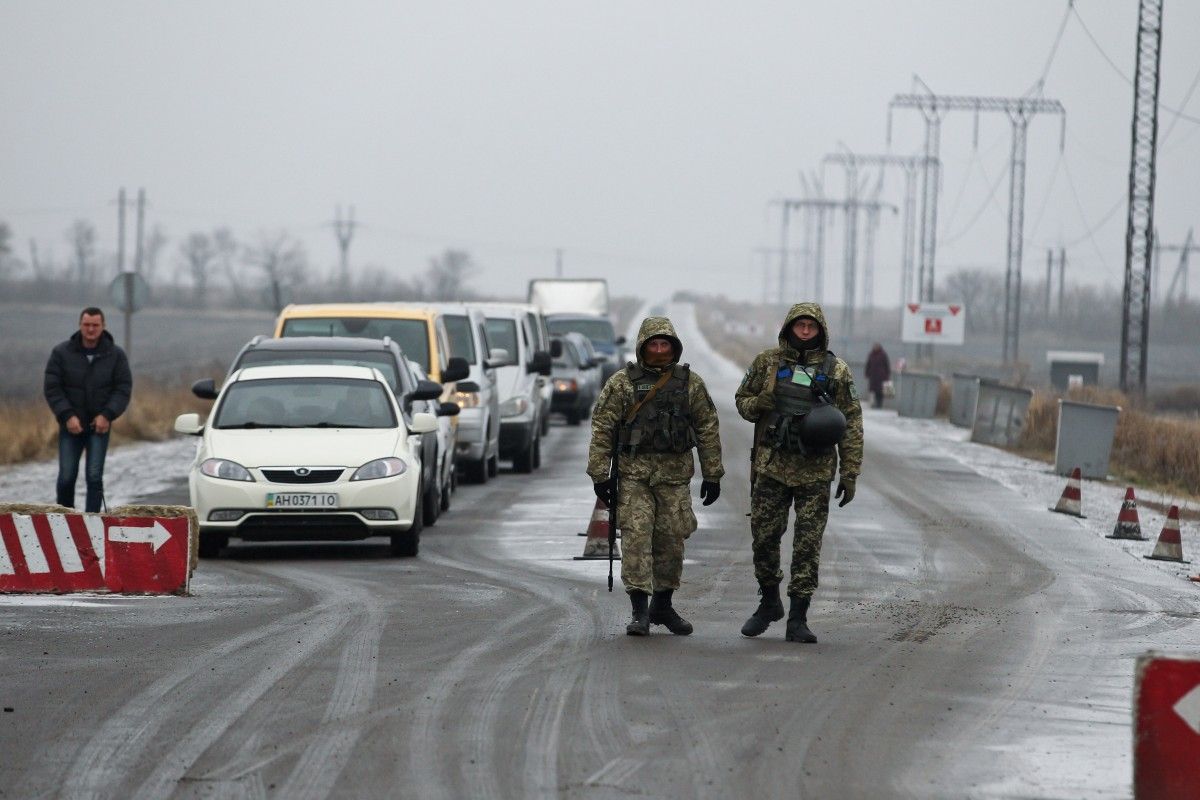 People are crossing the line of demarcation / Photo from UNIAN
Those, who cross the line of demarcation almost daily, seeing armed men around them, are at a constant risk of being hit by a sniper during their half-mile walk or step on a mine once stumbling to the curb, will agree with any conditions to see this war end. To achieve this goal, they will say whatever you want to hear from them. But it is unlikely that anything they say is true.
Will these people become patriots of Ukraine after the hostilities stop? That's a big question.
Should we blame them for it, remaining hundreds of kilometers from the shelling zone? I don't think so. Should we try to win their affection "for the future"? It's probably worth it.
The big question is whether these people in Donbas will be patriots of Ukraine after the end of hostilities / Photo from UNIAN
After all, not so much is needed to this end. For example, take the checkpoints. It would be a good idea to provide Ukrainian newspapers or tune the radio to the Ukrainian stations for the people to pass the time (this is not in sight at the moment, but on the side of the "DPR", propaganda materials have been distributed intensively). At the same time, officials from various "delegations", who happen to come to the demarcation line for some short bits of time, could spend a little time for personal unscheduled communication with the local population rather than just do check-ins in pre-scheduled places. It would also be very helpful to constantly explain to the local people that that radical "bogeyman stories" from the TV, voiced by "racially pure" politicians, do not at all express the views of the majority of Ukrainians.
Tatiana Urbanskaya
If you see a spelling error on our site, select it and press Ctrl+Enter