Hero of Ukraine Valeriy Chibineev: "Russians thought they could break the warrior spirit in soldiers and officers of the Ukrainian army, but they failed"
A 28-year-old paratrooper sniper Valeriy Chibineev was granted a Star of Hero of Ukraine in August 2016. On the eve of the Day of the Armed Forces of Ukraine, UNIAN talked with the young commander of the 79th Air Assault Brigade.
Hero of Ukraine Valeriy Chibineev / facebook.com/romabra
Since childhood, Valeriy Chibineev has dreamt of a military career. After graduating from the 9th grade, the young man entered the Zaporizhia military lyceum, and then the Odesa Academy of Land Forces. In 2010, a lieutenant, he got into the 79th Air Assault Brigade of highly mobile airborne troops of the AFU.
Chibineev was not deployed at the frontline in the early days of the war. However, the young sniper company commander of the 79th Brigade has already seen some hellish battles – Izvarino, Donetsk airport, Avdiyivka ...
The paratrooper sniper received the honorary title of Hero of Ukraine during a military parade on the Day of Independence in August 2016. "Valeriy found out that he was given a title when he was standing in parade ranks, as his name was read out loud. Just five seconds before being awarded the Gold Star of the Hero from the President," a Ukrainian volunteer Roman Sinitsyn said.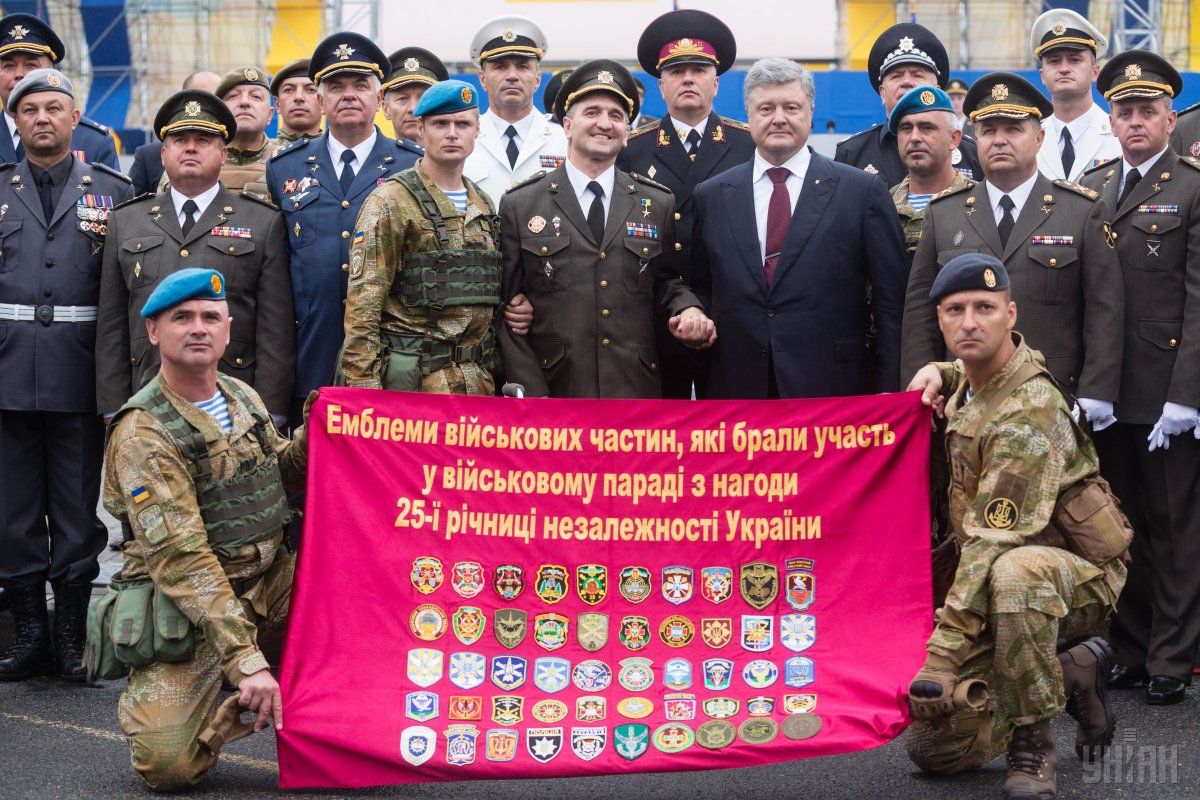 Valery Chibineev is the second on the left of the President / Photo from UNIAN
Valeriy never boasts his award, although it has been well deserved. Leaving the Golden Star and a brand new parade uniform at home for his wife to keep an eye on it, just a few hours later Valeriy was redeployed at the frontline. Today the young commander is at the exercise range in Mykolaiv region.
In an interview with UNIAN, he talked about how the Ukrainian army, deterring a strong adversary, has changed over the three years of the war, and how the military need the support of the civilians, and what the Ukrainian soldiers can be proud of.
After receiving the honorary title of Hero of Ukraine, you have returned to the frontline immediately. Didn't you want to give yourself some time to spend with the family?
Of course, not. Being home while my unit is on a combat mission in Avdiyivka – that would be wrong. And I still tell everyone: we will all rest when it's all over and when there's peace.
And how were you greeted by your soldiers?
At the frontline, there's no time for any ceremonies. They said: "Congratulations, commander. It is well deserved." And that was all.
Once, in an interview, you said that when you got into the 79th Air Assault Brigade, that was a childhood dream come true. What are you dreaming of now if you ever have any time to dream at all?
At the moment, there's just one dream – the end of this war, when there's peace and when the integrity of the country is restored. That is to say, like it used to be. Only, perhaps, I wish the people did not forget about the Armed Forces.
You are a professional military, and war is your job. What's the most difficult thing in this work for you?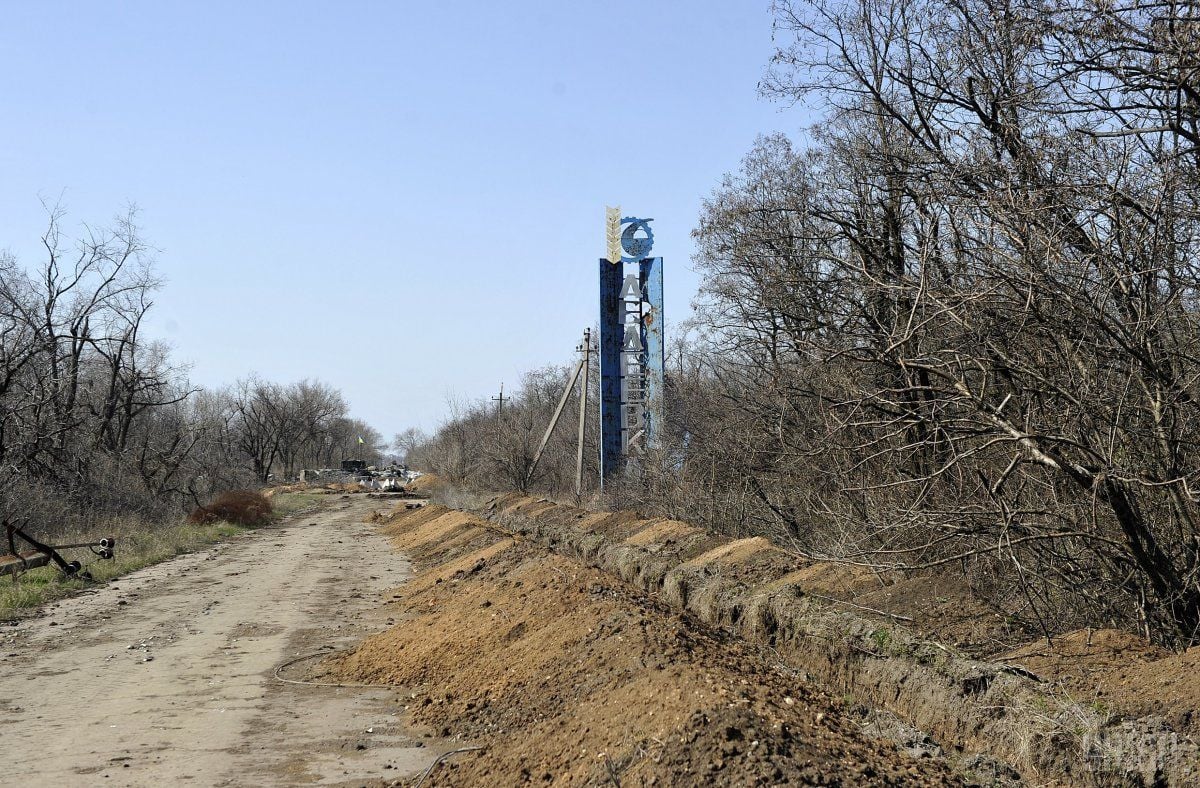 Chibineev was wounded twice during the fighting in the so-called "Promzone" of Avdiyivka / Photo from UNIAN
The most difficult, scary and unnerving thing is to see how your subordinates get wounded  or, God forbid, how they die. I am lucky there were no KIA in my unit, but there were a lot of WIA. I would never know how am I to answer the questions of their  families: "Why didn't you save him? Why and how did this happen?"...
How many times have you been wounded?
Twice. Both times, in the Promzone [the industrial zone] of Avdiyivka.
As a military officer, you were at the front line practically from the start of hostilities, and most of the time you spend at the front. Have you ever regretted your life choice?
Of course, not. I never regretted it. The only thing I've regretted through all this time is that we were not prepared for war. We should have prepared. Indeed, in the early days of the war we went there relaxed, thinking that it will end in a couple of days... That's why we were not ready to the armed struggle, which unleashed and continues to this day.
What has changed over the past three years?
First, the military began to realize that there is a war, and we need to prepare for this war, and how important is it to be a prepared soldier. Secondly, a certain "layer" was formed, so to say, of the soldiers and officers who have been to the ATO and they already understand what needs to be done, understand the responsibility that rests on their shoulders. This is responsibility both for their subordinates and the responsibility for defending their country.
The war swept away all competition and career ambitions. Everyone understands that they better leave their ambition behind  because the ambitions in the ATO mean great casualties. It is better not to show careerism and ambition but rather do what needs to be done, and do it well.
Besides, of course, the logistic support of the army has very much changed as well. Some might say that the uniform is bad, or something else. But whether it's good or bad, it's still being supplied. The equipment is being repaired, new equipment is also being supplied. That is, people already understand that the army should be maintained properly. And it's much better to maintain our own army than that of the enemy. I think that's what has changed.
However, at the beginning of the war, it was tough with logistical support. Probably, the volunteers helped a lot, didn't they?
Yes, of course. Combat-UA team and Wings of the Phoenix were very helpful. They've done a lot for us. Volunteers Roman Sinitsyn and Pasha Kashchuk - they were very helpful. While the army could only provide us with uniform and ankle boots, they would bring thermal imaging sights, sniper scopes… That is what is really necessary for combat at any time of the year.
How has the war changed you personally?
Now I began to understand what we are paid for, roughly speaking ... Plus, I became a more responsible person. Three years since the start of hostilities, you first think of your soldiers rather than of yourself. You think of those who stand in the first line of defense, who are the first ones to get into combat.
You have a younger brother Roman. Does he look up to you in the issues of military skills?
He is 27 now. He joined the army, and I support him. He knows that he must go out there and defend his country. He is also a paratrooper and he said he also wanted to be a sniper. But we'll see, how it will turn out.
You spend most of your time at the frontline. What is your usual routine like?
Lately, our mornings begin with militant attacks – the separatists wish us "good morning", and we return favors. After that, some drink tea, and some have a cup of coffee. These moments are important. You just sit there, drink some hot tea… A minute of silence and tranquility… So you get set for a new day.
At noon, there are no real heavy shellings. The separatists dig their trenches and bunkers, while we also try to strengthen our defensive positions.
Somewhere in the afternoon, the shelling starts again and yesterday is repeating... This is a typical "schedule."
For the past few weeks, we have been working in conjunction with another unit, trying to think of a way catch the separatists off their guard and inflict as much losses as possible. Maybe this does not sound humane at all, but there (at the frontline) you don't think about humanity. You just think about winning, holding your ground and regain a piece of your territory from the enemy.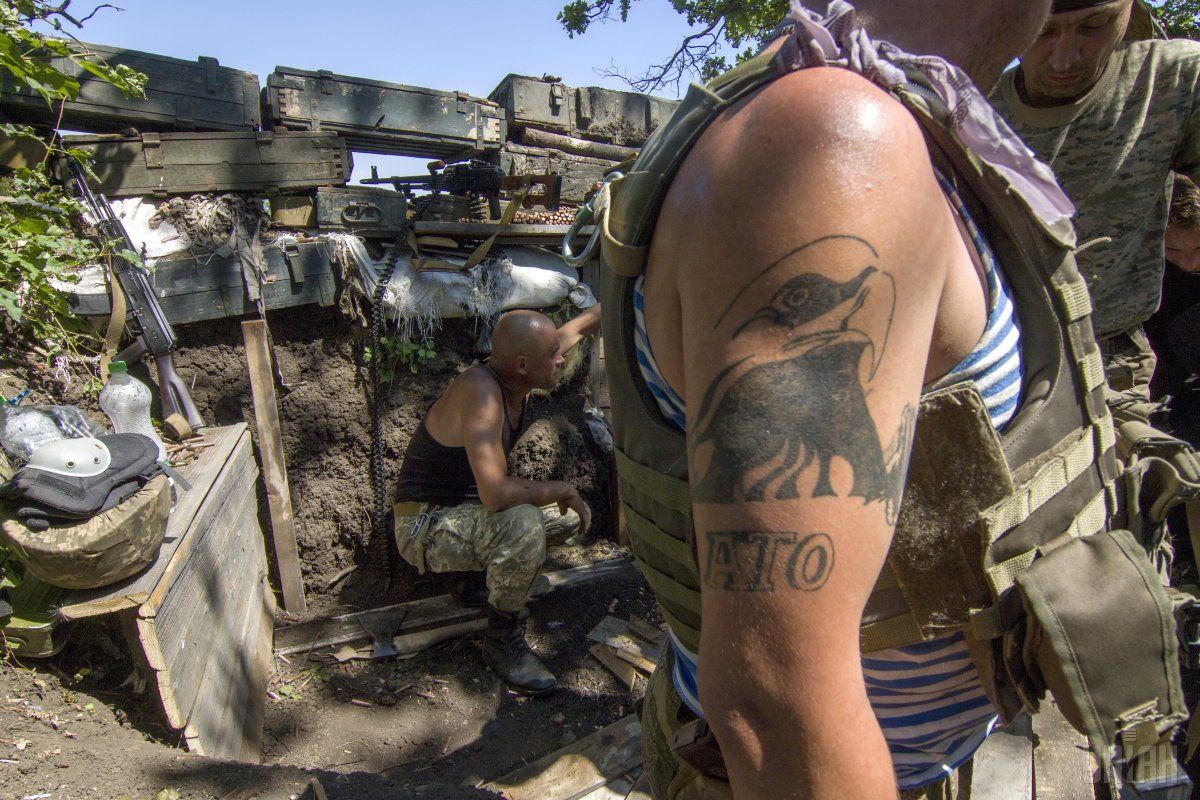 Chibineev told UNIAN what he was thinking about in combat / Photo from UNIAN
And what do you feel when the firefight starts? Is this focusing, adrenaline rush, or something else, maybe?
You're right. First, you focus on some element that you want to work out. Then a shell may hit somewhere close and here comes the adrenaline. Then you begin to analyze: "So, I'm intact, everything is fine." You think: "That's with God's help..." For two or three minutes you are dazed and confused, that is your concentration slightly recedes into the background. But then again begin to switch on, make adjustments in the previous scheme, and go on.
And where did your callsign, "Black Widow" come from? Previously, only company commanders were assigned callsigns but then every platoon commander and almost every soldier had to pick one. It was in 2014, when everything started out of the blue. I chose the callsign "Karakurt" [Black Widow] – that's a steppe spider. See, I'm originally from Zaporizhia, it's closer to the south of Ukraine.
How often do you visit your family?
It depends. Sometimes, I spend eight to 10 months in the ATO and two weeks at home. And it happened so that once I arrived home, the next day I had to go back [to the front line]. It all depends on how escalated the situation is at the front line at that moment.
You are not too eager to talk about the front line ...
To be honest, few people tell of how it is really going on over there, at war. Of course, relatives always ask how and why this and that happened, but I just say: "It's OK" – and the subject is closed. There, in the ATO, you set yourself on one type of mode, there is one kind of life there, but here you want to have a different life, you want to get a little distracted from it all.
Has anything changed in the attitude toward the military here in the rear over these three years?
My family is grateful that I'm home alive, but in general people treat us differently. Mykolayiv is a peculiar city, not all people here support the idea for this war to continue. There are those who say: "Good job!" But there are also those who will pass you by and not say a word, looking the other way, even though you are old acquaintances. Of course, there is no open criticism, but they actually can give you that disrespectful stare. You can't prove anything to such people, you just can't explain them anything.
Who or what makes you most proud in the Ukrainian army?
Perhaps this is the spirit of the soldiers and officers on combat missions in the ATO zone. These people, especially those from mechanized divisions and infantry, they are stuck there for six to nine months without rotation, but no one ever complains. Whatever you say, they stress readiness to stand there and perform their tasks until we win. There are also those who call on others to move forward [to liberate the territory].
Russians thought they could break this spirit of ours but they failed. This spirit of the warrior and the Ukrainian army… Due to the efforts of our fighters on the front line, this spirit has not only revived, it has spread its wings and become stronger than ever before. This is worth admiration.
Of course, there are some unpatriotic people out there, but we don't take them into account, because most Ukrainians have come to respect their Army. You can speak up proudly that you are a soldier or an officer of the Ukrainian army.
Iryna Shevchenko
If you see a spelling error on our site, select it and press Ctrl+Enter