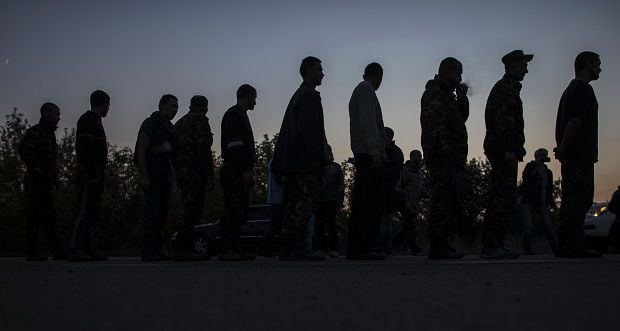 Abducted in Donbas
22:51, 14 June 2017
5 min.
923
The number of Ukrainian prisoners of the Kremlin has steadily been growing both in the territory of the Russian Federation and in the Russia-occupied areas of Ukraine. And while the negotiators in Minsk continue their efforts to coordinate the number of people the parties are willing to exchange, pro-Russian militants from "DPR" and "LPR" are filling throwing more hostages into their dungeons.
The Ukrainian delegation in the Tripartite Contact Group for the Donbas settlement at all meetings in Minsk insists on the immediate coordination of the Donbas hostages release date. However, representatives of pro-Russian militant forces constantly disrupt the negotiation process under various pretexts. In parallel lines, they continue illegal arrests of Ukrainian citizens.
Just over a week ago, a Ukrainian journalist and blogger Stanislav Aseyev, who posts from the occupied area under the pseudonym Stanislav Vasin, disappeared in the militant stronghold of Donetsk. His apartment was raided, with numerous traces of a search left behind. Vasin's abduction conditionally divided the Ukrainian civil society into two "camps," whose verbal battles are now raging in social networks.
Some are convinced that it will be possible to secure Vasin's release through publicity, relying on international support in this matter. Others point to the potential risks of frank statements regarding his journalistic efforts and political views. After all, over the years of the armed conflict eastern Ukraine there have been plenty of glaring incidents of human rights violations by militants of the self-styled "republics."
Even human rights experts refrain from siding with either of the two camps.
A spokeswoman for Amnesty International Ukraine Maria Hurieva notes that their organization has been following closely the situation surrounding the abduction of Stanislav Vasin, collecting all data available. "A person's safety should remain top priority, and any disclosure of information should be treated with caution. Of course, in such an ambiguous situation, journalists should be aware of what information they spread and not forget that personal safety is now critical," she says.
Hurieva also notes that, according to the policies of Amnesty International, in such situations, the consent of the victim's relatives is of key importance. Since they still have no such consent, the organization's staff are simply continuing to collect data.
The coordinator of Media Initiative for Human Rights organization Maria Tomak is also convinced there is no universal recipe for "publicizing information about a person, or not," if they disappear in eastern Ukraine or Crimea. According to the human rights activist, in each specific situation, one must proceed from the interests of the person affected. "I'm aware of at least one activist who has already been held for a long time in an uncontrolled territory whose story is not being told publicly - his family opposes it because they believe that publicity will not change the situation for the better. And, in fat, this is the agreed position of the public sector, his family, and security forces," Tomak said.
"I am unaware of the circumstances of the illegal imprisonment of this man [Stanislav Vasin], but I understand that [the militants] knew who they were taking... And, perhaps, in this situation, not talking about it does as much good as talking. In principle, when it comes to journalists, one can count on pressure from the international community, which is quite sensitive to such things. After all, we saw a successful release of Masha Varfolomeyeva," she adds.
It should be recalled that a Luhansk journalist, Maria Varfolomeyeva, spent over a year in "LPR" captivity. And, by the way, in her opinion, if we talk about the significance and risks of international publicity in the situation with Stanislav Vasin, not everything is so unambiguous. "In any case, the terrorists have already seen his articles. It does not matter who we say the man is - they will issue a verdict at their own discretion. Treason charges will come beyond doubt. Another point is that by raising the topic in the media, we are also pumping up a ransom for him – they'll be asking for more. For example, that's how in exchange for me they wanted to have Aleksandrov and Yerofeyev (Russian GRU operatives Alexander Aleksandrov and Yevgeny Yerofeyev, who were exchanged for Nadiia Savchenko). But it is at the same time important to raise his issue in order to show that Ukraine is fighting for its citizen. Thus, he will not be forgotten. It was due to this that I was released," Varfolomeyeva said.
The Union of Journalists of Ukraine has already appealed to the OSCE SMM in eastern Ukraine and the International Red Cross with a request for assistance in the search for Stanislav Aseyev. Head of the UN Human Rights Monitoring Mission in Ukraine Fiona Fraser also states that the mission is trying to find out his whereabouts.
It should be noted that the UN Human Rights Monitoring Mission prepares public reports on the human rights situation in Ukraine. Among other things, their mandate covers the cases of illegal detention, disappearances, and kidnappings of people over their "pro-Ukrainian" views and potential links with the Armed Forces of Ukraine on territories beyond Kyiv's control.
The Office of the UN High Commissioner continues to monitor the cases of the two men detained by the "Ministry of State Security" of the "Luhansk People's Republic." Blogger Eduard Nedelyaev, who lived in Luhansk and posted information about the city life, was imprisoned in November 2016. He was "charged" with "spying" against "LPR" in favor of the Ukrainian authorities. Besides several videos with his "confessions" that were published by the militant security forces, there has been no information about his whereabouts or fate.
Vitaliy Rudenko, a judge of the Luhansk Regional Court of Appeal, was detained in Stanytsia Luhanska in October 2016. As of May 15, he remained in captivity in Luhansk, while the UN Mission was refused the right to meet with him.
In addition, the United Nations Human Rights Monitoring Mission is aware of cases of detentions in Donetsk of men and women whom armed people would pull out from their homes and "arrest" for 30 days (if necessary, extending the custody term indefinitely) without indicating their location and providing no contact with their families. Most often, militants charge such people with "espionage."
Sometimes they go further, putting forward even more absurd accusations, which, nevertheless, are upheld in their "courts." For example, Professor Ihor Kozlovsky who was "sentenced" by the "military tribunal of the DPR" to two years and eight months in a penal colony on charges of illegal possession of arms.
By the way, the UN Human Rights Monitoring Mission was following the "trial" and the mission's representatives were even present at the hearing when the "verdict" was handed down. The latest mission report says that the "court" issued the harshest punishment against Kozlovsky - imprisonment in a penal colony, although the "prosecutor" requested that the professor be put in a colony-settlement (where the level of security and control is lower, and prisoners are allowed to leave the settlement to visit their families).
Anticipating a possible public condemnation of the mission's representatives who, while attending the "trial," failed to help Professor Kozlovsky, human rights activist Maria Tomak notes: "The question is what our expectations are. We do not expect that the UN Monitoring Mission will win back Donbas - this is Ukraine's business. But the fact that they are present there and record everything is truly important. I would not underestimate the significance of this – thanks to their efforts we know what is happening there. Indeed, these reports will be read by 1% of the people who have access, but then, based on these reports, international judiciary bodies, such as the ICJ, will be making their decisions. It's not just waste paper, it's very important."
At the same time, human rights activists note that such monitoring is lacking in Crimea. While there is still some access for the international missions in Donbas, the situation with Crimea is deplorable: Russia does not allow access to the annexed territory to anyone who would record its crimes: abductions, arbitrary detentions, torture, and ill-treatment of people.
Iryna Shevchenko
If you see a spelling error on our site, select it and press Ctrl+Enter