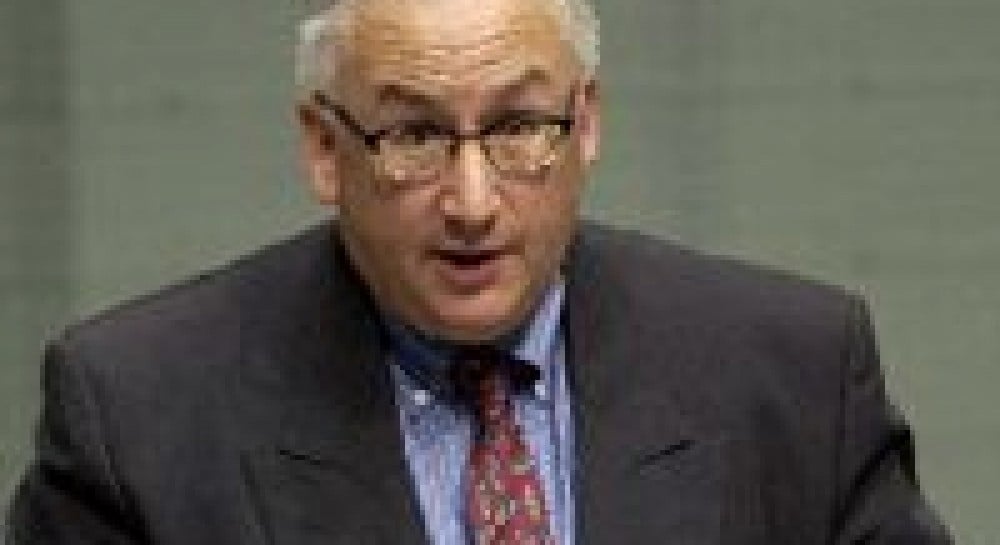 Australian MP Michael Danby: Russians should not escape from the past
19:04, 10 April 2008
5 min.
1968
Ukrainians could save maybe hundreds millions of dollars by having one election tour, not two... Russians should look what Germans had done after the Second World war... You'd be surprised how few Americans travel outside the United States... Interview
Ukrainians could save hundreds millions of dollars by having a single round election, not two... Russians should look what Germans had done after the Second World war... You'd be surprised how few Americans travel outside the United States...
Interview with Michael Danby, chairman of the Australian government Foreign Affairs committee and senior member of parliament. Mr Danby is the first member of the new Australian government to visit Ukraine.
- Mr.Danby, why your visit in Ukraine is important?
- I'm the first representative of the new idealistic Australian government of Mr. Kevin Rudd, who has visited Ukraine. My visit is in a private capacity , not official, as  I'm here attending  the democracy conference [the World Movement for Democracy assembly is Kyiv].  Mr. Rudd was in Bucharest last week and was the first Australian representative at the NATO conference. I'm here also because there is a very strong Ukrainian community in Australia, many who live in my electorate, held had a great function [in Australia] to support the recognition of the Ukraine the Holodomor, the Ukrainian famine. I was the person who initiated this in Australian parliament and gave a speech in support of Australia`s recognition of the events of 1933. together made that it's really exciting thing for me to do – coming to Ukraine.
- Have you established any ties here with any politicians or public figures?
- I've had some very interesting conversations with the wife of the President  – she's been very supportive of this democracy conference. I know that our country was visited by Mr. Putin [ For the 2008 APEC conference] , so I Ukrainian President would be welcome in Australia as well. If we had Russia we should have Ukraine as well. So I hope that will happen in near future. I've also had very good meetings with my equivalent in the Ukrainian Parliament, Mr. Bilorus, chairman of the foreign affairs committee of the Ukrainian government, and also with Mr.Chornovil, head of the Ukrainian-Australian parliamentary friendship group.
- Have you come to any decisions about how to develop the Ukrainian-Australian ties?
- I think all Ukrainian politicians whether they are orange or blue support having good relations with Australia. In fact, whilst Ukraine has an embassy in Australia, Australia lacks an embassy in Ukraine, I am pushing to open better relations with Kyiv. We have a representative for the whole region in Moscow. So, it's very hard for 52 millions of Ukrainians to be represented – if they want to come to Australia they have to travel to Moscow to get a visa. I don't think it's a very good idea. So Ukrainians on both sides, in Australia and in Ukraine, are very interested that Australia increases its diplomatic presence here. I can tell you that the Australian government has recently given some land in Canberra to build the first Ukrainian embassy. So, maybe, we will have presidential visits. We already have diplomatic relations, they should be not only in Canberra and maybe there should be an Australian embassy here too.
- How do you think, how much time will it take to open these embassies?
- The very thing that I've noticed about Ukrainian people – I get very angry because people don't do things quickly. Sometimes it is hard to grind some results out. A lot of people in Australia, around 20 million people, can be represented by the embassy in the Russian Federation, when at the same time we have 52 million people here in Ukraine. So hopefully things will move more quickly.
- Australia has one of the most progressive electoral systems in the world, and you promoted the electoral reform in Australia. Have you advised anything to Ukrainian politicians in this sphere?
- I have an advisor who is writing a paper for some of them [Ukrainian politicians]. Ukrainians could save themselves hundreds millions of dollars in direct and indirect costs by holding one round elections, not two, as we do in Australia. The system used in Australia is referred to as "Preferential voting", It is simple really, voters rank  in order of their preference (1, 2 3 etc)   support for their chosen candidates, if no one candidate has 50% or more votes  the candidates with the least support are excluded and their votes redistributed according to the voters preference, until one candidate has the support of  a majority (50% or more) votes.  It avoids the need for two rounds of voting and the political tension that exists between the two ballots. This is the Australian system. The secret ballot is called the Australian ballot – as we were the first country to adopt secret voting in the ballot box-  I'm not arrogant, but you may say that a preferential system of voting is a good idea too and Ukraine might like to look at adopting the system used in Australia.
- I know there has been some political tension in Australia, the majority of Australian citizens want the country to become a republic. How do you think, is Orange Revolution is possible in Australia?
- I don't think that will necessary come to a revolution – Australians do not want the Queen of England, but an Australian, to be the Head of State. We held a referendum in 1999 – where 78% of people were in favour of republic. It was not that people voted against the system, we would never adopt a presidential system. We want to maintain the parliamentary system. Hopefully we will become a more independent country in the future. I hope that with the new government we will have a plebiscite on the type of system we want [a directly elected head of state or a head of state appointed by a parliamentary majority] and that we'll vote again at a referendum on whether we will become an indepedent parliametary republic.
- Australia recognized that Ukrainian Holodomor was a genocide. Russia is opposed to this fact. What would you say to those countries which have not recognized the Ukrainian Holodomor as yet?
-I would suggest that they  look at what the Germans had done after the Second World war. Germans understood that if they don't recognize this terrible past it's an encouragement to some elements who would like to repeat it. I do not want to say that anyone wants to repeat the Ukrainian famine, but you are strong when you face these kinds of issues, and try to resolve difference between people. It's not strong to say that it does not happen. It's weakness, mental weakness. Strength is to say this was a  terrible period, and apologize that it all happened. It was done by a different system. [Australia recently faced up to its past and the new Rudd Government has apologised for the past treatment of Australia`s indigenous population]  Why should people in Russia, just like young Germans, be responsible for what KGB and Stalinist regime did. It's not their fault. But they should –and  the other countries who do not recognize the past events – look them into the eyes, to see what happened with the Ukrainian people. It does not hurt anyone to admit the historical truth.
- The Russian position is quite strong now in the world. Many countries share Putin's views.
- I personally am a big admirer of the Russian culture and Russian history. But we think that our friends in Russia should not escape from the past. It's very good for them, for their own society to know what happened during the communist period. After all, the Ukrainian famine, and starvation killed 1.5 mln communists, it is called Yezhovshchina. We should face these kind of things. It's not only in support of Ukraine, but good relations with Ukraine. This is helpful for Russia as well. The International Holodomor campaign was lead by an Australian Ukrainian, Mr. Stephan Romaniv, to commemorate the Ukrainian famine and the death of tens millions of people. They organized exhibitions, information and other events trying to get different parliaments to pass resolutions.
- How do you think, in what spheres Ukraine and Australia may broaden ties?
- I have enjoyed my visit to Ukraine very much, it is interesting to visit such a significant country as Ukraine, which is virtually unknown in the Pacific region. There is a big possibility for better relations between Ukraine and Australia in tourism, business, agriculture, mining, environment, education and technology development.. Ukraine like Australia a big coal producer and we've just invented a technology of capturing greenhouse gas and storing it underground. It is called geo-sequestration. We could work together on things like this. In particular, in tourism. A lot of Australians travel, much more than Americans. We have a publishing company called the "Lonely Planet", which is publishes world wide travel guides. They have a marketing plan for America to try and encourage 35% of Americans to get a passport. You'd be surprised how few Americans travel outside the United States. I think it would probably make for a better understanding. A lot of Europeans are critical of America because they say that Americans do not know enough about the world. Perhaps if they travel more, we could solve this problem.
By Oksana Romaniuk
If you see a spelling error on our site, select it and press Ctrl+Enter