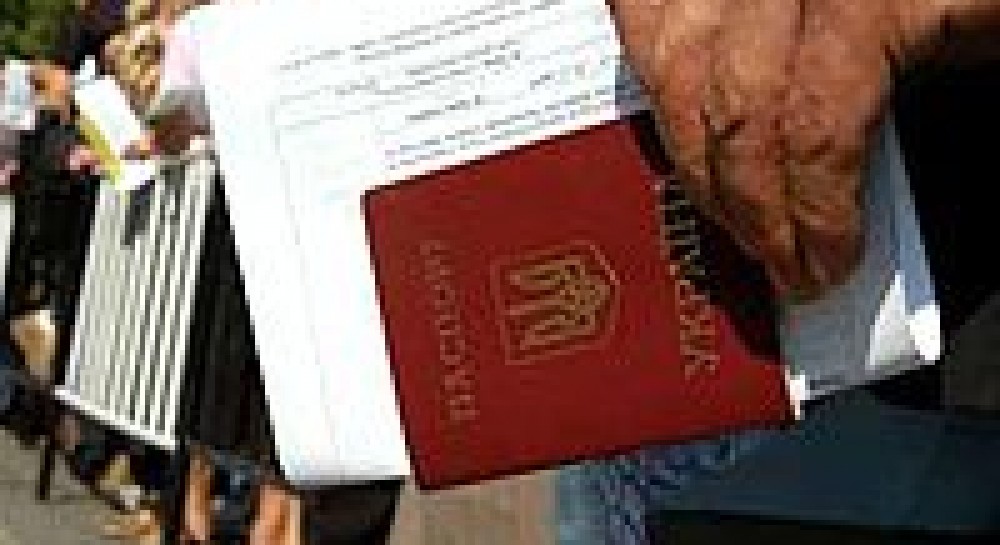 Ukrainians hanker after visa-free travel with the EU
11:19, 16 May 2008
2 min.
1708
At the moment, Ukrainians need a visa to travel to EU countries and the process for getting one is lengthy and expensive. By contrast, most EU citizens have been allowed to travel to Ukraine without a visa...
Ukraine has been celebrating Europe Day in several of its cities this week, while calling for closer ties with the EU and for a clearer recognition of its European identity. But for ordinary Ukrainians, the real priority is for the EU to let them travel freely within its borders.
At the moment, Ukrainians need a visa to travel to EU countries and the process for getting one is lengthy and expensive.
Their frustration with the situation increased when their neighbours, Hungary, Slovakia and Poland joined the EU`s borderless zone in December and put in place the same entry requirements as other Schengen countries such as France, Germany and Spain.
By contrast, most EU citizens have been allowed to travel to Ukraine without a visa since July 2005. Bulgarians and Romanians, as the newest members of the bloc, were granted the same waiver in January.
The EU made much of a visa facilitation agreement with Ukraine that came into force at the beginning of this year that was supposed to make receiving short-stay visas easier for Ukrainian citizens.
The agreement is also supposed to simplify the criteria for issuing multiple-entry visas for some categories of people such as students, businesspeople, close family relatives or journalists.
But Ukrainians say it has not made any real difference.
No real facilitation
Despite what is being said, visa issuing "has not been facilitated," said Dana Depo, of the Ukrainian Youth Organisation, whose demand for a multi-entry visa has been declined. Ms Depo said she needed such a visa in order to regularly attend conferences as an NGO representative.
Instead of a multi-entry visa however, she received a single entry one and will have to ask – and pay – again if she wants to attend other meetings in an EU country.
Oleksandr Sushko, director of the Institute of Euro-Atlantic Co-operation – a Kiev-based think-tank – also maintains that the visa agreement has had a limited impact.
"The most sensitive and important articles of the visa facilitation agreement are not implemented properly. It is not easy for Ukrainians to prove that they are members of this and that category," he said.
Additionally, most member states "violate" the terms of the agreement by requiring extra documents – often to be accompanied by an official translation – meaning the visa can cost around ?60 or more, ?25 more than the actual price of a Schengen visa.
This is a substantial amount of money in a country where the average monthly wage is around ?200.
Mr Sushko points out that Ukrainians do not have an appeal procedure if their visa application is declined, and in most cases are not given a reason for the refusal.
`Hypocrisy` of EU states
With the continuing difficulties in visiting any of the 27 EU states, many Ukrainians see the possibility of travelling freely as the biggest added value of EU membership.
"In terms of public perception, the facilitation of the visa regime, as well as of customs and border control" are undoubtedly the priorities in EU-Ukraine relations, said Oleksandr Chalyi, a senior foreign-policy adviser to Ukrainian President Viktor Yushchenko.
"It is a very, very sensitive question for us," he added, refusing to accept that his country is called an "external border" of the EU.
"We prefer this to be a common border," he said.
For his part, Ukraine`s deputy foreign minister Kostiantyn Yelisieiev said he found it hard to understand why some EU states "are against even opening a dialogue on a visa-free regime with Ukraine."
He regretted the fact that visa facilitation is becoming "a sort of hidden weapon for some member states not to include Ukraine in the EU`s internal market," and said their vision of Ukraine and its citizens was "too simplistic."
Mr Yelisieiev accused those states of hypocrisy, saying there was no logic in starting a visa-free dialogue with Russia – something the EU did last year – and not with Ukraine.
"We already took our commitments, please let`s go ahead, let`s give Ukrainian people some perspectives," the diplomat said.
The visa issue is also to be addressed in a new EU-Ukraine agreement currently under negotiation.
By Elitsa Vucheva, EU Observer
If you see a spelling error on our site, select it and press Ctrl+Enter