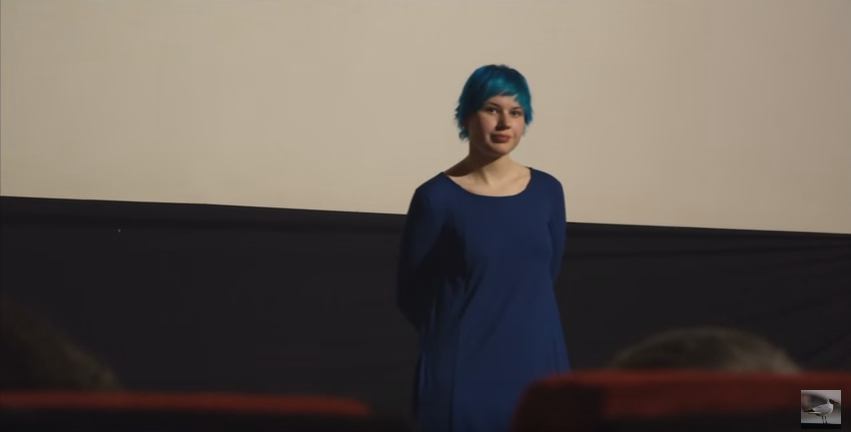 Director of film about Nemtsov: "Boris was uncomfortable with Russia sending its men to the war and concealing it"
20:00, 25 July 2016
8 min.
651
Interview
Ahead of preliminary hearings in the case of the murder of Russian opposition leader Boris Nemtsov, UNIAN sat down with Zosia Rodkevich, the director of the documentary titled "My Friend Boris Nemtsov", which premiered at the 7th International Odesa Film Festival.
A documentary film director Zosia Rodkevich was born in Moscow. She graduated from Marina Razbezhkina and Mikhail Ugarov's studio of documentary films and theater. Having presented to the audience her debut full-length documentary "My Friend Boris Nemtsov," a 25-year-old Russian film director was awarded the jury's special diploma in the competition program of the European documentaries. This is a film-portrait of Boris Nemtsov, who was shot in Moscow not far from the Kremlin February 27, 2015. After Ms Rodkevich started filming the life behind the scenes of a prominent opposition leader, she  followed him everywhere. The camera is on as Nemtsov is traveling by car or rail during the election campaign, capturing his jokes, dreams and plans, revealing the most hidden sides of his personality.
Joke after joke, the film director and the politician become friends. Although, according to Zosia, she could never imagine a slightest possibility of any friendly relations. Moreover, the age difference was more than 30 years. With her nose pierced, gravitating to a certain subculture, she is a convinced anarchist, while he is a high profile public figure, an impeccably dressed democrat...
UNIAN sat down with Zosia Rodkevich before the start of preliminary hearings into the murder of Boris Nemtsov.
Zosia, you told me that you had neither wanted to shoot Nemtsov, nor get acquainted with him, saying, you had nothing in common. But when you took a closer look, was this hostility gone?
We first met at a train station – that's when our first joint trip started, as the film tells. We've been chatting all night through, and I realized that he was nothing I thought he would be. There was this chemistry between us. At first, I only saw a narcissist with prepared speeches and ready-to-use messages that had formed over years, but I still continued to film. I did so because I was mesmerized with his energy. He attracted a great variety of people. He could meet a random person on the street and just start a conversation... I've not expected such openness and sincerity from a politician. After all, as a rule, politicians are dishonest and boring people. In this regard, Nemtsov was unique – I've never encountered anyone like him.
According to your observations, what was the most valuable thing in life for him?
Relationships between people. He wanted these relationships to remain human, which is a rare thing in politics.
What were Nemtsov's distinctive features you can name right away, without thinking?
Hedonism. He was very fond of all the manifestations of life - beautiful women, delicious food, cosy furniture... Nemtsov was like a great life wave, his energy is a barrage, pouring on you, into the camera… And I hope, it will also pour from screen – into the theater, at the audience.
How long have you been collecting material for a documentary?
In total, I was shooting for three years, starting in 2012. I've accumulated some 100 hours of footage, while the film is just 72 minutes long...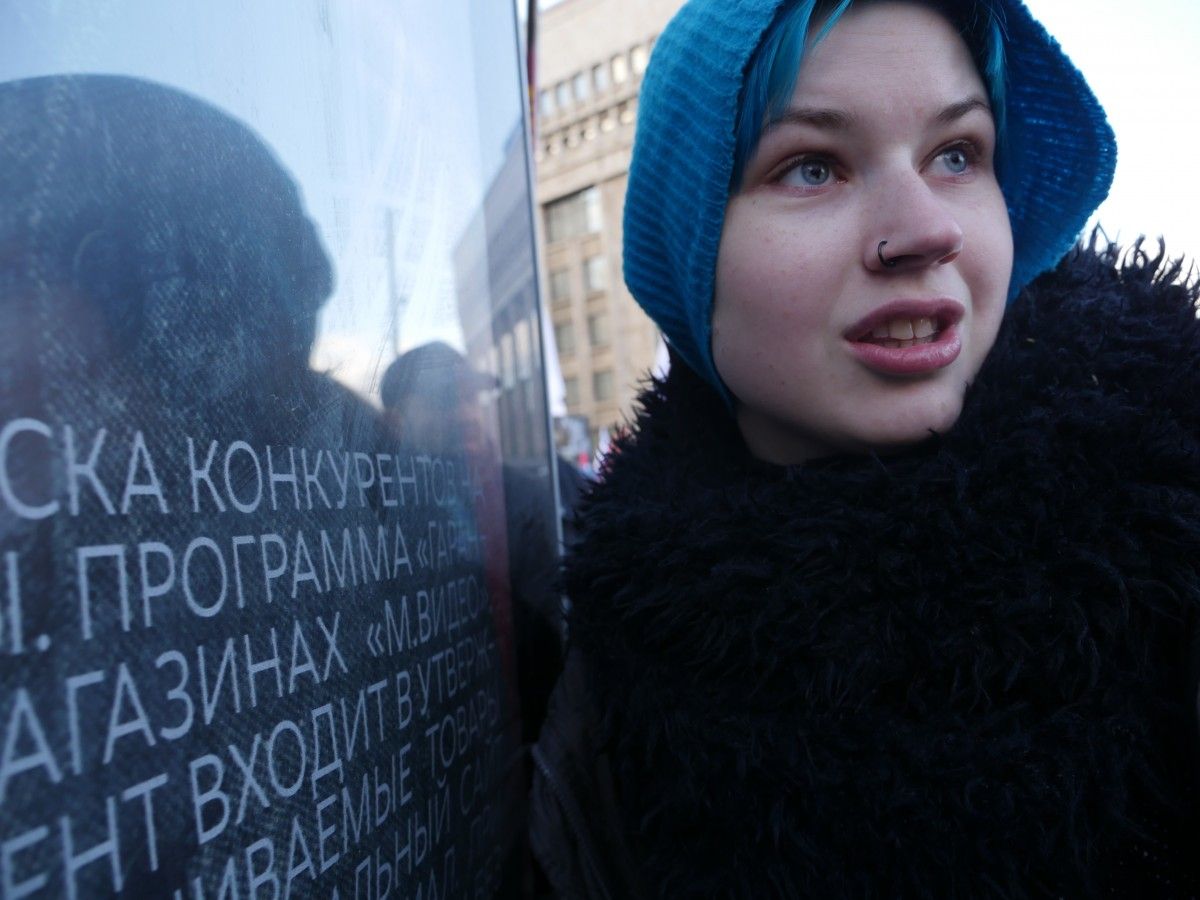 Rodkevich told how she collected material for the film / razbeg.org
You probably feel sorry for all that material that was left out, don't you?
Of course. For me, editing the film is painful. I usually try to cram everything, and because of this, everything hangs out and falls off (laughs).
But, thank God, there is this documentary project called "Reality", which posted on YouTube a 40-minute set of episodes that are not included in the final cut of "My Friend Boris Nemtsov." It's almost like a new film, with all the sweet parts that were left out.
What was the hardest part to cut?
There was this wonderful story about Nemtov visiting Rostov and offering to build a campaign around the issue of public toilets. The bottom line is that we tweet something on our fancy iPhones while sitting on these nasty toilets. A really funny episode. But that was too much for the film, and I had to cut it. This is the first thing that came up when you asked. In fact, there were many things that were hilarious and pure interesting.
Rodkevich: Nemtsov is like a great life wave / www.svoboda.org
In Odesa, the audience was astonished. And how is your film accepted in Russia?
We've had more than a dozen shows in major Russian cities - Moscow, St. Petersburg, Izhevsk, Yekaterinburg, Perm… It's been perceived in many different ways. There was gratitude, tears, hatred, indifference...
For example, in Tyumen, where there is massive industrial production, only five or ten people were coming to the small theaters and clubs. They basically didn't know the hero. It was obvious that people had no clue what they were watching and why they even came to the theater, as they are never shown any alternative films.
In Nizhny Novgorod, a local man said he came to the premier being hangover, so he first just sat there and had a bad time. Fifteen minutes into the film, he was no longer sick – the movie "cured him".
During our first shows in Moscow, large movie theaters were full. After the film was presented, the people were so impressed beyond speechless. It was an incredible emotional intensity. That's when I thought that it doesn't matter what comes next, whether it's some police raid or our arrest...
And what is the reaction of the Russian authorities? Are the movie theaters across Russia willing to show your film?
In late February, we got an official permission from the authorities to show the documentary. However, most theaters in Moscow and other cities were not willing to show the film, fearing adverse repercussions. In particular, they would come up with various excuses to not take it. Despite this, there are still real people who have done everything in their power to get the film going. For example, in Perm and Yekaterinburg.
As for the reaction of the authorities, there is no reaction whatsoever ... It's a norm to just ignore everything, pretending that the event is not happening at all. Because if they react negatively, there will be even more attention, and they won't like that.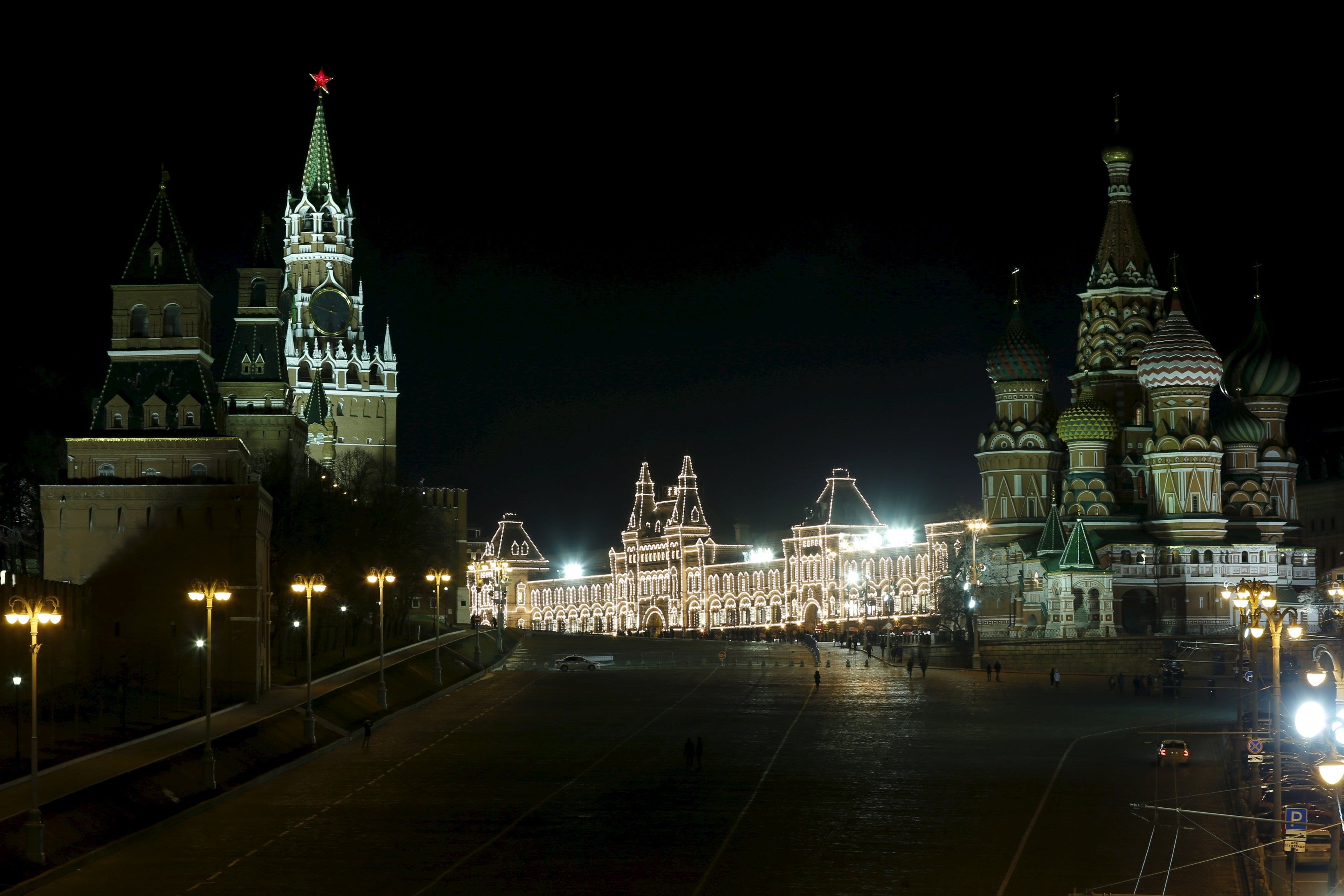 REUTERS
Will the film be released in Ukraine?
I hope so. I am very interested in this film being seen by as many people as possible.
Nemtsov was widely respected in Ukraine for his open support for Ukraine, as he opposed the annexation of Crimea and the conflict with Russia's participation in Donbas ...
I can't imagine Nemtsov not having done it! He often spoke of Ukraine, reminiscing of his work with Viktor Yushchenko, he often talked about the  Orange Revolution of 2004. That's why many people in Russia looked down on him, claiming that he sought to stage a coup.
He was an honest and brave man. When the war broke out in Ukraine, he was making public statements, despite pressure and unpredictable consequences, including on the part of [the pro-Kremlin] "Nashi" movement...
It was dangerous, especially at the time. Now everything seems to have calmed down a bit, people are tired of arguing with each other. But at time when he was making statements on Ukraine, there was an acute period, when the Russians were still divided into camps.
Boris was not comfortable with the fact that our country is sending its men to fight, concealing it, which is humiliating and shameful. He was sick with what was happening and devoted much of his time to the Ukrainian problem. Especially, in the last year of his life, when he was making a report on the war... But we have the information blockade – this information drowned. It was all presented as "this dirty Nemtsov dared say something ".
Before the screening of your film in Odesa, you have expressed condolences to the family of a journalist Pavlo Sheremet, saying that you knew him in person...
Yes, I knew him – he was a good friend of Nemtsov, they often met, had dinner together. Sheremet would come to speeches, even after he left to live in Ukraine. It is still very important to me that Sheremet hosted the vigil for Nemtsov during his funeral, and he was also making a film about Boris. His death in a blast was a shock to me, just as Nemtsov's assassination.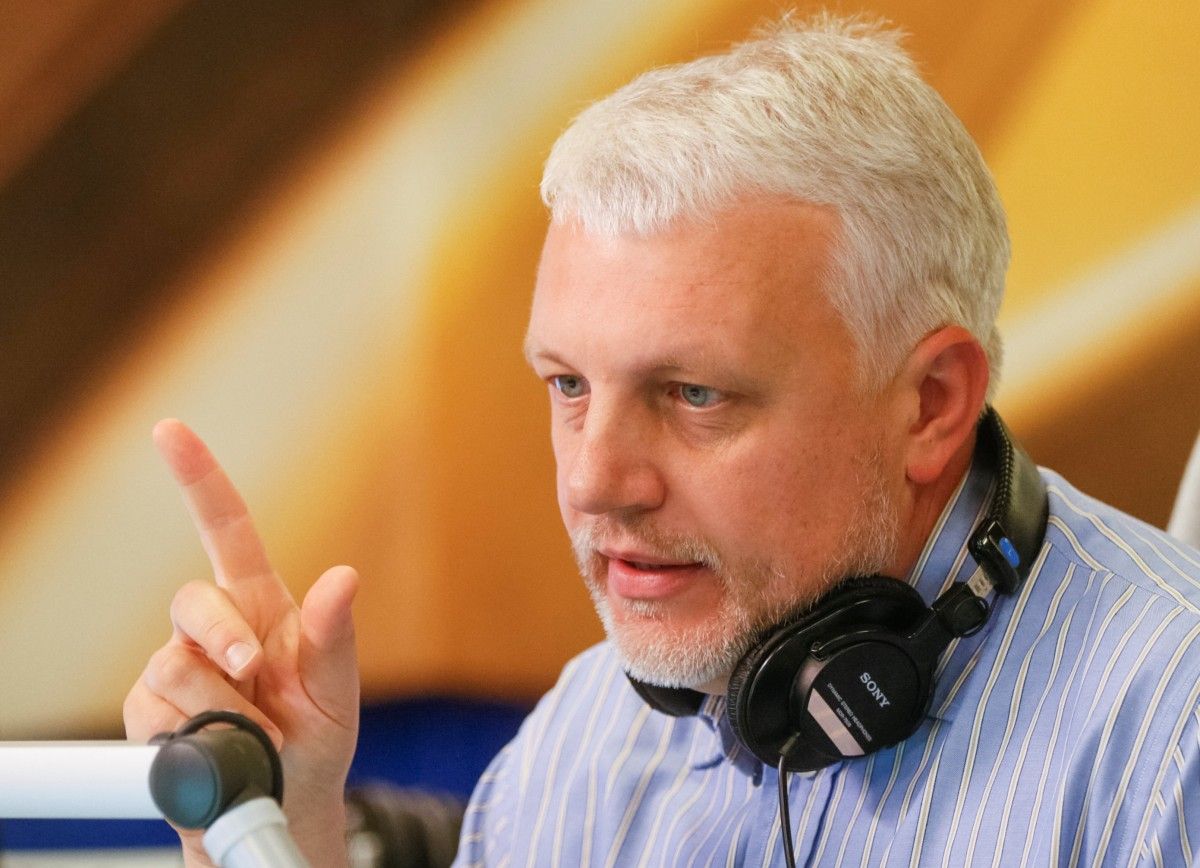 REUTERS
Do you remember the night he was shot?
I was at a country house, near St. Petersburg, where there was barely some cellphone coverage. I received a text message: Nemtsov has been shot. I didn't believe it. I thought it was the wrong wording, that there was a failed attempt... After all, he's not the most dangerous man in the world to get killed! Then there came other messages, again and again, dozens of messages... I was wandering in the woods for a few hours, crying... When I came back, we found some batteries, switched on the radio and were listening to the dawn: all these different versions of the murder. It was clear that I needed to get to Moscow. I needed to film everything associated with a tragedy – I had to finish the documentary. I only made it to the funeral, while on the night of the murder, it was my friends who were filming – that bridge [near the Kremlin where Nemtsov was shot] with the puddles of blood on it...
It is true that you are called Anti-Riefenstahl?
No. This was made up by Alexander Rastorguev [a Russian documentary filmmaker, producer of "My Friend Boris Nemtsov,"]. Now I get to finally scatter the myth – never in my life has I been called this way. The only rationale to this nickname is that in contrast to the German director Leni Riefenstahl, I do not like the [concept of] authority. I am an anarchist. As I see it, the leadership destroys the idea. In this sense, I believe that the authority is the enemy.
You believe that leaders are evil – but this hasn't stopped you from making friends with one of the main leaders of the Russian opposition...
But we had argued all the time because of this! About my ideas, he said, that "we have already been there and done that- we tried to destroy everything and build from scratch [referring to the Communist slogan of the Revolution of 1917]. He would say: "See, what happened?" I would interrupt him, saying that it seems to me that that Lenin's initial utopian idea is, in fact, normal. It's just that the people are initially worse – they are not willing to live honestly. Authority corrupts people.
Was it because of these arguments that you stopped shooting a film about Nemtsov?
It's not about that... Over three years, a lot of material was accumulated, and the atmosphere grew tense – our relations became strained. I got tired of doing stories about politics, the topic was a burden to me, I didn't want to film rallies anymore. It's hard to film the same person for so long...
We got into a big argument, discussing how the film should look on the screen. He had his own opinion. I wanted it to be an educational movie where the voiceover will tell who Nemtsov is and what he is famous for. He insisted on some boring nonsense, a kind of a school video tutorial. He obviously knew nothing about what a good documentary should be, and the only thing I agreed to was  to sit him in a huge leather armchair and film him from below, to make it at least somehow funny.
My version was different – a film about politics. In particular, about people exploiting each other. Of course, they liked Nemtsov's charisma, his energy, and he was used as a prominent figure, in their election campaigns. And he, in turn, also applied for someone else's help...
Well, during that argument in the autumn of 2014, I spat in his glass of whiskey. He called me a dirty word,tapped his forefinger at his temple, and I just left. After that,  we only met once, briefly, at some meeting.
Was he upset with you?
It is unlikely that he took a spoiled whiskey to heart. I am just an emotional person. When something serious is going on, it's difficult for me to express what I feel with words.
Do you regret that episode?
No. It seems to me that, had such a situation happened now, I would've done the same thing. After all, we had an argument not because of the film, because making films is the most important thing in my life. If Nemtsov was alive, our discussion would be continued.
If a miracle happened, and you had an opportunity to ask him one question, what would it be?
We travel with this film together, as if we were both authors of this movie. And the most important for me is to know what he thinks about "My Friend Boris Nemtsov." I would ask: "Did you like the film?"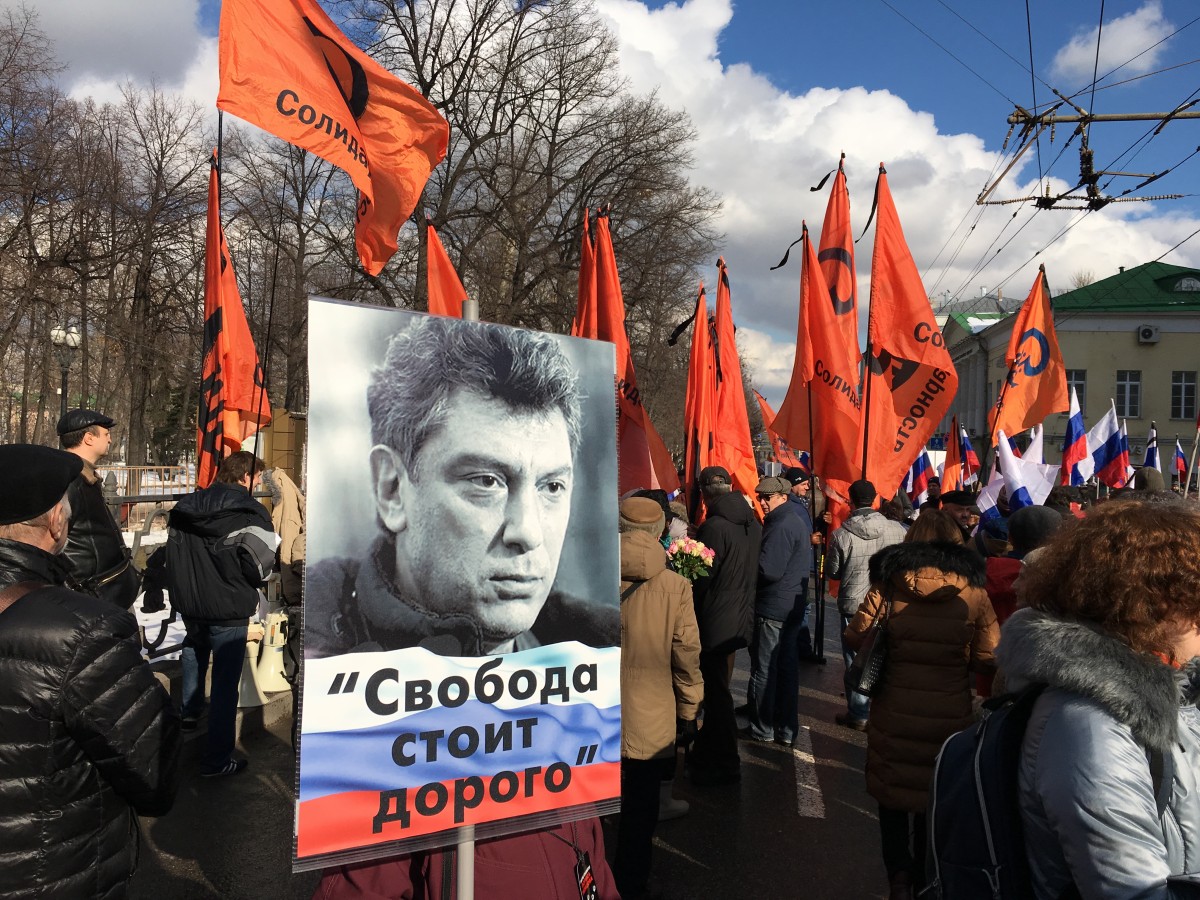 Rodkevich: On the night of the murder, it was my friends who were filming - the bridge with the puddles of blood / Photo from UNIAN, Roman Tsymbaliuk
Do you think he would have liked it?
People often ask me about it. Of course, I can't speak in the subjunctive mood. But Ilya Yashin, who was a friend of Nemtsov, says he would have liked it. I am inclined to trust his judgment.
Besides Yashin, has the family of Boris Nemtsov, his colleagues seen your film?
Olga Shorina has seen it. She used to be Nemtsov's press secretary, and now she is the executive director of his foundation. She liked it. But the daughter – Zhanna Nemtsova – she hasn't seen it yet. The rest of his relatives haven't either.
Larysa Kozovaya
If you see a spelling error on our site, select it and press Ctrl+Enter