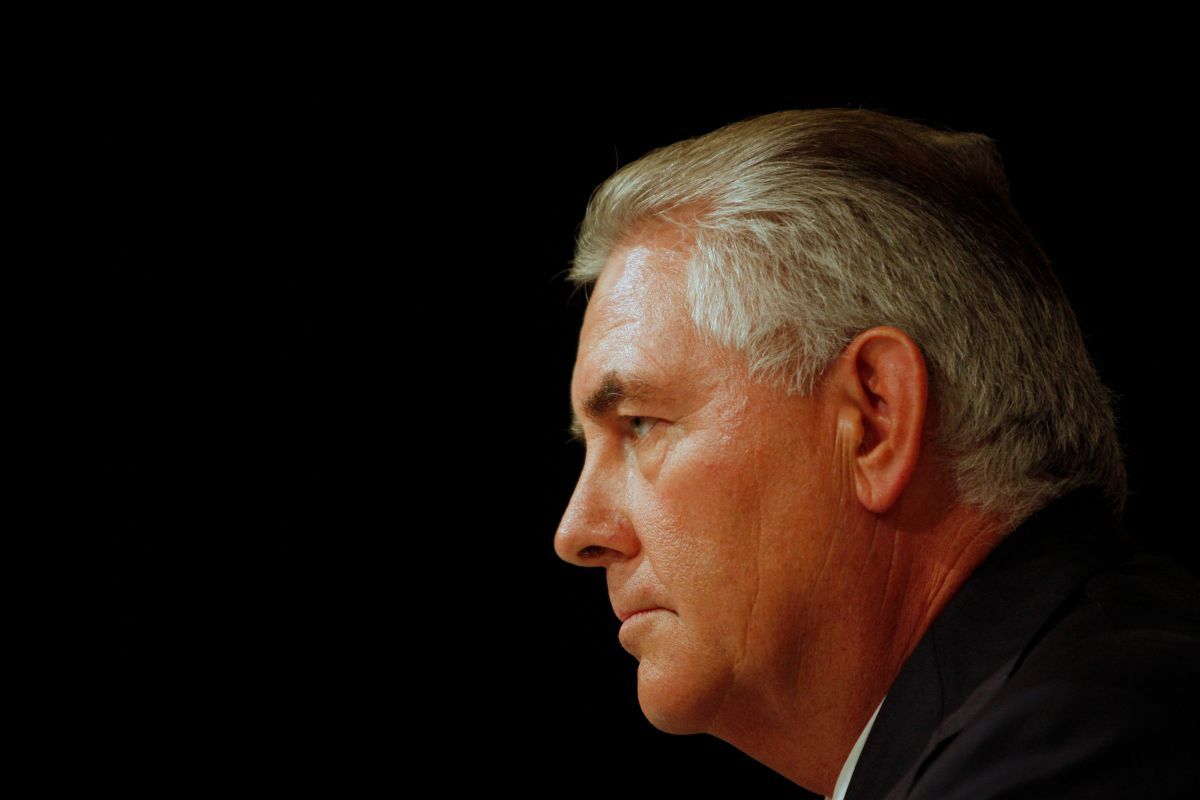 Man from business: What path will the new U.S. Secretary choose
18:15, 15 December 2016
529
After the U.S. citizens voted for their new president, discussions have been very active about the candidates for the various posts in Donald J.Trump administration. UNIAN figured out what the nomination for the post of U.S. Secretary of State of an ExxonMobil CEO Rex Tillerson promises for Ukraine.
U.S. President Donald Trump decided on a candidate for the post of Secretary of the US State Department. Trump has picked an ExxonMobil CEO Rex Tillerson, who is known to support the lifting of sanctions against the Russian Federation and to have close ties with Russian President Vladimir Putin.
A 64-year-old Tillerson has no experience in the executive branch. He heads the world's largest oil company that is engaged in gas and oil exploration in more than 50 countries across all six continents. Actually, such a global presence of Exxon Mobil makes experts fear that the appointment may lead to conflicts of interest. For example, regarding the U.S. relations with Russia.
And it is not so much about the fact that Tillerson is considered Russian President Vladimir Putin's friend, who has been awarded Russia's Order of Friendship. Rather, it's about the agreement between Exxon Mobil and Russia, which has helped to open up oil reserves worth billions of barrels in the Kara Sea. But the project for further development was halted when the United States and the European Union imposed anti-Russian sanctions because of the Russian annexation of the Ukrainian Crimea and the beginning of military aggression in eastern Ukraine.  
That's why the U.S. media voiced fears that the business interests of Tillerson's Corporation can complement Trump's intention to strengthen the U.S.-Russia ties. In his interview with Fox News, Trump called Tillerson "a world-class player" and noted that Tillerson's deep relationship with Moscow is actually a business advantage.
Indignation in the Senate
In turn, some American legislators, whose approval in the Senate is still to come for Rex Tillerson to secure his appointment, have expressed concern about such relations with the Kremlin. It is highly possible that the issue of U.S.-Russia relations will take center stage in Tillerson's approval process.
"Vladimir's friend" is not something U.S. Senator Marco Rubio (R-Fl) said he wished to hear of a potential Secretary of State.
Lindsey Graham (R-SC), the member of the Senate Committee on Armed Services, Judiciary, Budget, and Appropriations, agrees with him, saying that if one receives an Order of Friendship from Russia, there is a lot to be discussed. He also noted that Russia was trying to break the spine of the world's democratic countries."
According to Graham, he is looking forward to meeting with Tillerson to discuss his world views. At the same time, special attention in this conversation the senator plans to pay to the views of the future Secretary of State on the relationship between the U.S. and Russia, based on Tillerson's extensive business ties with Putin's government and his previous opposition to the efforts of the United States to impose sanctions against Russia.
Enormous deals Tillerson struck with Vladimir Putin's government will influence his attitude to the Russian president and the Russian threat, according to John McCain, the Republican senator from Arizona and Head for the Senate Committee on Armed Services, who recently called the Russian president a gangster and a murderer, who should be talked with solely from a position of force.
Friendship and State interests
In fairness, we should note that it's not only the Republicans who perceive Tillerson's nomination with hostility. Thus, a member of the Senate Committee on Foreign Affairs Robert Menendez (D-NJ) said that he was "deeply troubled with the idea of a Secretary of State Tillerson guaranteeing Dictator Vladimir Putin has a willing accomplice in the Presidential Cabinet."
"Since I and many others expressed grave concerns over Rex Tillerson's qualifications for the position of Secretary of State, and his clear conflict of interests with Vladimir Putin and Russian oil companies, I have seen nothing to ease our concerns," he said in a statement. "The fact is, the art of diplomacy entails much more than the ability to strike a good deal. Striking a business deal where profits are the only end goal is fundamentally different than being tasked with forging lasting peace accords across the world, protecting America's national security and interests, and defining our response and role to an international crisis. The United States is at a critical juncture with nations around the world, and our interests need to be represented and articulated by a qualified leader with proven knowledge and regard for the norms and necessities that so much of our modern diplomatic and security efforts depend upon."
At the same time, Moscow hopes that the superior quality of building relations between Russia and the United States under President Donald Trump and Secretary Rex Tillerson will be "pragmatism." Thus, according to Russian Foreign Minister Sergey Lavrov, "these people are pragmatic, and we hope that this pragmatism is a good basis for building mutually beneficial relations, mutually beneficial from the point of view of Russian-American cooperation, and from the point of view of solving international problems."
In turn, Russian presidential aide Yuriy Ushakov was not as diplomatic in his comments and literally showered Tillerson with compliments: "The Russian representatives, not just the president, have good business relationship with this man. He is perceived by all as a very solid figure with his own views, with his own point of view. Of course, that is because he is a great professional in his field."
Ushakov gave an opaque hint that Russia wanted to get out of the crisis, which, according to Moscow, "as we believe, does not satisfy both the Russian and the American side." However, president's press secretary Dmitry Peskov said that it was too early to dream of lightning-fast changes: "It is absolutely illogical to build any predictions for the future, especially to indulge in some kind of a dream that all of a sudden, overnight, everything will change and that all that stalled, went hard, will suddenly start to develop on some deliciously successful scenario."
American puzzle
In principle, Peskov is actually right about the predictions. Because, even if Tillerson is not rejected by the Senate, he will face several challenges that do not play in Russia's favor.
According to a political scientist, professor of the Institute for Peace Research (Oslo) Pavel Baev, firstly, if approved, Tillerson "will have to work very hard to refute accusations that he is a friend of Putin." In his comment to UNIAN, the Norwegian political scientist noted that Moscow, therefore, should not expect any favors and concessions from the new Secretary of State. Especially when you consider that there are much bigger problems for the American policies than Washington's relations with Moscow. "And Tillerson is going to address them pragmatically, not sentimentally. He understands, perhaps better than many, the cost of reputation - and he will be much more cautious than his boss in the approach to the solution of sensitive issues. For example, such things as the style and the protocol in relations with China," said Baev.  
Professor of History and director of international studies at the Southwest University of Texas Dennis J. Dunn in his comments to UNIAN said that the appointment of a person who has not mastered the art of diplomacy is a real puzzle. Noting Tillerson's similarity with Trump as a businessman who seeks good deals and profit, Professor Dunn believes it will be alright if he uses his friendship with Vladimir Putin to promote traditional Western values, but he's not too optimistic. He suggests that the U.S. foreign policy may, in fact, become self-centered and based on bargains.
In turn, a senior fellow at Brookings Institute and former U.S. Ambassador to Ukraine Steven Pifer, commenting to UNIAN on the possible appointment of Rex Tillerson U.S. Secretary of State said that it was too early to talks about any shifts in U.S. foreign policy in this regard. Noting Tillerson's great experience and the ability to find deals with Russia when ExxonMobil's interests converge with those of Russia, Pifer wonders whether Tillerson can get out of his role of ExxonMobil CEO and work effectively as a Secretary of State with countries such as Russia when these countries have a "conflict of interest" with the United States.
Ex-Foreign Minister of Ukraine Volodymyr Ohryzko agrees with this point, saying that the decision to appoint Rex Tillerson to the position of Secretary of State is a continuation of Donald Trump's business logic in his choice of the team in the future administration. However, the diplomat believes that the Senate will not be a bystander in this matter. "Therefore, even if the candidacy of Tillerson is approved, I do not rule out that during the hearings he will be forced to clearly state that his former sympathies, based on his business will in no way affect his actions as secretary of state," Ohryzko said.
In the end, the American legislators have sufficient authority to influence both the president and his secretary of state.
Kostyantyn Honcharov
If you see a spelling error on our site, select it and press Ctrl+Enter