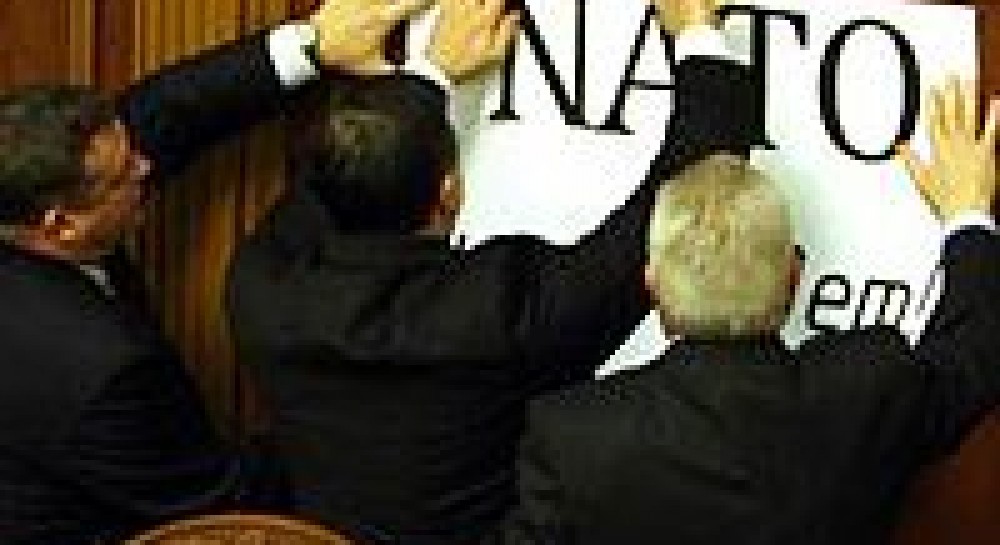 U.S. pushing to bring Ukraine and Georgia into NATO
10:49, 14 February 2008
3 min.
1678
Despite fierce objections from Russia, the United States is pushing NATO to start membership negotiations with Ukraine and Georgia at an alliance summit meeting in Bucharest in April, diplomats said Wednesday.
Despite fierce objections from Russia, the United States is pushing NATO to start membership negotiations with Ukraine and Georgia at an alliance summit meeting in Bucharest in April, diplomats said Wednesday.
The U.S. pressure is likely to lead to divisions inside the 26-member alliance, with Germany and several West European countries opposed to offering Ukraine and Georgia the prospect of imminent membership. Washington and several East European countries say the alliance should not give in into threats by the Russian President, Vladimir Putin, who this week warned his Ukrainian counterpart, Viktor Yushchenko, that if Ukraine were to join NATO, Russia might aim nuclear missiles at the country.
Bruce Jackson, president of both the Project on Transitional Democracies and the U.S. Committee on NATO group, said NATO should not be intimidated by Russia. "These countries want to join NATO," he said. "They can do the required reforms. This is about extending the Euro-Atlantic alliance."
The United States, supported by Poland and the Czech Republic, want Ukraine and Georgia to be offered the Membership Action Plan, known as MAP, which sets in motion accession negotiations.
Richard Lugar, the Republican senator who is one of the officials leading the U.S. efforts, came out in support of the new Ukrainian prime minister, Yulia Tymoshenko, when he met her in Kiev last month.
Tymoshenko, who has made NATO membership one of her main foreign policy goals, has formally requested that Ukraine be offered the action plan. Her letter immediately triggered a protest by the biggest of Ukraine`s opposition parties, the pro-Russian Party of the Regions, which said the question must be decided by referendum.
Lindsey Graham, another Republican senator who is close to John McCain, front-runner for the Republican presidential nomination and who supports Georgia and Ukraine as possible alliance members, said at the Munich Security Conference last weekend that they should be offered something concrete in Bucharest.
Several East European countries are lobbying hard on their behalf. Radek Sikorski, the Polish foreign minister, said NATO could not "turn its back on the countries that share our values and demonstrate sufficient level of political, social and economic reforms." Speaking in Munich, he said that the Bucharest summit meeting "should examine Ukraine`s plan for participation in the Membership Action Plan," adding that it would "also be an opportunity to review NATO`s relations with Georgia."
Karel Schwarzenberg, the Czech foreign minister, said: "Ukraine and Georgia should be inside NATO. But it is crucial that they have support from their populations." He was referring specifically to Ukraine, where the population is split over the issue. Dimitrij Rupel, the foreign minister of Slovenia, said it would be "strategically important to have Georgia and Ukraine on board," adding: "They have to be prepared. In any event, this is not against Russia."
Germany is among West European countries resisting the membership talks. German officials said neither country was ready and that such a decision, besides antagonizing Russia, would pose huge challenges to NATO. Several NATO allies fear the alliance could be dragged into difficult territorial disputes between Georgia and Russia. Russia already supports the breakaway regions of Abkhazia and South Ossetia, which are part of Georgia.
The secretary general of NATO, Jaap de Hoop Scheffer, has also expressed doubts over offering a Membership Action Plan to either country, saying that Ukraine and Georgia needed more time to introduce reforms.
Another issue - NATO`s plans to bring three Balkan countries into the alliance at its summit meeting - is running into problems, diplomats said Wednesday.
Membership negotiations are almost complete with Albania, Croatia and Macedonia, except for one thorny issue. Greece is insisting that Macedonia, which still has the ungainly title of the Former Yugoslav Republic of Macedonia, be admitted to the alliance on condition that it not be called the Republic of Macedonia.
Ever since the breakup of Yugoslavia during the 1990s, Greece has refused to accept the name Macedonia, claiming it could have territorial ambitions on a region in Greece that is also called Macedonia.
Until now, most NATO and EU countries did not challenge Greece, fearing it might veto important decisions in both organizations. But in recent weeks, Greece has put forward a compromise in an attempt resolve the issue.
"Greece has decided to make a difficult shift in its position by its readiness to accept a composite name including the term Macedonia, added by an element distinguishing it from the historical Greek province of the same name," said Anastassios Kriekoukis, the Greek ambassador to Berlin.
By Judy Dempsey, the International Herald Tribune
If you see a spelling error on our site, select it and press Ctrl+Enter