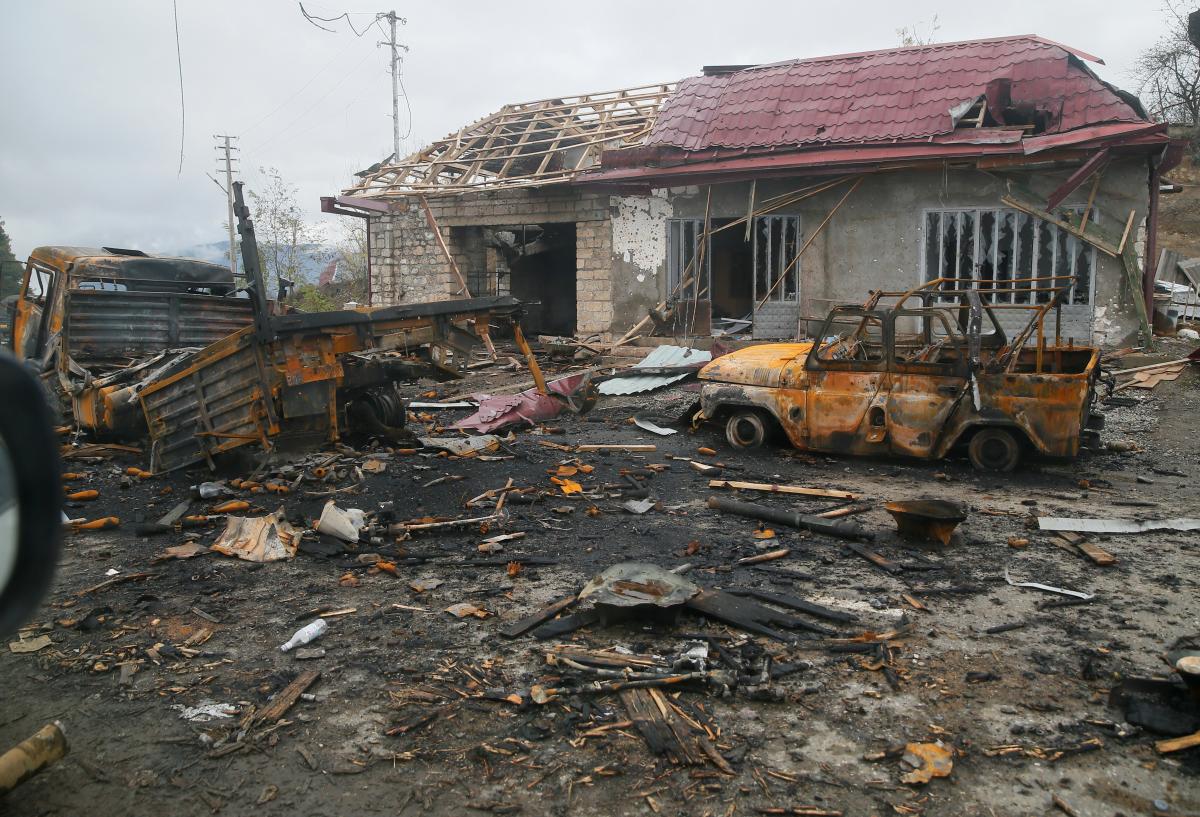 Cuts through Caucasus: What Ukraine and Russia need to keep in mind when observing Armenian surrender
22:30, 16.11.2020
5 min.
64188
Armenia has surrendered. What exactly did the winners and the losers agree on and why did Russia so easily give up on its allies, and will Armenians and Azerbaijanis be able to coexist peacefully after the bloody confrontation?
As convoys of peacekeepers move on, soldiers see dozens of dead bodies in camouflaged uniform. Those fighters died in the battle for the fortress city of Shusha – the battle that put an end to this bloody territorial confrontation. It is this eerie footage that's the true face of war.
He who controls Shusha controls all of Karabakh. The strategic city was considered impenetrable. However, on November 9, after several days of fierce hostilities, the Azerbaijani flag was hoisted over the city. Until the last moment, Armenians had hoped to get support from Russia.
"Why did our Putin give up on us?" An Armenian soldier asks, in Russian.
The Kremlin chief has the answer. Turkey's open support for Azerbaijan in this conflict has raised the stakes and finished off Russian influence in the Caucasus. Vladimir Putin did not dare to cross the line drawn by Recep Tayyip Erdogan.
But there was another motive. Armenian Prime Minister Pashinyan, whom Kremlin loathes. He came to power as a result of the revolution, displacing Russia's puppet. Now he's done, definitely. It was after the conversation with the Russian president that Pashinyan signed the deal, which his Azerbaijani counterpart, without hiding his emotions, called surrender on the part of the adversary.
"In this paper – not a word about the status of Nagorno Karabakh. So what, Pashinyan? What, where is your status? To hell with your status! There is no status, and there won't be any! As long as I am president, there'll be no status. This is a part of Azerbaijan," Ilham Aliyev said.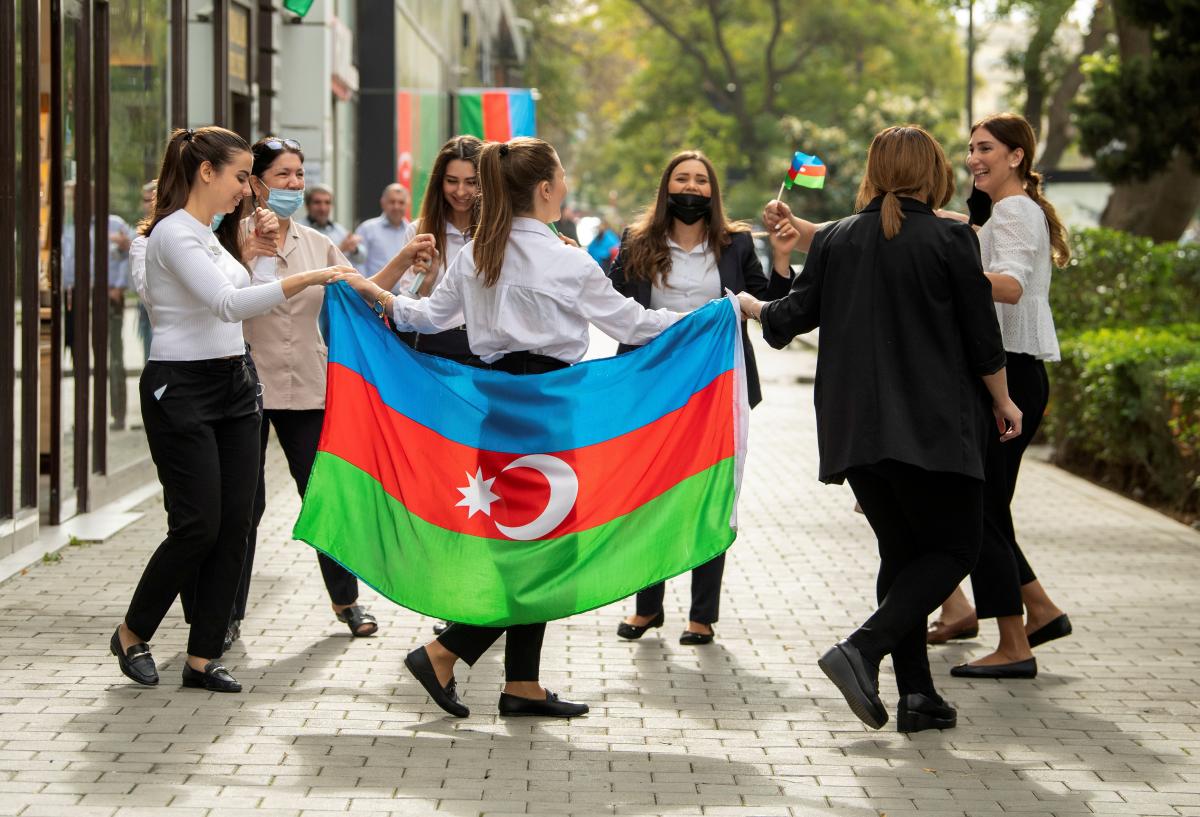 REUTERS
The streets of Azerbaijani cities have turned into human rivers, on the waves of which, to the sounds of songs and dances, float the colors of the national flag… This is victory.
And this is how the defeat looks like: outraged by the sudden surrender, the crowd storms the Armenian parliament, smashes furniture and assaults speaker.
Armenians are enraged. They don't understand why thousands of young lives have been lost. "We don't want it this way. We want to fight to the end," protesters say at rallies across Armenian cities.
"Our republic has been betrayed!" they add.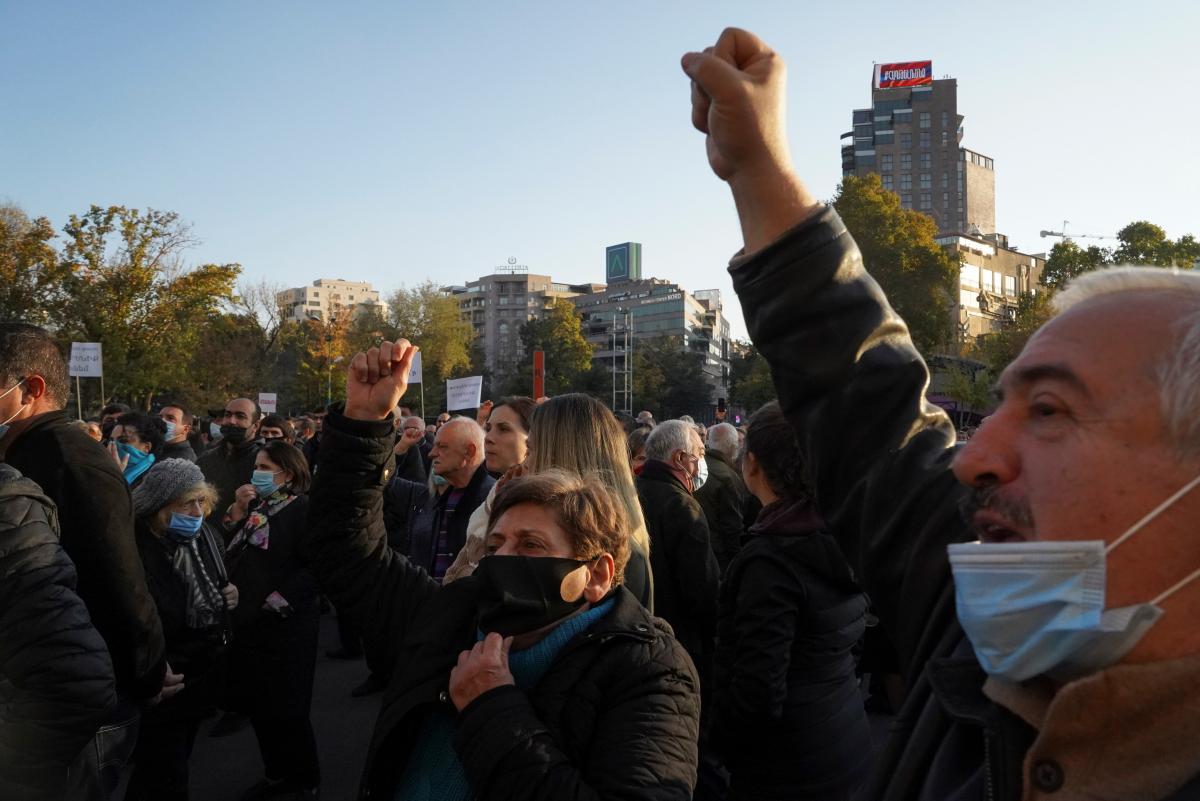 REUTERS
Under the terms of the ceasefire, the Armenian army completely withdraws from Nagorno-Karabakh. Azerbaijani troops remain in positions where they stopped their advance after the seizure of the stronghold of Shusha.
"We could have taken Stepanakert in a few days. This is humanism on the part of our president. He did not want the military to die on either the Armenian side or the Azerbaijani side," said Rauf Hajiyev, an Azerbaijani resident.
Then the plan is as follows – the Armenians will hand three districts over to Azerbaijan by December 1, leaving only the so-called Lachin corridor. A narrow, 5 km wide corridor, which connects Stepanakert with Armenia. But there is another "winner's bonus": a direct road from Azerbaijan to the Nakhichevan Autonomous Republic will be built along the territory of Armenia. It is part of Azerbaijan, but was cut off from Armenia.
Russia, realizing that its influence in the Caucasus was melting right in front of its eyes, quickly took the last chance to stay.
"A Russian peacekeeping contingent will be deployed along the demarcation line in Nagorno-Karabakh and along the corridor connecting Nagorno-Karabakh with Armenia," said Russian President Vladimir Putin.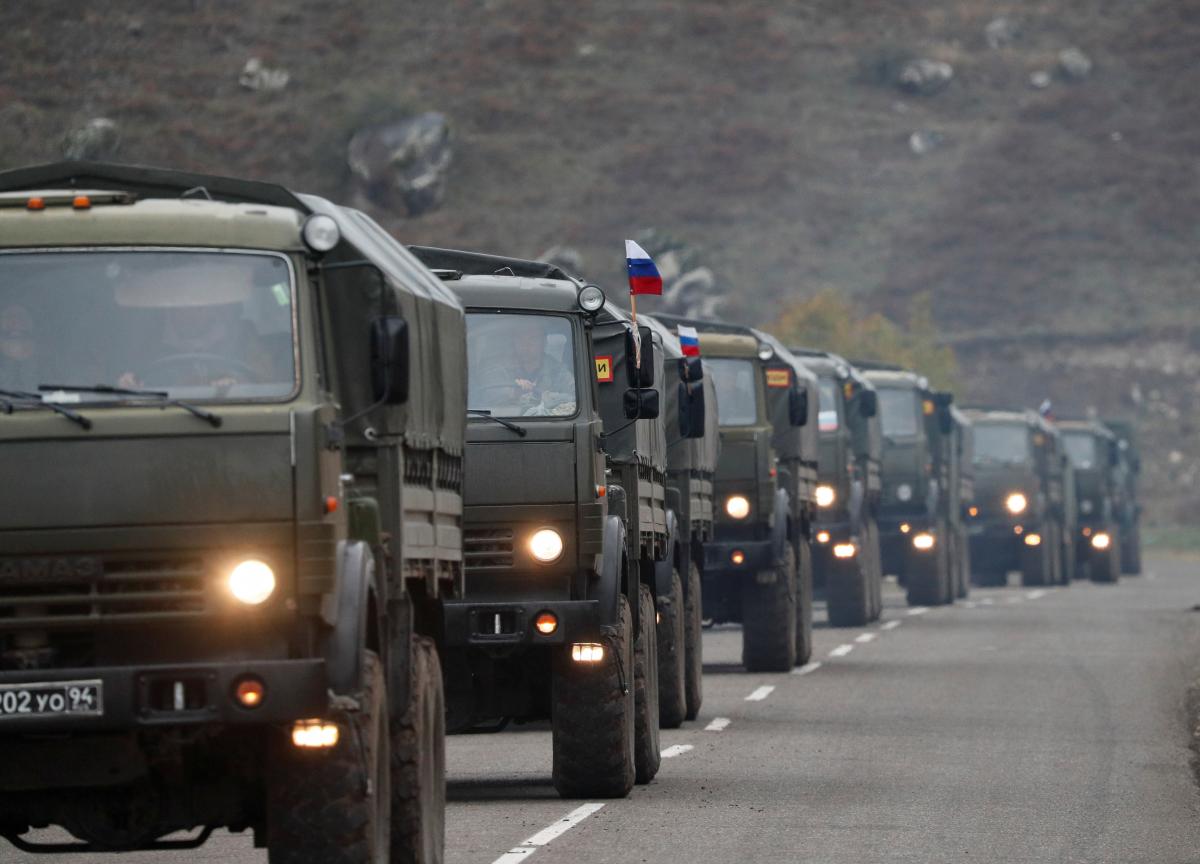 REUTERS
Now Russian convoys with the relevant inscriptions saying "peacekeeping forces" are moving to Stepanakert. Nearly 2,000 Russian soldiers are to set up observation posts where the Azerbaijani army stopped their advance earlier this week.
It is interesting that TSN.Tyzhden meets "old acquaintances" sporting peacekeeping helmets: the 15th separate brigade of the Russian armed forces, whose soldiers have repeatedly been involved in hostilities in the Ukrainian Donbas.
"Our team has undergone special training. It consists only of professionals who are ready to perform any tasks," said Oleksiy Butenko, a serviceman with the 15th Brigade of the Russian armed forces.
But Turkey has once again curtailed Putin's appetites. Ankara is also sending its peacekeepers to Karabakh.
According to the agreement, in five years Azerbaijan has the right to expel the Russians from Karabakh. The Turks, however, are welcome to stay. Before our eyes, a new geopolitical configuration is being set up in the region.
"Turkey supports us. Because the Turks and we are one people. One nation," a resident of the frontline town of Terter, Ahad Sultanov, tells TSN.Tyzhden.
Ukrainians are also referred to as allies here. People here do understand that thirty years ago Azerbaijan was in the same situation that Ukraine is in today.
So the locals assure: "It will be even better for you. And Crimea will eventually be back."
Even before the ceasefire, blue-yellow colors could be seen in the front line zone.
When asked by TSN.Tyzhnya why there is a Ukrainian flag hoisted among the flags of Israel, Pakistan and Turkey at one of the restaurants, Rauf Hajiyev, the owner's husband, says: "These are the flags of our allies, our friends. Ukraine has always been a fraternal country for us. We will share our experience and I think that the Ukrainian state will restore its sovereign borders, starting with Crimea and ending with Donbas."
Karabakh could actually become a mirror in which Ukraine will see itself and its future – how it could also regain the territories that are now being temporarily occupied.
"Today should show whether the Nagorno-Karabakh agreements are viable at all. After all, today, by the end of the day, the Armenian army must hand over to Azerbaijan, without a fight, control over the largest area of ​​the so-called Nagorno-Karabakh Republic," TSN.Tyzhnden's special correspondent Andriy Tsaplienko reports from the ground.
Now there is a stench of dozens of fires hanging over the area. The war has stopped, but civilian homes keep bursting into flames. It's homeowners who set them on fire in a bid not to leave their belongings to the enemy.
"In the end, we will burn everything down so that Muslims get nothing," some Armenian say.
"We are leaving behind this empty land," locals add.
Who will come to this land now? How many Azerbaijani refugees who fled their homes thirty years ago will be able to return to their native villages?
"Azerbaijan has paid a very high price for its victory. This is a village built for refugees from Karabakh. Not far from the front line. For all forty-four days of the Caucasus War, it was under artillery fire. The last shelling ended only once the ceasefire agreement was signed by parties to the conflict," Andriy Tsaplienko says, showing on camera the devastated civilian neighborhoods.
REUTERS
Refugees will have to return to where the shells were literally falling on them just yesterday. And these people know – there is scorched earth they'll see there.
Adalat Atayev, a refugee from Karabakh, believes that peaceful Armenians who will remain in these territories will be able to live along with Azerbaijanis: "Everything will be fine. Azerbaijanis are, in fact, very peaceful people."
However, it remains to be seen how long it will take for both nations to forgive each other for the bloody war.
"No, it will be an issue to forgive as we saw their hostility towards us, I don't think it'll work… You see, I was six when we were expelled from our village. I was as old as this child I'm holding now," says Magira Mehramova, a refugee from Karabakh, who talks to a reporter with a girl in her arms.
Many years are probably still to pass before this hot spot eventually cools down. And before an ultimate reconciliation in Black Garden (that's how Karabakh translates) this little girl will probably have started her own family.
Andriy Tsaplienko, Serhiy Shchekochikhin