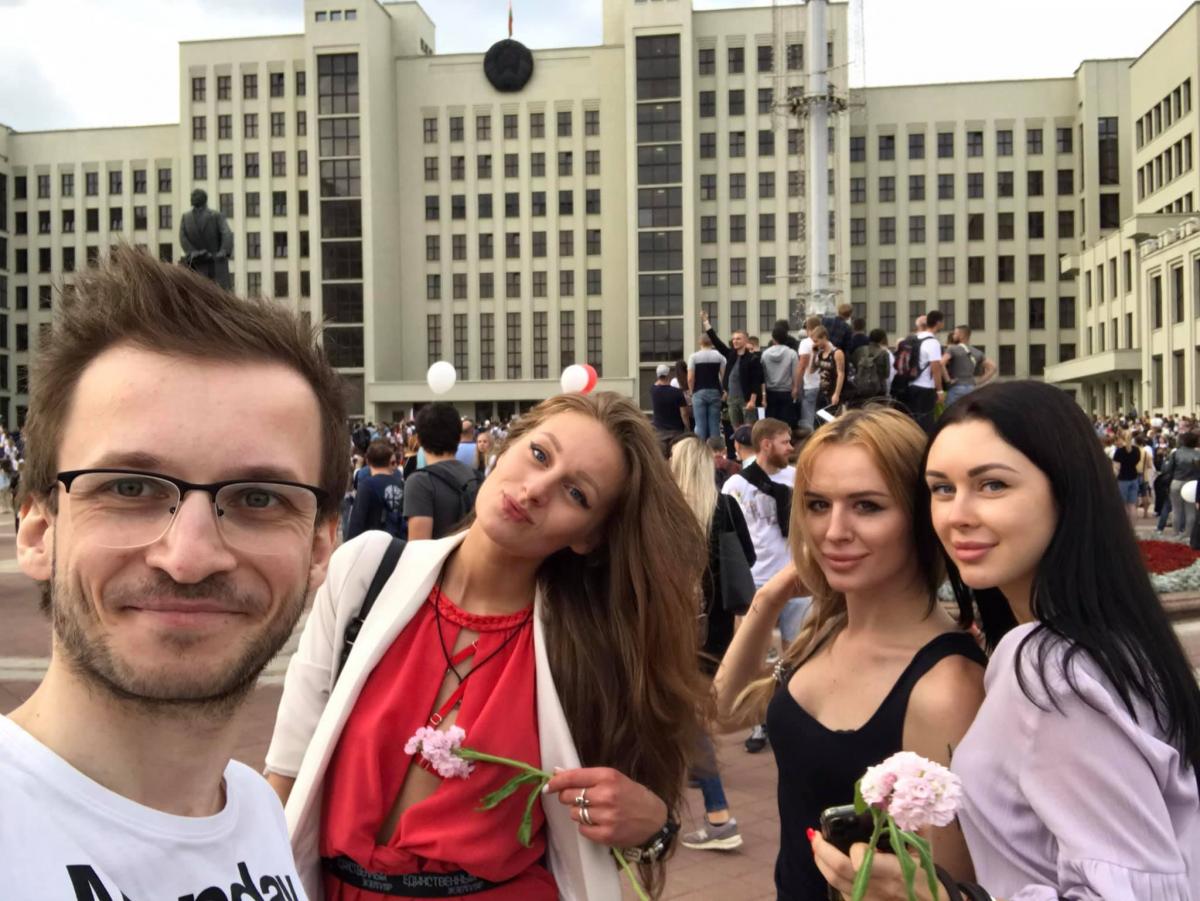 Minsk activist Pavel Chuduk on Belarus protests: "We don't have enough endorphins to do the Maidan as you did in 2014… We don't want deaths"
23:15, 25.09.2020
6 min.
5823
Interview
A Minsk-based foreign language teacher ​​, an active participant in Belarus protests Pavel Chuduk sat down with UNIAN to tell how the first batch of detainees were tortured with electric shockers while in custody, the latest atrocities of security forces amid Lukashenko's secret inauguration, and on why the Belarusians are no longer afraid, but still believe in peaceful protest.
Soon it will be two months into the Belarus election protests. Participants in rallies get beaten, detained, and go missing without a trace, but Belarusians still take to the streets. Have you been part of protests since day one? Tell us what is happening in Minsk now?
Let's start from the very beginning. On August 9 (the date of the presidential elections in Belarus) several thousand people took to the streets in Minsk for peaceful reasons. Alexandr Lukashenko decided to use all force he had against the people. It was a military operation, like in Syria or Iraq. Lukashenko's army against his people. The worst thing that happened then was flash and noise grenades. They would throw them into the crowd, aiming, and fragments would scatter three to four meters around. In my presence, three people fell, lay motionless, most likely due to concussion. Doctors were not allowed to the scene. I have been an activist for 12 years, but there has never been such a crackdown on the part of Lukashenko.
That night, at about half past one, I was detained. I was returning from the Minsk Hero City Stele monument (the place where protesters gathered that evening). Opposite the HQ of the Main Directorate for Combating Organized Crime and Corruption, plain cloth operatives jumped out of the van. In 10 seconds I was down with my face to the pavement.
I was dragged in handcuffs into one of the rooms. There were three people sporting uniforms with no insignia. They started electrocuting me. This lasted about three minutes, the discharges were somewhere around where the kidneys are. After that, I could not get up off the floor for several minutes. They yelled: "Bitch, get up!" I couldn't. They picked me up and after a while transported to the detention center on Okrestina. There, I was told to stand on my knees for several hours, along with another 200 people. If someone moved, they would beat them. If someone did something wrong, they would beat them.
How has tasing affected your body?
I didn't feel my fingers, for two days I could not do "scissors". My feet hurt, my jaw didn't work well, I had dry mouth constantly. The neck was red to the chest, then got darker. Now I cough as I'm talking to you – probably also one of the consequences. My temperature jumps. My whole body is like a piece of junk now.
Before that, as an activist, I was brought to the police station more than once. You've probably read my story and decided not to beat up the "political" guy with a record. Why leave bruises from a baton is I can later report them properly? Does the electric shocker leave marks? No. They know about it and they use it. They are the authority. There's only the KGB and the presidential administration who oversee them, as well as president himself. These people have "all-inclusive" authority: if they're told to kill, they'll kill, and if they're told to let someone go, they'll release them.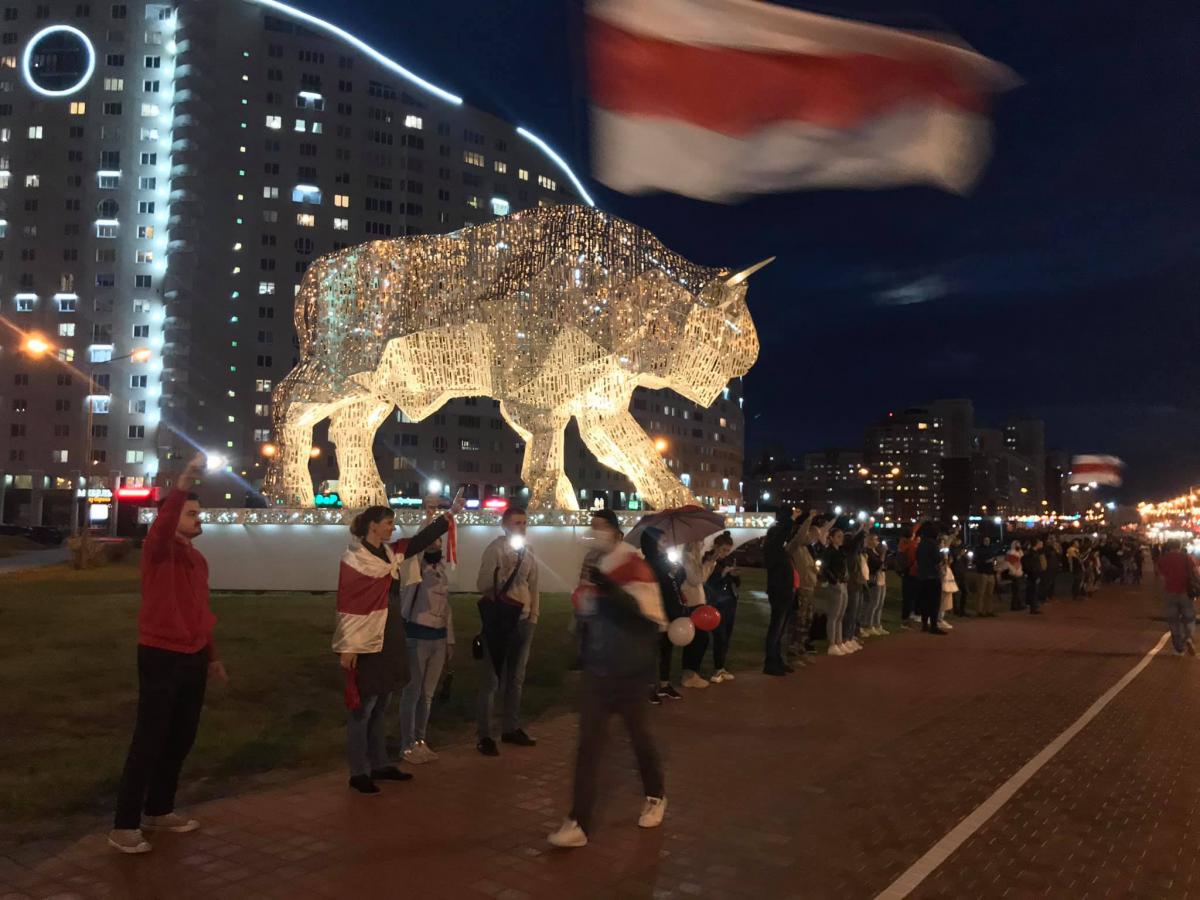 facebook/pavelchuduk
Is there information on how many protesters have died?
Six or seven... But there are missing persons, too. I would count from ten.
There are victims, and there will be more. But violence ended when more than 150,000 took to the streets. There were no cops in sight. For two weeks, we lived in a democratic country, no one messed with us, we would gather anywhere in the city without any issues. Then on weekends the government tightened the grip. Again they began to detain many people. And after the inauguration, which was held secretly from the media, from diplomats, the violence returned with greater force.
On September 23, about 5,000 people gathered near the Stele monument, people were heading to the Palace of Independence, where the inauguration of the so-called president was taking place. About half-way, the crowd stopped. A narrow street was blocked by riot police who stood in several lines. It seemed to me that they even outnumbered activists. And they were rough, too – just like on August 9. Blood was shed, again.
Massive attacks by riot police began, water cannons drove up, carrying red, yellowish or orange water, with a specific smell, some chemical, I guess. People were scattered with water and those who resisted more – with batons. Yells were heard: "Come here, bitch!", "Face to the ground!", "You idiot, why are you here along these morons?!" But some policemen would just say: "Move away!" or "Do you understand that you will get a hefty fine? Go away!","Run, girl!" Sometimes there are more or less adequate people among law enforcers. There is a small share of them. So you can't say everything is black and white. It's all a mess.
facebook/pavel.chuduk
How many protesters were detained during that rally? And will it be possible to intimidate Belarusians in this way?
According to reports as of the evening of September 24, a total of 343 people were detained and 323 were awaiting trial in custody.
Lukashenko's authority is based on fear. "If not me, then no one" is the main message in these elections. The main reason for the arrests is to make people afraid to even go grocery shopping. But in my case, after the handcuffs and tasing, I became stronger. I passed the peak thresholds. It's the same with everyone. Detentions don't work. People resist, sometimes physically.
Two weeks ago Lukashenko turned 66. Some 150,000 gathered to "congratulate" him. People were walking toward the Drozdy, the elite village home to businessmen from Lukashenko's entourage and loyal to police. Rumor has it Lukashenko also lives there. For the past 30 years, people would just whisper to each other about the Drozdy: "This is a strategic site," and now the crowd just heads there chanting: "Sasha, go away!", "Get out!"
Of course he hears it, and it makes him mad. Just look at him: clenched fists, all tension. Of course, the inauguration was supposed to be held in this rat style. There is no respect for this man, and who even said he's a human being?
It is unclear what this will lead to. What will happen today, tomorrow – no one can predict. But the larger the wave of violence, the harsher the response. Violence beats violence. People have overcome their fear and are ready to defend their rights in the streets. In the past two to three weeks, the number of people rallying on weekdays has dropped slightly. But at the weekends – it's no fewer than 120,000.
Violence is almost constantly used against protesters. You say that this has already hardened people. Why do the protests remain peaceful?
We have very peculiar people here in Belarus. Even if the NEXTA Telegram channel starts urging people to "take to the streets and crush riot police", they won't do it. They will come out with roses, stroll along Independence Avenue, then ask riot police: "Let me into the subway, don't block the road. Police are with the people…" We are neither Ukrainians, nor Russians, nor Americans. We don't have enough endorphins (unfortunately, or fortunately) to do the Maidan, as you did in 2014. We just won't be able to.
Do you know how we cross the road? The red light is on – and several thousand people just stand there waiting for the green light... People come with garbage bags to collect trash after rallies. Is this a revolution? Seriously? It's a phenomenal thing. It's like a diagnosis – "Belarusian".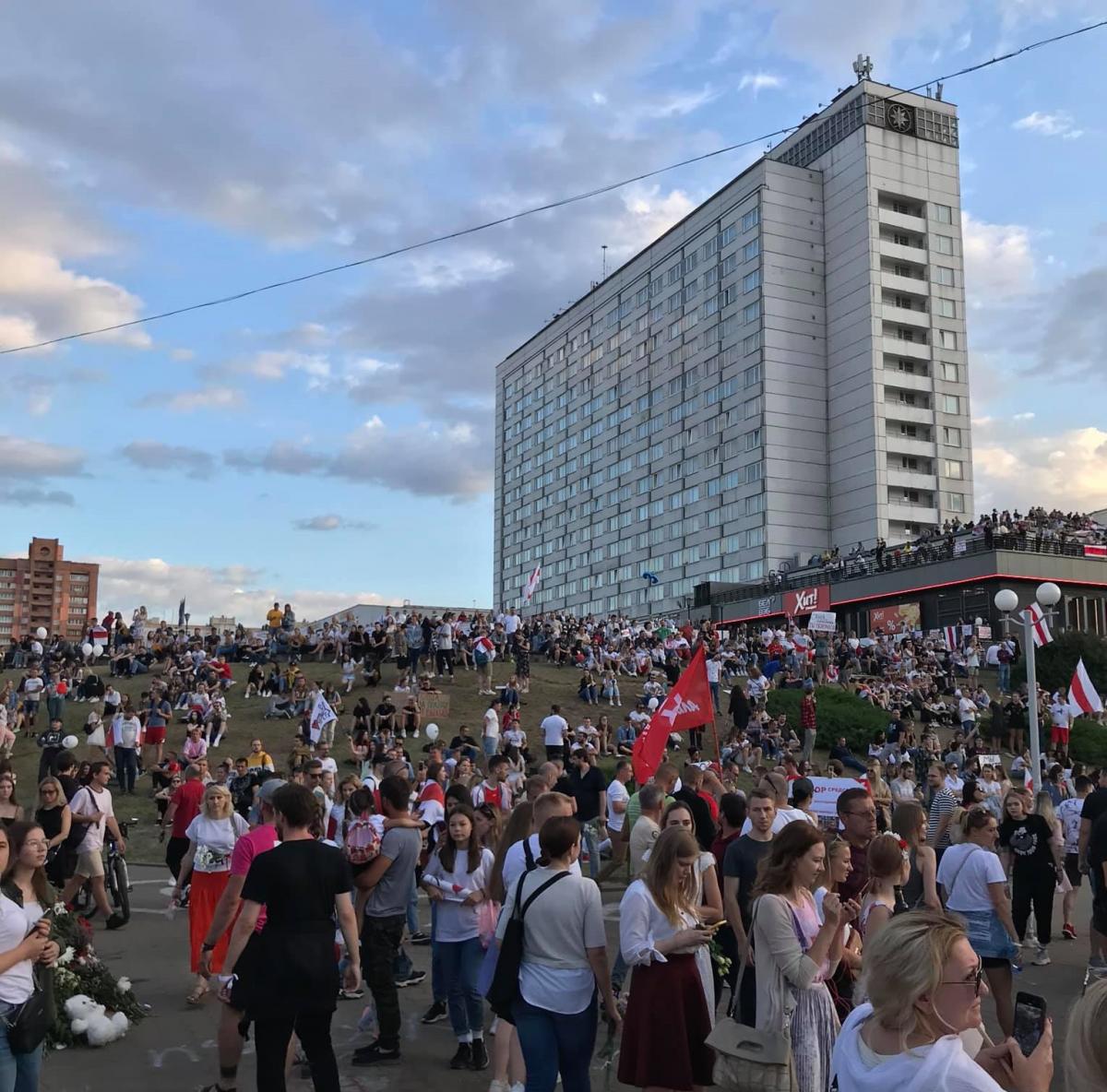 facebook/pavel.chuduk
We absolutely don't want any deaths during protests, although we do understand that the transition from dictatorship to democracy means sacrifice and blood. But God forbid. Nobody wants this. No new regime is worth it. Belarusians don't want their brothers and sisters to die. And you can hear: "Well, maybe he'll go away" or "Let's talk to him."
It's not clear what happen today or tomorrow. Things are heating up, the level of violence has risen to a higher degree. But people keep taking to the streets. On Saturday, there will definitely be a women's march (our first feminist revolution is a rather interesting nuance). There will also be a traditional march on Sunday.
What happened to those detained in August?
I am still awaiting a court ruling. But if I'm detained a second time, I will be remanded in custody for at least 15 days.
What's the ceiling?
There are various stories. When they detained me, I realized that if I make a wrong move or if I build my dialogue wrongly, they would easily plant some 0.5 grams or 1g of "weed" on. In that case, it would be a completely different story. They could also find some cash at my home during a search. Anything could happen.
The state TV channel shows people apologizing on camera: "I'm sorry, I've read too much on those Telegram channels. I was bringing sharp metal objects for a reward on August 9. The person's face is blurred, and a separate shot shows a vehicle carrying iron nails. People ask for forgiveness, like they do from [Chechen leader Ramzan] Kadyrov in Russia.
facebook/pavel.chuduk
I'm aware of 45 people who faced criminal charges for an "attack on the police". Many were detained when they started to text their police neighbors: "You bastard, what are you doing?" After the Telegram channel NEXTA posted more than a thousand files with personal data of security operatives, people started sending those operatives different texts. That immediately resulted in charges. Punishment depends on "remorse" and many other factors. I heard people get two to four years in prison.
Probation?
No, real terms. People are thrown behind bars for tearing buttons off police uniforms. For texts, calls, threats. It's as if holes in r uniforms are like fractured fingers. And the other day, the Prosecutor General promised: "Everyone will get what they deserve, everyone will be held responsible, there will be fines, not small ones either." Usually a fine is from 100 to 1500 Belarusian rubles.
The fear factor is out there, but it doesn't affect protest developments. If the government keeps doing what it's doing, it will simply be rammed. Here they usually repair roads five times a year. It will be the same this time, only it will be riot police who will be rolled into the asphalt. We are not that peaceful to constantly put up with violence. A wave could rise that would be difficult to subdue.
Vlad Abramov