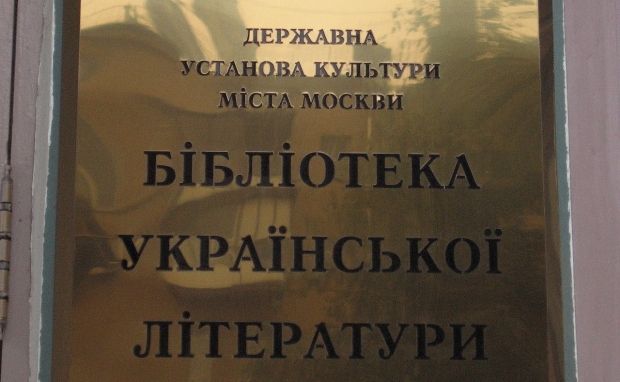 wikipedia.org
Investigators stayed in the library premises until 21:00 and left the building through a back entrance. Natalya Sharina was taken with them, according to Krykunenko.
He added he did not know anything about the court-imposed restraining measure, but said he was called in for questioning on Friday, along with an accountant and maintenance unit deputy director.
Read alsoUkrainian Literature Library: Investigators plant books seized in 2010At the same time, Echo of Moscow reported that Sharina had not yet been issued any documents about her detention. According to her lawyer Yevgeniy Smirnov, the library director has suffered two hypertensive crises after the arrest.
It is reported that Moscow is set to dissolve the Library of Ukrainian Literature and transfer it into a branch of the Moscow House of Nationalities.
Read alsoMoscow police detain director of Ukrainian literature library (Photos)As UNIAN reported earlier, on October 28, Director of Moscow-based Library of Ukrainian Literature Natalya Sharina was detained following the search and the interrogation by the Investigation Committee of the Russian Federation.
Sharina told an UNIAN correspondent that a search was conducted at her home early Wednesday, with the investigators seizing some of her books. These were: a book about an artificial famine, the Holodomor, which took place in Ukraine in 1932-1933; a book of Ukrainian and American studies by contemporary writer Oksana Zabuzhko, several copies of newspapers dated 2011. The investigators also took certificates of appreciation from Presidents of Ukraine Viktor Yushchenko and Viktor Yanukovych, and Prime Minister of Ukraine Mykola Azarov. Office equipment and electronic media were also seized.
She said she had been told that the search was related to a criminal case that was launched way back in 2010. The investigators said they wanted to get "additional materials," she said.
Read alsoChechen law enforcers attempted to detain Savchenko's sister in courtNo banned literature was found in the reading room and among subscription books, but the investigators confiscated books about leader of the Ukrainian nationalist and independence movement in the 1930's Stepan Bandera and the OUN-UPA (the Organization of Ukrainian Nationalists founded in 1929/ the Ukrainian Insurgent Army 1942-1954) from a special storage room, however, none of the books is on the official list of extremist literature.
According to Sharina, they also seized a copy of children's magazine Barvynok (Periwinkle) as they "saw a Right Sector flag" there.