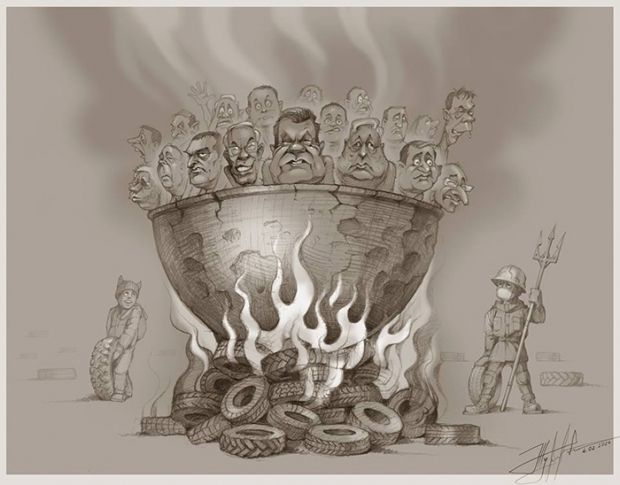 Caricature by Yuriy Zhuravel
Petrenko's image, however, bears a striking resemblance to an existing caricature illustrated by Ukrainian artist Yuri Zhuravel in his "Karikadurka" series about the Maidan Revolution, where he mocks, among others, Vladimir Putin and Viktor Yanukovych, according to the report.
In fact, the caricature Petrenko borrowed is intended to depict Yanukovych and his associates.
Petrenko told journalists that she doesn't deny the caricature isn't her work, but she refused to acknowledge that the men depicted in the cartoon are Yanukovych and his allies.
"This is just a picture of hell. All I've added is a caption about Charlie. I'll sign my name under any picture of hell!" she said.
Petrenko presented the caricature at a special press conference titled "#ImNotCharlie," where Russian lawmakers delivered their response to the magazine's recent cartoons mocking the crash of a Russian passenger flight in Egypt.
According to Alexander Chernykh, a reporter from the newspaper Kommersant, Duma deputy Vadim Solovev suggested that Charlie Hebdo's caricature is part of a larger Western policy of Russophobia. Deputies from Russia's Liberal Democratic Party petitioned federal investigators to launch a case against the magazine for inciting terrorism.
Deputy Solovev: "These people are monsters. They profit on the blood of our citizens."
Last week, Charlie Hebdo published a new caricature depicting a bearded man in long white thawb, with a gun over his shoulder, upon whom the wreckage of an airplane is falling. The caption reads, "ISIL: Russia intensifies its airstrikes." The caricature appeared in the magazine's "Covers That You Avoided" section, where the editors publish rejected cover art.
Vladimir Putin's press secretary, Dmitry Peskov, has said the caricature is blasphemous. "This is truly unacceptable to us. I don't presume to judge the moral standards of the French, but for us in our country this is blasphemy," Peskov said. "This has nothing to do with democracy or self-expression. This is blasphemy."