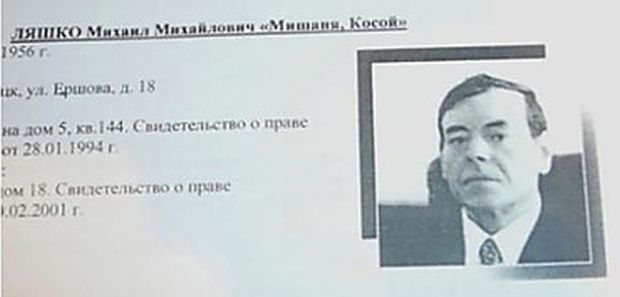 Prestupnosti.NET
According to the source, at 05:00 Lyashko came out from his house for a smoke. At this time the guard, who was on the second floor of the house, heard a muffled click, and then ran into the street.
According to the report, Lyashko died in an emergency vehicle. No weapons were found on the scene, but two shells were discovered.
Prestupnosti.NET publication notes that Mykhailo Lyashko was also known in certain circles as a criminal boss, aka "Mishanya Kosoy."
Read alsoSBU suspects Akhmetov's supermarket chain of embezzling UAH 26.7 million from state budgetAccording to media reports, besides  close ties with Rinat Akhmetov, Mykhailo Lyashko was close to another leader of the Party of Regions, and now of the Opposition Bloc, Borys Kolesnikov (Lyashko's son, Vyacheslav, is the owner of patents for "Conti" sweets). Michael Lyashko is also known in the region and beyond as the "vodka king of Donbas" (due to Olimp alcohol company).
It is also noted that after the start of Russia's aggression in Donbas, Mykhailo Lyashko worked very closely with the self-proclaimed leaders of the so-called "Donetsk People's Republic" terrorist organization. He was involved in the scheme of scrap metal exports to government-controlled territory of Ukraine from the "DPR," according to the report.
Read alsoAnother militant leader assassinated in "LPR"According to Prestupnosti.NET online portal, Mykhailo Lyashko was co-owner of a controversial tobacco factory "Hamadey", which was allegedly used in a scheme of cigarette smuggling to Europe. He was also attributed control over gambling establishments in Donetsk and leadership of Akhmetov's "task force" during the reign of ousted ex-president Viktor Yanukovych.