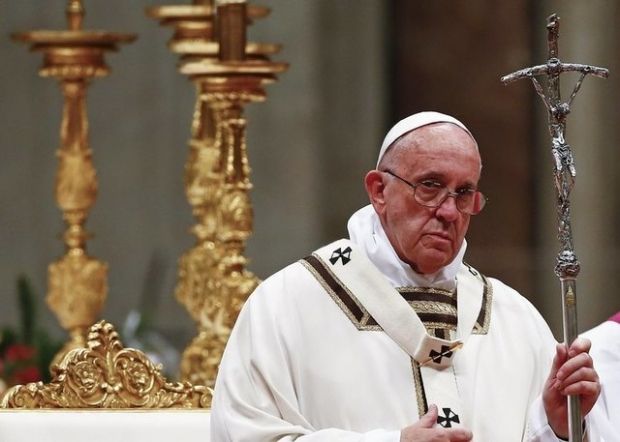 REUTERS
The audience coincided with the anniversary of the 1946 pseudo-synod of Lviv, a council orchestrated by Josef Stalin's regime as part of the forcible absorption of the UGCC into the Russian Orthodox Church, reads the report published Monday.
The Pope expressed his deep gratitude for the loyalty of Ukrainian Greek-Catholics and renewed solidarity with the pastors and faithful for all they do in "this difficult time marked by the hardships of war, to alleviate the suffering of the population and to seek the ways of peace for the beloved Ukrainian land."
The Permanent Synod of the UGCC issued a statement after the meeting with Pope Francis, reiterating their unity with the Bishop of Rome. The statement also condemned the violence and atrocities against human dignity which has taken place in Ukraine, especially against religious communities and ethnic groups.
Read alsoPope Francis calls for one-year moratorium on death penalty"The Church condemns the atrocities, the kidnappings, imprisonment and torture of citizens of Ukraine in the Donbas and Crimea – especially abuses directed at religious communities and ethnic groups, especially Muslim Tatars, as well as broad violations of civic rights and the human dignity of millions," according to the message.
The UGCC "ceaselessly prays for and promotes peace," the statement continues, and calls on the Pope and the global community to "help stop the war and stem the humanitarian crisis caused by the Russian invasion of Ukraine."
Archbishop Shevchuk stressed Pope Francis' "moral authority" over the people of Ukraine.
The Archbishop responded to the Pope Francis' emphasis on not solving "ecumenical problems at the expense of an entire Eastern Catholic Church." He said the UGCC is "ready to provide responsible, transparent, ecumenically sound administration of international aid," to the Ukrainian population, regardless of "ethnicity, political or linguistic preferences or religious affiliation."
The UGCC is the largest of the Eastern Catholic Churches, with some 4.42 million faithful. Many of its faithful live in Ukraine, though it has large expatriate communities in Argentina, Canada, Brazil,  Poland, and the United States.