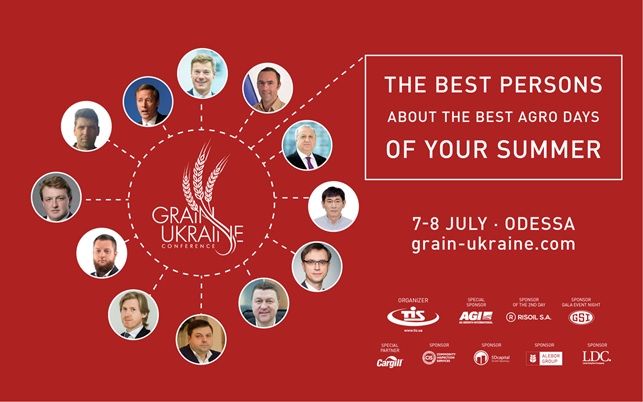 Vladimir Omelyan, Minister of Infrastructure of Ukraine:
"GRAIN UKRAINE is a platform that unites the key players of the land and agricultural products market from around the world. This is a field of new ideas where future large international projects are born thus bringing profits to the business, and enabling the state in development of the economy, new technologies and capacities ".
Andrey Stavnitser, CEO of "TIS", Head of the GRAIN UKRAINE Conference Organizing Committee, Ukraine:
"One of our main messages — learning, innovation and moving forward ".
Sevki Acuner, Director of the EBRD Office in Ukraine, UK:
"The EBRD is major financier of agribusiness projects in Ukraine. In this respect our participation at GRAIN UKRAINE 2017 is a logical way to continue our dialogue with the regulators and keysector players".
Ivan Miroshnichenko, People's Deputy of Ukraine, member of the Parliamentary Committee for Agrarian Policy and Land Relations:
"GRAIN UKRAINE is a conference that has good opportunities for its diversification: it chose the hottest and most relevant topics of the season ".
Vladislav Vinyarskij, Deputy Director General for Strategy and Development of the UkrAgroCom Group of Companies, Ukraine:
"I think that today we have a true alternative to Global Grain, namely the GRAIN UKRAINE conference, which is not inferior either in terms of the level nor of participants engaged ".
Sergiy Fursa, Specialist of sales of debt securities, Dragon capital, Ukraine:
"The participation in the GRAIN UKRAINE conference embodies an opportunity to contribute to the financial literacy of the population and to stimulate further reforms in Ukraine".
Tamas Benko, Head of corn trading in Europe & Africa, Cargill International SA, Switzerland:
"GRAIN UKRAINE is a unique forum in a sense that it focuses specifically on grain production, distribution and consumption and address these aspects on a professional level".
Damien Plan, Directorate General for Agriculture and Rural Development at European Commission, Belgium:
"Participating to International conference GRAIN UKRAINE 2017 is therefore of added-value for the European Commission Directorate General for Agriculture and Rural Development".
David Hightower, President of The Hightower Report, co-founder of Chicago Hedge Partners, USA:
"I have been to "hundreds" of Grain Conferences in my 34 years in Commodities and I found the 2016 Conference in Odessa to be extremely informative and very useful to my business.".
Jeffery Xu, General Manager at Overseas China Investment Limited, China:
 "GRAIN UKRAINE is not only creating and strengthening business connections, sharing market insights, but also giving you better understanding about Ukraine as a growing grain exporter ".
Olivier Bouillet, General Director of Agritel International, France:
"During a short period of time GRAIN UKRAINE gained recognition and popularity among a lot of market players".
Cedric Germann, Managing Partner at EUROP Insurance Brokers, Belgium:
"Great initiative to organize such an event in one of the key regions for agriculture and trading in Ukraine".
More details about GU 2017, speakers and the topics of their speeches can be found on the conference website grain-ukraine.com