That healthy glow: how much radiation is safe?
"Take baths in liquid sunshine. It is radio-active, germicidal and purifies your blood by destroying disease germs, thereby revivifying, rejuvenating and increasing your Vital Force and circulation..."
12:10, 12 February 2008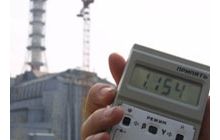 A Screen Saviour
During Ukraine`s Orange Revolution, student activists I spoke to told me that a favourite technique for springing their protesting friends from police cells was to post the phone number of the police station on the internet. Sympathisers would then call, jamming the switchboard.
19:54, 17 April 2007