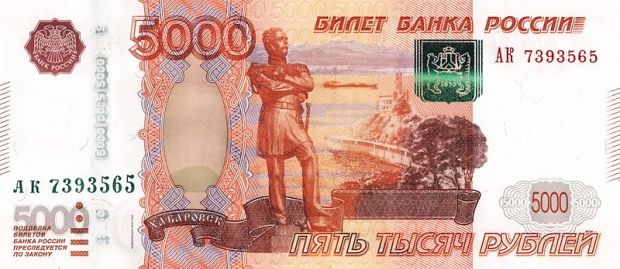 Russia's national currency is continuing to fall in value / ru.wikipedia.org
As of 1010 Moscow time, the dollar had gained 7 kopeks against the ruble at the Moscow Stock Exchange compared with the previous day's closing level.
Meanwhile, the exchange rate of the euro against the ruble had increased by 11 kopeks to RUR 52.91, according Russian news agency TASS.
The ruble's benchmark currency basket, weighted 0.45 in euros and 0.55 in dollars, increased by 9 kopeks, to RUR 46.79.
The Russian central bank said that yesterday evening it had adjusted the boundaries of the currency basket by 40 kopeks, to RUR 37.70-46.70. If the ruble moves out of this value range, it can trigger intervention by the Russian central bank to support the national currency.
On Friday, trading at the Moscow Stock Exchange opened with the MICEX Index dropping by 0.4% to 1,367.4 points.
Russia's currency has been falling in value steadily in recent weeks in the wake of the imposition of Western sanctions in response to Russia's illegal seizure of Crimea from Ukraine and suspicions in the West that Moscow fomented a separatist insurgency in Ukraine's eastern Donbas area.
The dramatic fall in the price of oil in recent weeks, to around $85 per barrel from over $100 per barrel has also put pressure on the budget of Russia, the world's largest oil producer.