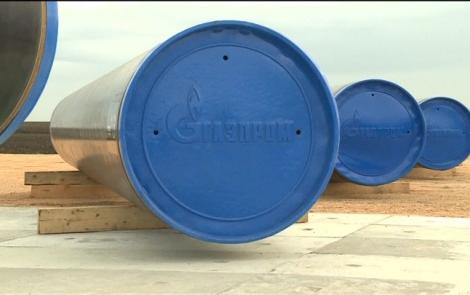 Photo from UNIAN
The European Commission has proposed to extend EU internal energy market rules to cover offshore gas pipelines. But the legal services of the Council – representing EU member states – has opposed the EU executive's legislative proposal.
The Commission sees Russia's plan to double the gas it could pump under the Baltic Sea to Germany, bypassing traditional routes via Ukraine, as undercutting EU efforts to reduce dependence on Moscow and its support for Kyiv, Euractiv wrote.
Read alsoGas transit via Ukraine in 2017 sets 7-year highUnder proposed changes to the gas directive, all import pipelines would have to comply with EU rules requiring pipelines not be owned directly by gas suppliers, non-discriminatory tariffs, transparent operations and at least 10% of capacity be made available to third parties.
The Nord Stream 2 project, fully owned by Russia's gas export monopoly Gazprom, is far from complying with the EU's so-called third energy package rules. Russia has challenged these rules with the World Trade Organization.
In particular, legal certainty is needed regarding the off-shore section of the pipeline, given that part of it, including its only entry point, lies outside EU jurisdiction.
According to leaked documents obtained by EURACTIV.com, the Council's legal service believes that the EU does not have jurisdiction to apply energy law on unbundling, transparency, third-party access and regulated tariff to pipelines crossing the Exclusive Economic Zone (EEZ) of member states.
The Council legal service also criticizes the Commission's draft by stating it "lacks any reasoning on the regulatory power of the Union over offshore pipelines in the EEZ".
Read alsoGermany in March to allow Russia laying gas pipeline bypassing Ukraine – Naftogaz CEOThe Commission's legislative proposal was also overwhelmingly opposed by European energy industries. The Commission had asked for public comments on the proposal to change the Gas Directive by January 31. All statements (22 submissions) from European industry associations (BusinessEurope, Eurogas, BDEW, Confindustria, etc.) reject the proposal, including based on what they claim is superficial preparations (no impact assessment, no proper stakeholder consultation).
Supportive statements came from only 12 stakeholders, 11 of which are based in Poland, including 7 companies where the Polish government has the largest individual shareholding (such as PGNiG, Gaz System, PKN Orlen).
Read alsoNord Stream 2 to make Russo-Ukrainian war more likely: Polish PMPoland and other member states say Nord Stream 2 is against the strategic interests of the EU and undermines its ambition to build an Energy Union.
Removing the Nord Stream 2 hurdles could have consequences for making possible another Russian gas import pipeline: the second pipe of Turkish Stream, which could reach EU territory close to the Bulgarian sea port of Varna. Reportedly, the pipeline would be named "Balkan".