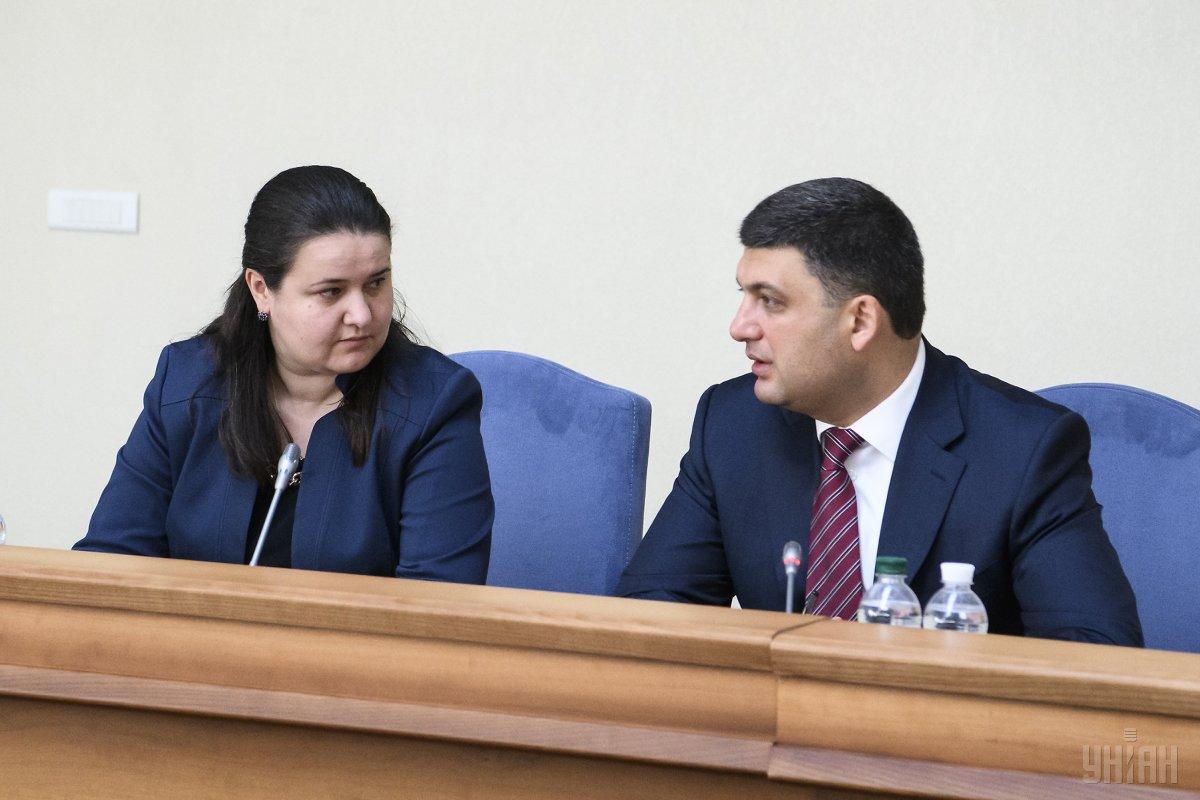 Photo from UNIAN
Oksana Markarova gave assurances of continuity of policy and commitment to economic reforms, trying to reassure international investors and officials unsettled by the ousting last week of her predecessor Oleksandr Danyliuk.
Ms Markarova, who is expected to serve as acting finance minister until the end of the year, told the Financial Times that she hoped the IMF would "hopefully this week" give its approval of the anti-corruption court legislation, one of the key creditor's requirements to continue the cooperation program.
Earlier, Ukraine's parliament voted to remove Mr Danyliuk, considered a top reformer by the country's foreign backers, after he fell out with prime minister Volodymyr Groysman.
His ousting came hours after MPs adopted long-delayed legislation to create an anti-corruption court, thereby meeting one of the IMF's conditions for disbursement of a $2bln aid tranche. A government commitment to raise domestic gas prices has been another IMF demand but, like the court legislation, has been delayed, raising international doubts over Kyiv's commitment to reforms.
Read alsoUkraine's new acting finance minister expects new IMF tranche in fall 2018
Addressing last week's ouster of Mr Danyliuk, with whom she worked as first deputy finance minister, Ms Markarova said it was "unfortunate," adding: "Our priorities remain the same."
Mr Danyliuk had accused Mr Groysman and other senior officials of "political corruption" as well as attempts to stack the finance ministry with staff loyal to President Petro Poroshenko.
A government adviser described Ms Markarova as a "disciple" of U.S.-born Natalie Jaresko, who as finance minister from 2014 to 2016 was admired by Kyiv's western backers. Having in prior years worked with Ms Jaresko at a U.S.-backed investment fund in Kyiv, the U.S.-educated Ms Markarova joined her as a deputy minister in 2015 to help usher the country through the IMF programme and restructure foreign debt after Russia occupied Crimea.
Timothy Ash, from BlueBay Asset Management, said in a tweet that Ms Markarova was "well respected" and would give reassurance "after Danyliuk's tortuous exit."
Ms Markarova said Ukraine had rebounded from a 17% collapse in gross domestic product collapse to register growth of 2-3%, while the government's deficit had been cut from 10% of GDP to 2.5%.
Read alsoIMF comments on finance minister's dismissal in Ukraine
Confronting concerns that this year's budget deficit would miss targets, she pledged to "keep the parameters."
The government hoped to tap debt markets this year, preferably after re-engaging with the IMF, she said. Ukraine faces a peak of some $8bn in foreign debt payments through 2019, a year when both presidential and parliamentary elections are to be held.
Debt service this year was "under control," Ms Markarova said. She downplayed political concerns, insisting she felt "support from all the cabinet" and no pressure to make unmerited appointments.