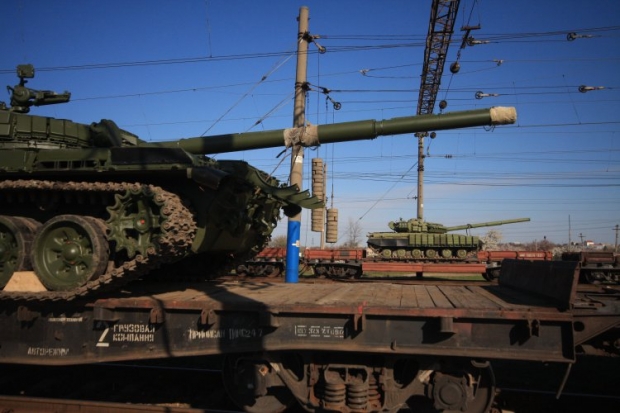 Russian Defense Minister Sergei Shoigu presided over an unusual ceremony last summer, handing out medals to some of the thousands of Russian soldiers who had taken part in the construction of a new railway along his country's border with Ukraine.
"No doubt, the rapid construction of the Zhuravka-Millerovo line will go down in the glorious history of this brigade," Mr. Shoigu told the assembled troops, using the official name of the small, seven-station railway. Analysts say the new railway has obvious military implications, allowing Russia to move tanks and troops quickly along its frontier should there be any widening of its four-year-old conflict with Ukraine, according to Canada's Globe and Mail.
There were others who aided in the construction of the line – better known as the Ukraine Bypass – which came into service at the end of last year. Among the Russian government's partners on the project was Canada's Bombardier Inc., which won an $8-million contract to install its signature rail-control systems along the route.
Read alsoRussia launches railroad bypassing Ukraine (Map)
That, critics say, should never have happened given Bombardier's status as a major recipient of Canadian tax dollars, and Canada's foreign policy of supporting Ukraine in its de facto war against Russia.
Money from the Quebec and federal governments was key in helping Bombardier stay afloat after the company ran into financial trouble caused by cost overruns in the development of the new CSeries passenger jet. Quebec City was particularly active, and the province's pension manager, La Caisse de dépôt et placement du Québec, injected money into Bombardier in 2015 by paying US$1.5-billion for a 30-per-cent stake in its transportation unit – the division that did the work on the Ukraine Bypass.
Read alsoCanada preparing to supply sniper rifles to Ukraine
Bombardier claims that the company's participation in the project only aimed at ensuring safe transportation of goods and passengers from Voronezh to Rostov bypassing the conflict area and does not violate Canada's sanctions against Russia.
Head of Ukrainian Canadian Congress Paul Grod notes that the project has clear military implications and that the Canadian company's open participation in the project is in breach of Canada's foreign policy in support of Ukraine's territorial integrity and sovereignty in the face of the ongoing Russian aggression.