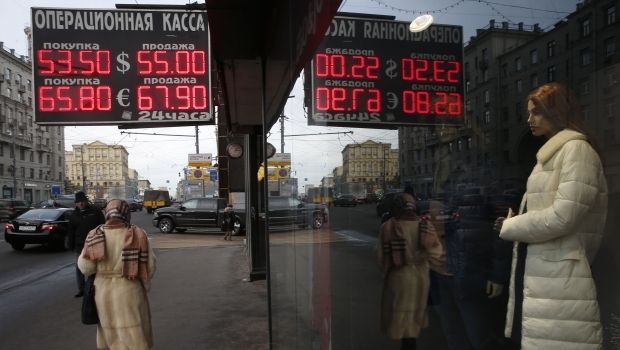 REUTERS
The euro exchange rate went up by RUR 1.33 rubles, to RUR 71.23 to the euro.
The fall of the ruble is occurring against the backdrop of a steep decline in oil prices. The cost of Brent crude oil fell during trading in London by 0.8%, to $63.18 per barrel.
At the opening of trade, the RTS index in dollars terms had slid below 800 points, down by 4% to 784.53 points - the lowest level since April 2009. However, as of 1020 Moscow time the RTS index drop was 2.74%, to around 796.64 points.
The day before, Russian Central Bank took a decision to raise its key interest rate from 9.5 to 10.5%. Immediately after the announcement of bank's decision, the fall of ruble accelerated: the dollar exchange rate has reached RUR 55.45 to the dollar, which was higher than Wednesday's close of trading figure by 60 kopecks. The euro grew to RUR 68.99, or 74 kopecks higher compared with the previous close of trading.
By the end of the day, the euro rose above RUR 70, hitting a new record high of RUR 70.099 to the euro, but then declined slightly and as of 2355. stood at RUR 69.9.