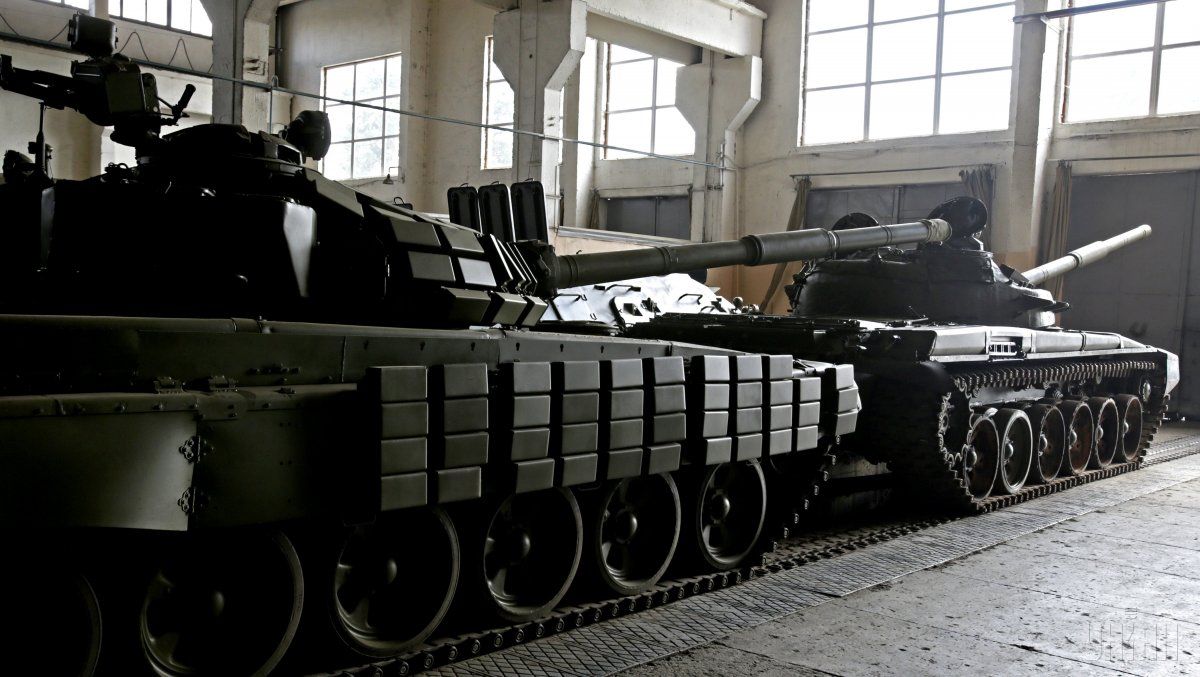 Photo from UNIAN
A delegation from Poland's Ministry of Defense visited the Honcharívske test range in the north-eastern Chernihiv region in Ukraine and witnessed a live-fire demonstration of a modernized version of the T-72.
According to Serhiy Zgurets, a military expert with Defense Express, the delegation saw a thrilling display of the upgraded T-72AMT main battle tank, Defence Blog reports.
Deep modernization of the tank T-72А, T-72АМТ, carried out by UOP SE "Kyiv Armored Plant", is at the stage of the tests and saw a successful firing-test of the Kombat anti-tank laser-guided missile.
The Kombat laser-beam riding precision-guided missile is designed to be fired from smooth bore 125 mm mounted on main battle tanks equipped with fire control systems compatible with it. The Kombat is fired from a 125mm gun, like a shell, but operates like a guided missile and can penetrate 750 mm armor.
Read alsoPoroshenko: Ukraine starts assembling first experimental BTR-4 tank hull (Video)
Kombat is one of the main features of the T-72AMT. The use of new high-precision weapons makes it possible to penetrate enemy armor at a range of up to 5 km. Thus, the range of the T-72AMT tank is twice as high as that of the T-72A.
Round comprising antitank guided missile is intended for firing from tanks against stationary and moving modern armored targets with combined, carried or monolithic armor, including ERA (explosive reactive armor), and also against pinpoint targets like weapon emplacements, a tank in a trench, light-armored objects and helicopters.
The precision-guided weapon was developed by the State Design Bureau LUCH in Kyiv and has series production by the Artem State Joint Stock Holding Company, also based in Kyiv.
Read alsoUkraine announces successful final testing of anti-tank guided missiles (Photo, video)
Specialists of the Kyiv Armored Plant reinforced T-72AMT with new generation dynamic protection, Knife, which is already installed in Bulat and Oplot tanks. This dynamic protection negates enemy's HEAT and KEP – the main means for destroying tanks. It is also effective against EFP.
For additional protection, T-72AMT is equipped with anti-cumulative gratings, "cutting" HEAT and protecting the most vulnerable zones of the tank. The effectiveness of such protection has been repeatedly proved during combat operations, not only in the conflict in Eastern Ukraine but also worldwide.
In addition, T-72AMT modification received digital radio stations from the Turkish company Aselsan and from Ukraine's Lybid K2 – modern satellite navigation equipment. Conditions for tank crews have also been upgraded. Even an ordinary rear view camera greatly facilitates driver's work.
Now Poland's Armament Inspectorate has begun a market analysis on the possible upgrade of the T-72M1/M1D tank while the Ukrainian version looks like one of the likely winners in the bidding.
The plan is to upgrade existing second-line tanks to a new standard and use them as an interim solution before a new generation tank is introduced. The Ukrainian T-72AMT can become a base for a joint project in the future, the report says.