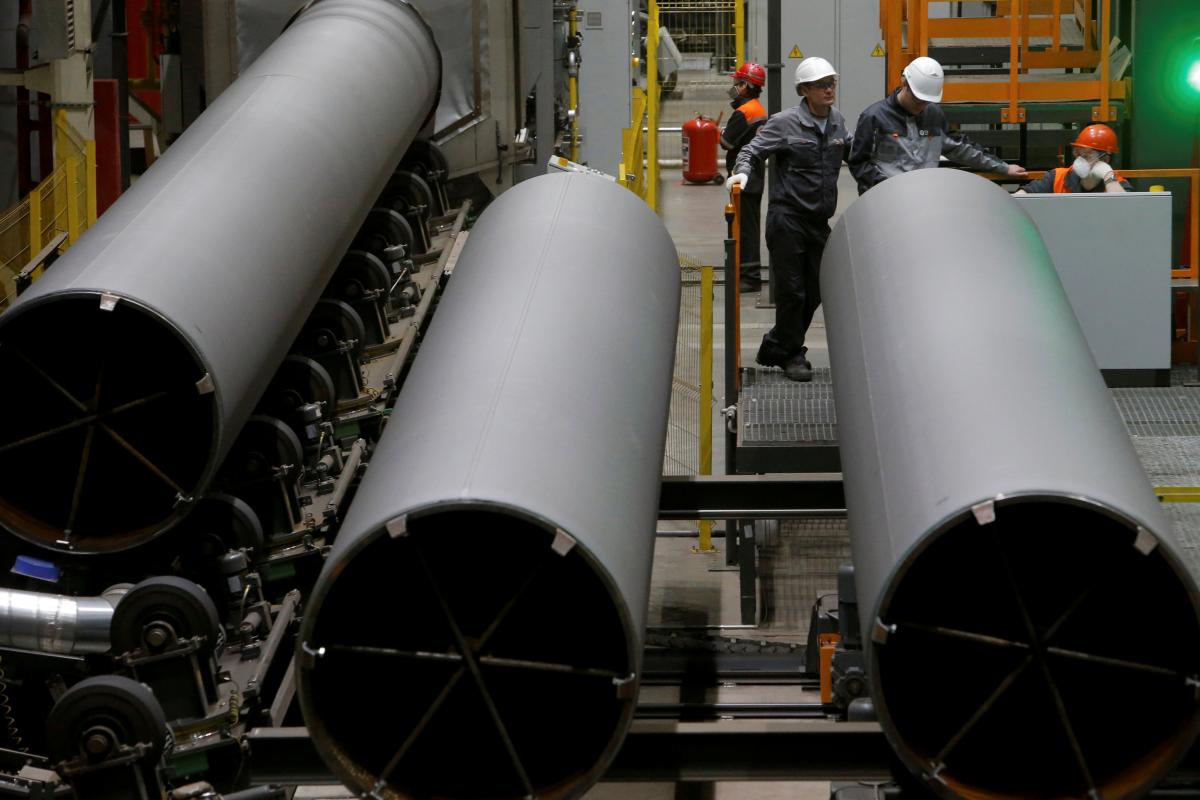 REUTERS
As President Vladimir Putin met with Chancellor Angela Merkel near Berlin on Saturday to try to safeguard a controversial Russian-German gas pipeline, the U.S. was not present but it could have a big say in the outcome.
It has in hand a package of sanctions that could be used to try to stop completion of the Nord Stream 2 pipeline, which is already in its advanced stages, by targeting companies, and potentially financial firms, involved in its construction, according to the Wall Street Journal.
Current and former U.S. officials said such sanctions had been discussed and could be mobilized in a matter of weeks, though they added that no action was imminent.
Consecutive U.S. administrations have long opposed the pipeline, which would run alongside an existing one, over concerns that it would increase Europe's already-high dependence on Russian natural gas and give the Kremlin political leverage and substantial revenues.
Germany-backed Nord Stream 2 pipeline would double direct Russian gas imports, as President Trump accuses Berlin of being "captive to Russia."
U.S. opposition to the project escalated after Russia was accused of interfering in the 2016 election and as the Trump administration grew increasingly skeptical that internal resistance within Europe would stop the plan, officials said.
Read alsoNord Stream 2 submits application for route bypassing Danish territorial waters
In August 2017, Congress gave President Trump power to impose sanctions on companies and individuals working on the pipeline following revelations of Russian interference in the U.S. election, a power several U.S. officials told The Wall Street Journal would now be used to try to block the project.
One U.S. official said work on the measures was being finalized between the White House and the State, Commerce and Energy Departments.
The official said the only decision left before enforcing the sanctions was whether to levy them only on the companies that would lay the pipes in the Baltic Sea, or to extend them to banks and other firms involved in financing the pipeline. Washington would give the European Union advanced warning before enforcing the sanctions, this person added.
German officials have countered that Western countries had been buying Russian natural gas at the height of the Cold War. One aide to Ms. Merkel said the U.S. push was motivated by Mr. Trump's desire to sell more U.S. liquefied natural gas, or LNG, to Europe.
The EU in late July pledged to ramp up U.S. LNG purchases as part of an effort to de-escalate trans-Atlantic trade tensions, triggered by Mr. Trump's steel and aluminum tariffs on European producers.
Read alsoPoroshenko calls on European partners to abandon Nord Stream-2
One concern about the pipeline is that it could make it easier for Russia to stop delivering natural gas via Ukraine after Gazprom's transit contract expires at the end of 2019. The country, which has been locked in a bitter conflict with Moscow since Russian troops seized part of its territory in 2014, currently acts as a transit country for Russian natural-gas exports to the EU and levies a fee on this trade.
Ms. Merkel had hoped that assurances by Mr. Putin to continue channeling a substantial amount through Ukraine even after Nord Stream 2 comes online would placate the U.S.
"In my view Ukraine must retain its role in the transit of gas," Ms. Merkel said on Saturday.
Mr. Putin reiterated his pledge but emphasized that the transit volume would need to suit economic demand. Ukrainian officials have complained that once Nord Stream 2 is built, demand for transit via their country would drop.
Read alsoPoland signs 20-year deal on U.S. LNG supplies
A U.S. official said Washington was chiefly concerned with curbing Europe's dependency on Russian natural gas, which the Kremlin has used in the past as a means to pressure recipient nations.
"Russian influence will flow through that pipeline right into Europe, and that is what we are going to prevent," the U.S. official said.