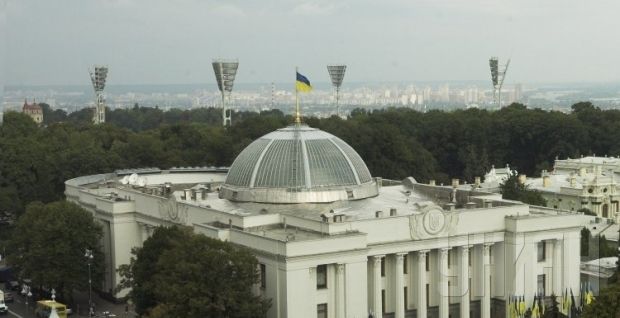 UNIAN
According to an UNIAN correspondent, 250 deputies voted for the decision, with 226 votes required for the decision to pass. It took two rounds of voting for the government to secure the approval of the majority of MPs.
The document defines a number of key tax changes relating to the taxation of the income of the citizens - salaries, passive income, pensions, taxation of property, including real estate and vehicles, envisages the reform of the system of single tax payer groups, and also introduces the excise tax on electricity and tax on sales of excisable goods.
When presenting the bill in the Ukrainian parliament, Prime Minister Arseniy Yatseniuk noted that increased taxation of private oil and gas companies has been introduced on a permanent basis, in particular, for oil it is 45% when extracting at a depth of up to five kilometers, and 21% for deeper than five kilometers. For natural gas extracted for purposes other than household needs it is 55% when extracting at the depth of up to five kilometers, and 28% for deeper than five kilometers.
For companies extracting hydrocarbons under joint operating agreements, regardless of the depth of the resources deposits, the rental rate will be 60% in the 1st quarter of 2015, 65% in the 2nd quarter, and 70% in the 3rd quarter.
"The idea is to encourage companies that have contracts on joint production of natural gas to switch to production-sharing contracts," Yatseniuk said.
The prime minister also announced the introduction of taxes on the transit of natural gas and ammonia, which requires a separate law to be adopted.
In addition, Yatseniuk said that a tax on passive income would imposed.
"We are introducing the taxation of so-called passive income - interest, dividends, royalties," said Yatseniuk.
With respect to the property tax, the prime minister said that it would be accounted for and administered by the local authorities. According to him, apartments with an area of 60 square meters and houses with the area of up to 120 square meters will be tax-exempt. Non-residential property, which is used in agriculture, industry, street furniture and kiosks, as well as markets are not subject to taxation either.
In addition, the prime minister said that the tax would be imposed on lottery revenues in amount of 10%, as well as all tax rates on licenses for alcohol and tobacco will be increased.
The document is included in the package of bills prepared by the government that was required for the adoption of the state budget for 2015, and was adopted at first reading on December 25.