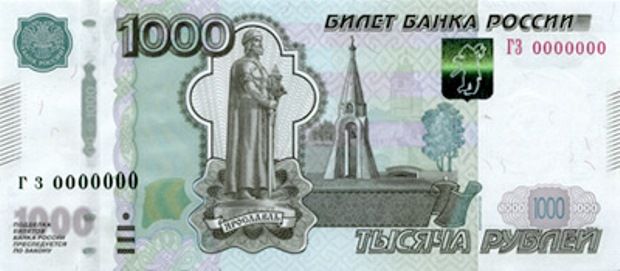 Photo from cbr.ru
At 1003 Moscow time on Monday the euro was trading at RUB 75.00 on the Moscow stock exchange, up by RUB 2.75 on the level at the last close of trade, when it was RUB 72.25 to the euro.
As of 1001 Moscow time on Monday the dollar hit a peak of RUB 63.17, higher by RUB 1.66 compared to the close of trading on Friday, when it was RUB 61.51, said RBC.
The ruble then rebounded slightly: as of 1020 Moscow time the dollar exchange rate stood at RUB 62.82, and the euro was at RUB 74.54.
Analysts say there are few factors to be seen that would help prop the value of the Russian currency up. Oil prices, a major pressure on Russia's oil and gas export dependent economy, are still dropping.
As of 0950 Moscow time on Monday the price for February futures of Brent crude oil was at $49.03 per barrel.
Oil prices are continuing to fall in the wake of analysts of Goldman Sachs Group Inc. lowering their prices forecast for the benchmark Brent and WTI grades, Bloomberg reports. According to the experts, in the first half of 2015 oil prices are projected at the level of about $40 per barrel, which will result in decreased investments in oil shale industry in the United States.
The forecast of WTI crude oil cost for the next three months was downgraded by Goldman Sachs from $70 per barrel to $41 per barrel, while that for Brent went down from $80 per barrel to $42.