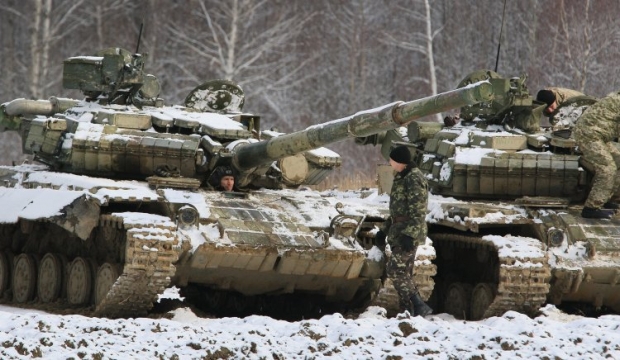 Photo from UNIAN
New York Army National Guard 1st Lt. James Pistell has created a free computer application that makes it easy for leaders to create and share operations graphics he dubbed MGRS-Mapper.
Pistell, a Rochester web developer focusing on marketing in civilian life, said he got the idea for the app while deployed in Ukraine in 2018 with the Joint Military Training Group-Ukraine, according to the National Guard website.
The New York National Guard Soldiers worked with other NATO nation soldiers to help train Ukrainian soldiers and battle staffs.
His unit had been using a website to make operations graphics as they planned contingency operations, or CONOPS, but the website didn't work effectively enough, Pistell said.
Read alsoUkraine's army to be able to act under NATO standards in 2020, Poroshenko says
"It was really outdated, and even if it could work, the symbols didn't," he said. "I thought I could make a much better version. What made me want to create it was from my experience overseas and I wanted to help leaders make CONOPS." The app combines Google Maps, with a tool to overlay the map with a Military Grid Reference System (MGRS), and a symbol select graphic tool.
App users can select their operations area on Google Maps and overlay the region with a standard MGRS overlay. The app allows the user to build the proper NATO standard graphic symbol, for example a friendly infantry platoon, label it, and then place it on the map.
Users also have the ability to place command and control, maneuver, fire support and other graphics on the overlay.
Read alsoUkrainian Army about to get powerful Canadian sniper rifles
The overlay can be downloaded and emailed to another use, printed out as a handout, or embedded in slides.
Currently, users cannot upload their own map into the app, but he is working to change that, Pistell explained.
Pistell said he thinks that the app is easy and accessible for any soldier to be able to use.
"I've made the application as intuitive as possible," he said. "If you're looking for infantry you can choose an infantry symbol, then choose the size, and click and drag it on the map. You can update the map you can put the overlay on, you can take it off, and you can have a terrain view or satellite."