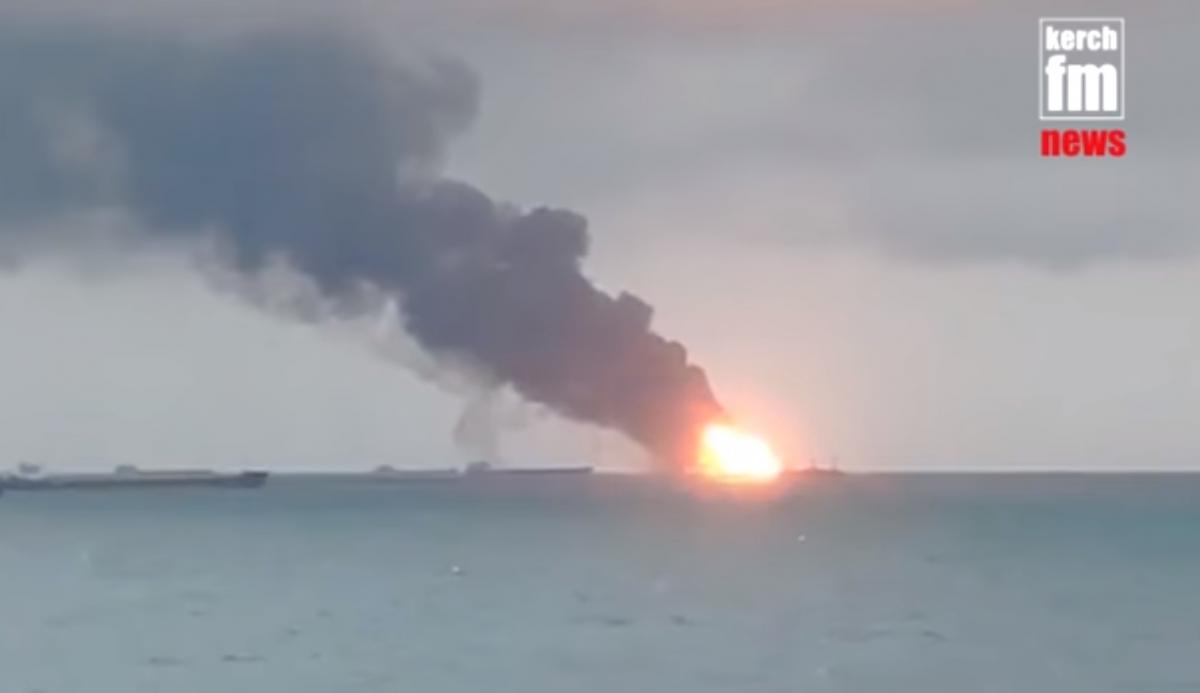 Snap from video Youtube / Kerch FM
Two ships ablaze in the Black Sea region, leaving at least 10 crew dead, caught fire while transferring fuel mid-sea after one vessel was barred from using its usual port in southern Russia due to U.S. sanctions risk, two sources told Reuters.
The vessels, which caught fire on Monday, have the same names as two gas-transporting tankers, the Maestro and Venice, which were included on a U.S. sanctions advisory note last year for delivering fuel to Syria, Reuters wrote.
The U.S. Treasury note, published in November, advised that any dealings with these or other vessels involved in transporting fuel to Syria could result in sanctions.
The Maestro was subsequently barred from using Temryuk port in southern Russia by the owners of its only gas terminal, Maktren-Nafta, two industry sources said, where it had previously loaded liquefied petroleum gas of Russian and Kazakh origin for export to the Middle East.
Vessels can resort to ship-to-ship transfers of fuel — a risky maneuver especially if they are transferring flammable fuel — if they do not have access to a port for loading.
Two traders, separate to the industry sources, told Reuters that both vessels were ultimately owned by one Turkish company, Milenyum Denizcilik Gemi.
Read alsoUkraine's ministry: Two LPG tankers that sink near Kerch illegally supplied gas to Syria since 2016
Milenyum was placed on the U.S. sanctions list in 2015 for arranging the shipment of liquefied petroleum gas and gasoil to Syrian government controlled areas.
On Nov 20 last year, the U.S. Treasury Department added nine Russian and Iranian individuals and companies on its sanctions list for participating in the shipment of petroleum to Syria.
The Maestro was barred from using the port's gas terminal by its owners, and thereby denied access to the port, the two industry sources said.
But the Venice — now known as Candy — continued to dock at Temryuk, Refinitiv data showed.
"There's every indication that some black scheme was going on," one of the industry sources said.
"Why else would (the Venice) load up with gas and then immediately transfer it onto another tanker?" the source said, adding that the Venice was likely to have been permitted access to the port as it had changed its name to Candy since the U.S. sanctions note.