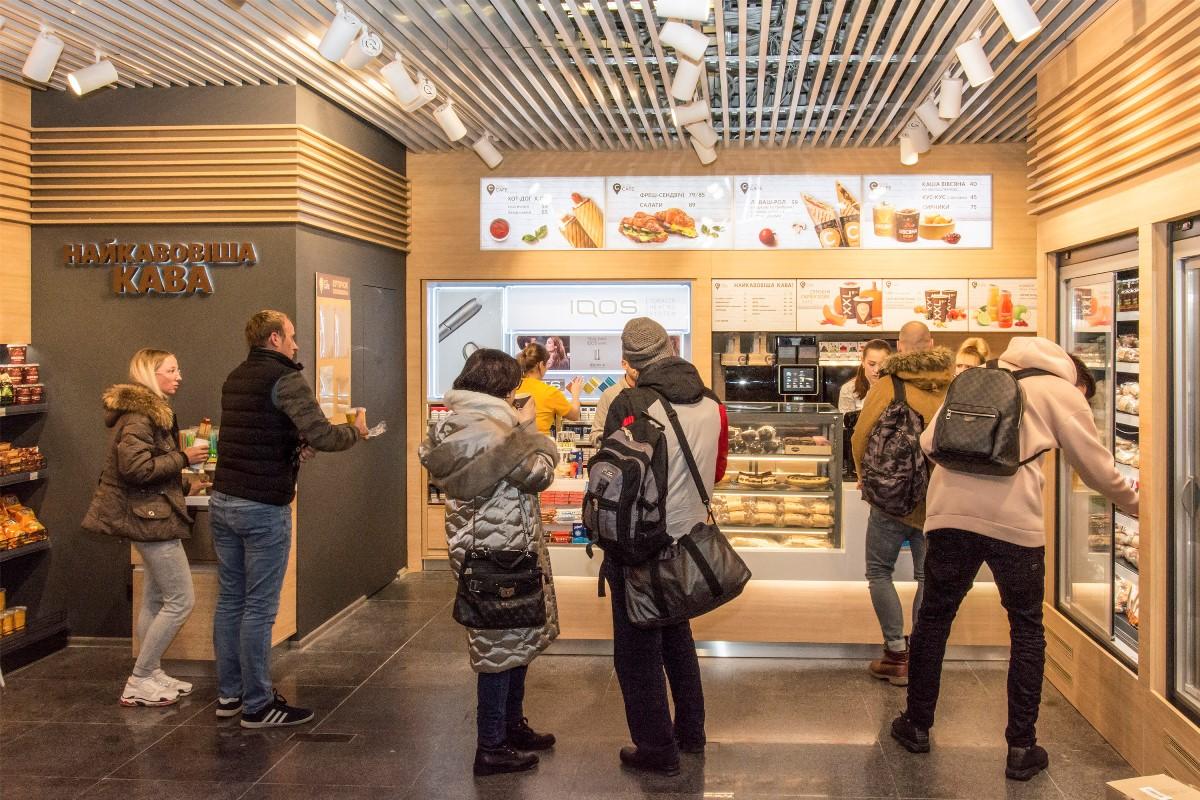 WOG, a well-known chain of gas filling stations and WOG CAFE public catering chain, opened a new café at Terminal D of Boryspil International Airport. The café operates in a new format for the chain – cafes and stores zones operating jointly in one premise.
The new WOG CAFE is located on the third floor of Terminal D in Boryspil International Airport and operates 24/7. The total area of the café is 47 sq. m.
"We have been moving towards opening WOG CAFE at the country's main airport for a long time. Our place in Boryspil has an unusual format, as we combined the product mix of a café and a shop. This means that even more products will be available for our buyers at usual prices. In addition to the foods and drinks our customers love, the café will also offer items to take 'on the road' and printed press," tells Maksym Pyatakov, Chief of Public Catering Department at WOG.
The menu of the café offers hot dogs, sandwiches, salads, full range of coffee beverages, etc.
Oleksandra Danylenko, Retail Sales Director at WOG, says that according to preliminary estimates, café will service around 800 customers a day.
"As an airport, we are very interested in improving the service and creating comfortable conditions for passengers. Passenger traffic at Boryspil has been stably increasing within 20% per year and therefore we are observing growth of demand for additional services. That is why we are confident that WOG CAFE will become a natural part of service for the passengers at Boryspil Airport and will share our "passenger above all" philosophy. We welcome WOG CAFE in our team and wish them further growth," emphasized Heorhiy Zubko, Deputy General Director for Commerce and Strategic Development of Boryspil Airport.
PRIDE loyalty program will apply in the new establishment, just like in all WOG CAFEs. Using the application, every customer will be able to earn bonuses for purchases and use them to acquire products at WOG CAFE and WOG MARKET.
As a reminder, WOG management has repeatedly stated that it was considering transport hubs and infrastructural facilities for opening new WOG CAFEs, as this area was interesting for the company from the point of view of demand among customers.
Noteworthy, sales of hot beverages in WOG chain grew 13% in 2018 compared with 2017 (30 million cups in 2018 against 26 million in 2017). Furthermore, the average bill at WOG CAFE grew 13% in 2018 compared to the previous year, specifically the growth of average bill at WOG CAFE at gas filling stations was 14%, Intercity trains – 32%, city-format cafes – 12%.
Over the several years of operating in Ukraine, WOG CAFE has earned a reputation of the food retail market leader, selling its products not only at gas filling stations, and in 16 high-speed Intercity trains, but also in a chain of city coffee shops in Kyiv and Lviv.  WOG became the leader among gas station chains in the 'coffee' category in 2017, according to a marketing study by Nielsen.