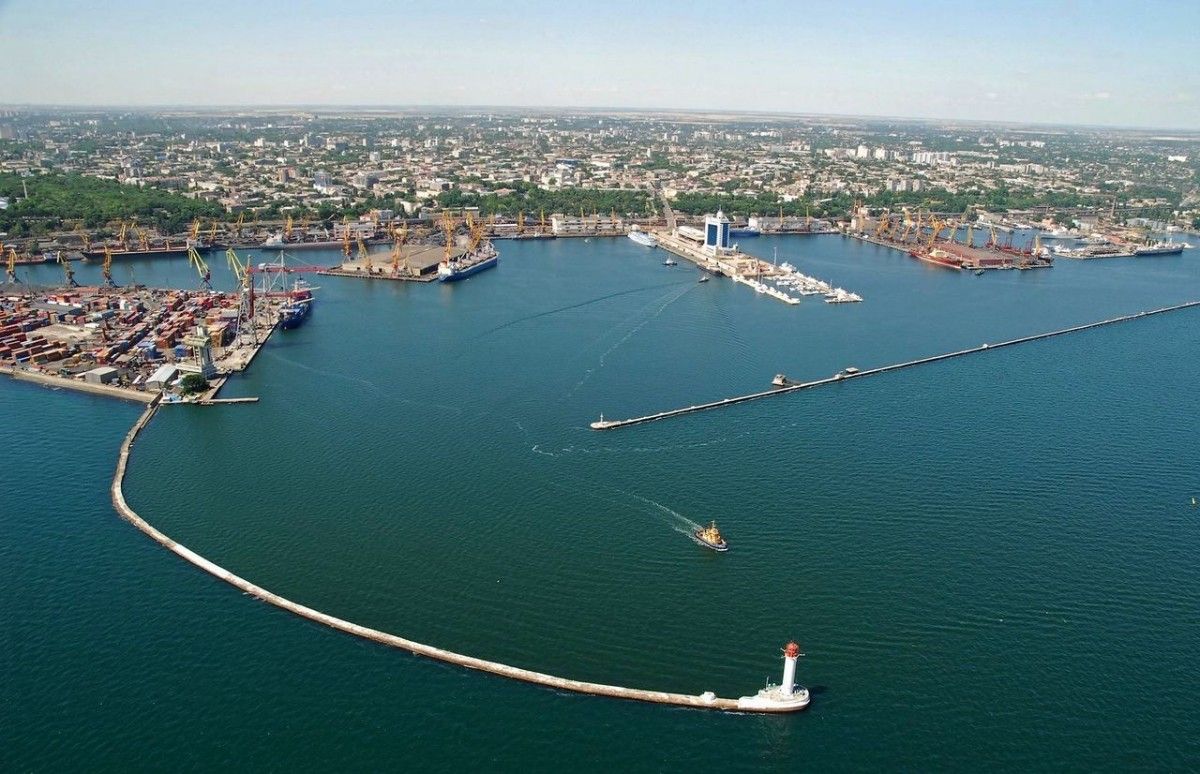 vv.com.ua
Seaports in Ukraine are working to grab an even larger share of containerized cargo moving to the European Union from Asia by further developing domestic container terminals and increasing the quality of services provided to shippers.
According to data from the Administration of the Ukrainian Seaports (AMPU), Ukrainian ports saw cargo traffic surge 19 percent year over year to 846,485 TEU in 2018, with imports rising 22 percent and exports up 13 percent. Odesa continued to be the most utilized port in the country, handling 70.7 percent of all containerized cargo, followed by Yuzhny seaport at 14.7 percent, JOC reported.
Katerina Balyutova, executive director of Marine Container Service, one of Ukraine's largest freight forwarders, said that was the fastest growth rate since 2014, reflecting an ongoing recovery from the crisis.
The growth also outstripped that of ports in Russia, which saw volume increase 9.8 percent to 5.08 million TEU. Container throughput at Novorossiysk, Russia's major seaport on the Black Sea and the primary competitor to Ukrainian ports in the region, increased 2.5 percent to 754,890 TEU last year, while traffic at St. Petersburg, the country's largest container gateway by volume, increased 11 percent to 2.13 million TEU.
Read alsoInfrastructure minister vows US$3 bln investment in Ukrainian sea ports over 5 years
Another factor contributing to the volume growth is a package of customs reforms instituted in 2016-2017 that have reportedly resulted in cargo clearance times falling to between one and two hours, compared with three to four hours at Russian ports, according to the Ukrainian Ministry of Transport and Communication. These reforms included a simplification of customs procedures, a reduction in the overall number of inspections, implementation of a program to hold inspectors accountable for inspections deemed unfounded, and the removal of a previous requirement that all documents provided to Ukrainian customs in English be translated into Ukrainian or Russian.
Igor Tkachuk, director of the Odesa branch of AMPU, said last year intra-country port competition increased significantly, evidenced by the relocation of Maersk Line's ME3 service, which connects the Middle East and Indian subcontinent with ports in the western Mediterranean and Black Sea, from the port of Odesa to Yuzhny. According to AMPU figures, Maersk accounts for roughly 30 percent of all container traffic to and from Ukraine.
Alexander Shchekin, director of the Ukrainian Container Line Association, said cargo growth is expected to continue this year, barring certain negative external factors, such as effects from the financial crisis in Ukraine and a lack of investment in aging or inadequate infrastructure.
Ports in Ukraine are also expected to benefit from a recent crackdown on corruption, primarily bribes given to customs officers to speed clearance, by the Ukrainian government and the continued implementation of the abovementioned reforms to customs procedures.
Ukraine's Black Sea ports have in recent years become more attractive to shippers moving goods from Asia to the EU due to their location.
The distance between Shanghai and Odesa, for example, is 8,395 miles by sea, more than 300 miles shorter than St. Petersburg (11,432 miles), and Odesa is close to the borders of several Central European states, making it particularly attractive for shippers moving goods to places such as Romania, Bulgaria, and Serbia. Delivery times from Shanghai and other major Chinese seaports to Odesa average 22-25 days, compared with 35-40 days to St. Petersburg.
And although transport costs tend to be higher for shipments travelling through Odesa than St. Petersburg, it may still be a viable option for shippers of high-priced or perishable cargoes that require shorter delivery times. Ocean freight rates from Shanghai to Odesa range from $1,400 to $1600 per TEU and $1,800 to $2,000 per FEU, compared with $1,200-1,400 per TEU and $1,600-1,800 per FEU from Shanghai to St. Petersburg, according to data from Russian third-party logistics provider Credo Trans. Those higher freight rates are offset in large part by lower port fees, which currently start at $300 (including surcharges) at the port of Odesa, compared with about $450 in St. Petersburg, according to Credo Trans.
Furthermore, dues are expected to decline in Odesa thanks to an ongoing modernization and expansion at the port, as well as the arrival of Hutchison Ports at nearby Chernomorsk, roughly 18 miles to the south. The Hong Kong-based terminal operator in late 2017 signed a preliminary agreement with the Ukrainian government for a 49-year concession at Chernomorsk, which handled just 127,000 TEU last year, despite having an estimated annual capacity of 1.15 million TEU.
Terminal infrastructure aside, Hutchison Ports will have its work cut out for it in developing inland connections to and from Chernomorsk. Access roads are in a state of disrepair, and despite a promise from the Ukrainian and regional governments to improve conditions, such improvements have yet to begin in earnest.
As a result, the port will likely have to rely heavily on rail service to attract discretionary cargo. Chernomorsk currently has a container rail connection to the Lithuanian port of Klaipeda via Viking Train, whereas Odesa and Yuzhny also offer rail services service to and from the ports of Riga, Latvia, and Muuga, Estonia, via Zubr.