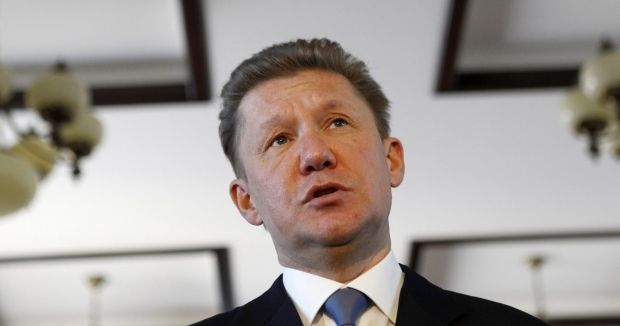 REUTERS
"It takes about two days to get payment from [Ukraine's] Naftogaz [Ukrainy] deposited in a Gazprom account. That's why a delivery to Ukraine of 114 million cubic meters will lead to a complete termination of Russian gas supplies as early as in two days, which creates serious risks for the transit to Europe," Miller said.
As UNIAN reported earlier, on February 23, Naftogaz stated that Gazprom did not fulfil an application from Naftogaz for the supply on February 22 of prepaid natural gas, which violated the tripartite gas agreements negotiated in Brussels.
"Instead of 114 million cubic meters of gas requested under the contract, Gazprom supplied only 47 million cubic meters. Naftogaz considers the failure to comply with the application as a violation of the gas supply contract between the companies and the tripartite legally binding protocol signed by Russian Energy Minister Alexander Novak, the European Commissioner for Energy Gunther Oettinger and Energy Minister Yuriy Prodan on October 30, 2014 in Brussels," the Naftogaz statement reads.
On February 23, Naftogaz handed a notice of breach of contract and a copy of the Brussels tripartite protocol to the Ukrainian Cabinet of Ministers, the European Commission and the Energy Community Secretariat as part of a rapid response procedure in the case of disputes.
On February 19, Naftogaz submitted an application for the supply of 114 million cubic meters of gas to Ukraine over gas measuring stations Sudzha, Pysarivka, Sokhranovka, Valuiki, Kobrin and Mozyr.
"According to paragraph 3.3 of the Amendment No. 33 as of October 30, 2014 to the Agreement No.KP as of January 19, 2009 on the supply of natural gas, Gazprom was obliged to deliver unconditionally the ordered volume no later than two days after the receipt of the application," according to Naftogaz's explanations.
Also according to the company, as of February 19, Naftogaz carried out an advance payment for 454 million cubic meters of gas. At the beginning of February 23, the prepaid balance amounted to 287 million cubic meters of gas.
On February 20, Russian Prime Minister Dmitriy Medvedev said that the amount of prepaid gas for Ukraine would be used up "in a few days - three or four days."