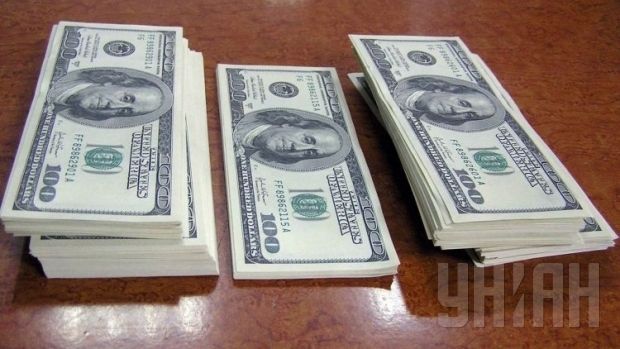 UNIAN
The National Bank of Ukraine (NBU) on February 25, 2015, bought an excessive volume of foreign currency worth about $80 million in the equivalent on the interbank forex market at the official forex rate, which strengthened to UAH 28 per U.S. dollar by the end of the day, NBU Governor Valeriya Gontareva said at a joint briefing with Finance Minister Natalie Jaresko on Wednesday.
"The National Bank on Monday, February 23, introduced additional administrative limitations aimed at stabilizing our forex market. They include a ban on loans issued in hryvnias for further purchases of foreign currency, as well as additional enhanced verification of import-related contracts, especially contracts with prepayment," Gontareva said.
"No additional restrictions were introduced, only the period for the verification of contracts was extended by one day. And the trading day today hasn't been as usual. The NBU was unable to check all the contracts, which has translated into an excessive volume of foreign currency offers on the market, estimated at $80 million, which was purchased by the NBU at the official forex rate. It was a measure of necessity. And the NBU will release these assets onto the market through sale interventions in coming days," Gontareva said.
The NBU on Wednesday imposed a temporary ban on its authorized banks to buy foreign currency on behalf of their clients, including under previously filed applications. The ban will be in force until February 27. Experts claim that the decision has had a great impact on the interbank forex market in the country.
As reported earlier, the NBU on February 24 introduced a number of restrictions on the foreign exchange market, including the mandatory inspection of import contracts with an advance payment worth more than $50,000, the obligatory registration of letter of credits to complete import contracts with advance payments worth more than $500,000, and a prohibition on lending to buy currency.
Gontareva said that the limitations had been introduced after an analysis of the situation on the forex market and evaluation of export and import operations. The analysis revealed an increase in advance payments under import contracts, very often without actual goods imports in Ukraine. The NBU then decided to toughen control over imports, including those with signs of sham operations.