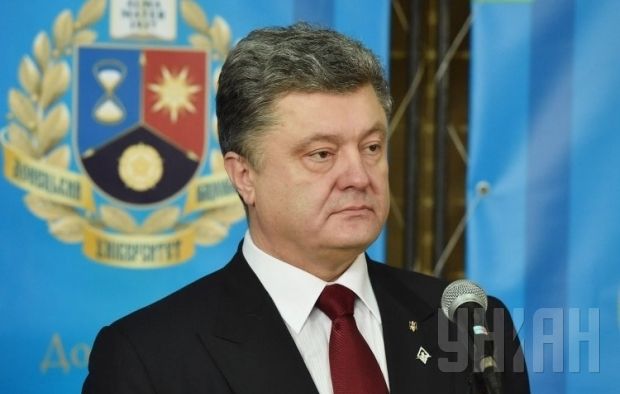 Poroshenko is confident of getting support from IMF / Photo from UNIAN
Ukrainian President Petro Poroshenko has said that the Ukrainian authorities are taking resolute measures to stabilize the Ukrainian national currency, the hryvnia.
Poroshenko announced this in Vinnytsia, where he was on a working visit on Saturday, an UNIAN correspondent reported.
"We are taking decisive steps to allocate additional resources and return the rate to the mark of UAH 20-22. I believe that we should prevent panic in the exchange offices and banks," the president said.
According to Poroshenko, certain forces that are interested in destabilization of the situation pending a decision from the International Monetary Fund (IMF) are using forex rate fluctuations to instigate the public.
"The National Bank and the Cabinet of Ministers, as government agencies that determine the economic and exchange rate policy, have coordinated a joint plan to stabilize the exchange rate," Poroshenko said. According to him, lawmakers and government members have recently met to prepare a number of decisions that will be tabled in parliament for consideration.
"The Verkhovna Rada's support of bills that will pave the way for the IMF's decision in favor of Ukraine should become the first positive signal for the market," he added.
Poroshenko expressed confidence that the IMF would make a positive decision on an extended fund facility for Ukraine and the first tranche would arrive in Ukraine by the end of March.
These assets will allow Ukraine to replenish the reserves of the National Bank and gradually stabilize the hryvnia. This will also open the way for Ukraine to borrow international loans, which will be conducive to economic growth.