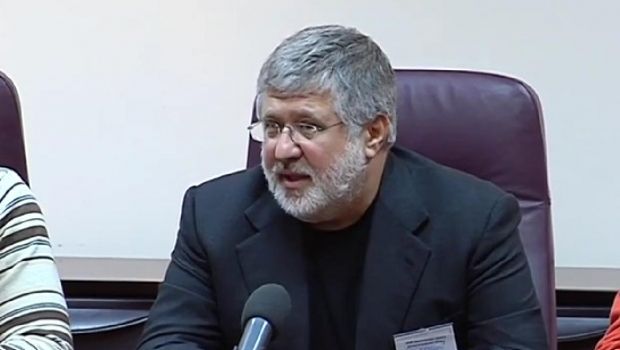 Screenshot from 1+1 television channel
"Ukrtransnafta [represents] the blood vessels of the system. If these blood vessels stop working, for whatever reasons, the whole complex [of refineries in Ukraine] will cease working," Kolomoiskiy said.
"And I know those who want this [to happen]. In our oil business, there is such group called Continuum, which is controlled, I dare say it, by an organized criminal group, headed by the deputy Yeremeiev, who is behind all these events."
Kolomoiskiy said interest Continuum's in Ukrtransnafta is obvious, as the company is "within the scope of the vital interests of those businesses that do not have public or semi-public ownership and who are directly dependent on the activities of Ukrtransnafta."
"I am talking about a single refinery - Kremenchukh refinery, and the only major oil company in the country - Ukrnafta. It is an enterprise with mixed ownership, where the stake is divided approximately 50% to 50% between the state and private shareholders," said Kolomoiskiy.
"These transshipment complexes are concentrated in Odesa region and are private. And there is a transshipment complex of Ukrtransnafta, which is owned by the state. But this fragmented - at first glance - complex is in fact acting as a single organism."
Kolomoiskiy said that the tactics of Continuum Group in the market may be compared to the cartel agreement.
"If you look at the prices, the price at gas stations of the group Ukrnafta, Urtatnafta, Sintoza, Avias, are always by UAH 2-3 cheaper for gasoline. This price difference has always been maintained and this has been of concern to Mr. Yeremeiev. He conspired with the whole market. They raise prices by phone. We have never belonged to this cartel. We comply with our pricing policy, and it has a social character."
Kolomoiskiy said Yeremeiev is now trying to make a move on the refinery segment. He said this was unacceptable, as Ukrtransnafta is a strategically important enterprise for the state.
As UNIAN reported earlier with reference to Naftogaz of Ukraine, on March 19, the company's supervisory board dismissed Oleksandr Lazorko from his duties as the Chairman of the Board of Ukrtransnafta. In addition, the company's supervisory board decided to appoint Yuriy Miroshnichenko, a former official of the State Security Service of Ukraine, as the acting chairman of the board of Ukrtransnafta.
According to Kolomoiskiy, neither the Cabinet of Ministers nor the Administration of the President nor other authorities took a decision to dismiss the head of Ukrtransnafta.
Lazorko also said he considers the decision to be unjustified, saying he could be dismissed only if found to be committing a criminal act or inflicting harm on the Ukrtransnafta company.
Ukrtransnafta is the operator of the oil transportation system of Ukraine, which includes 18 pipelines with total length of 4569 km, 51 oil pumping stations, 11 storage tanks with total capacity of 1,010 thousand cubic meters, and 176 pumping units with a total capacity of 356.9 thousand kW.