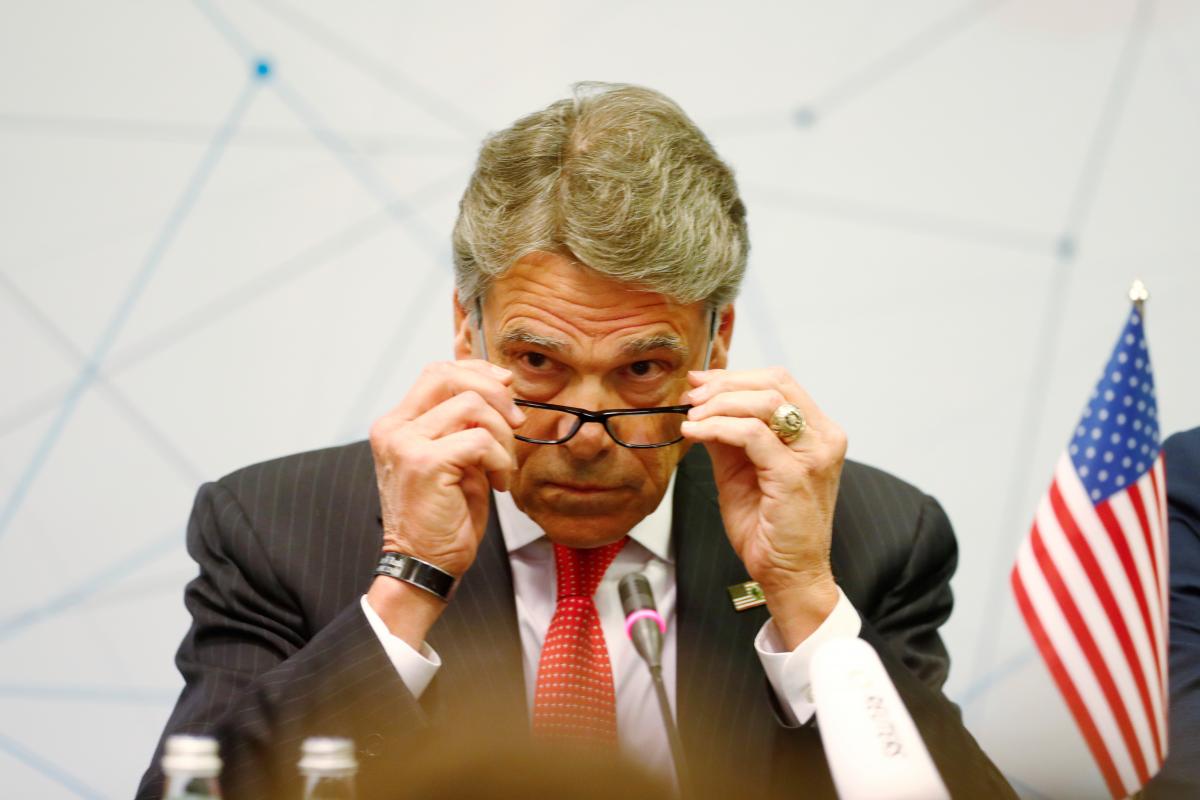 REUTERS
Two political supporters of U.S. Energy Secretary Rick Perry secured a potentially lucrative oil and gas exploration deal from the Ukrainian government soon after Perry proposed one of the men as an adviser to the country's new president.
Perry's efforts to influence Ukraine's energy policy came earlier this year, just as President Volodymyr Zelensky's new government was seeking military aid from the United States to defend against Russian aggression and allies of President Donald Trump were ramping up efforts to get the Ukrainians to investigate his Democratic rival Joe Biden, according to the Associated Press.
Ukraine awarded the contract to Perry's supporters little more than a month after the U.S. energy secretary attended Zelensky's May inauguration. In a meeting during that trip, Perry handed the new president a list of people he recommended as energy advisers. One of the four names was his longtime political backer Michael Bleyzer.
A week later, Bleyzer and his partner Alex Cranberg submitted a bid to drill for oil and gas at a sprawling government-controlled site called Varvynska. They offered millions of dollars less to the Ukrainian government than their only competitor for the drilling rights, according to internal Ukrainian government documents obtained by The Associated Press. But their newly created joint venture, Ukrainian Energy, was awarded the 50-year contract because a government-appointed commission determined they had greater technical expertise and stronger financial backing, the documents show.
Read alsoU.S. to help Poland, Ukraine disconnect from Russian gas – Reuters
Two members of the board that helped select the bid winners told the AP that the process is designed to be difficult to improperly influence because it is a mix of government representatives and industry experts.
Roman Opimakh, a commission member who is the head of the State Service of Geology and Subsoil of Ukraine, said the government was looking for foreign investment, particularly U.S., and the board considered that as a factor. He said it's an advantage if a company is well-connected in Washington but added that he saw no indication that U.S. officials influenced the process.
Meanwhile, testimony in the impeachment inquiry into Trump shows the energy secretary was one of three key U.S. officials who were negotiating a meeting between Trump and the Ukrainian leader. The events suggests the Trump administration's political maneuvering in Ukraine was entwined with the big business of the energy trade.
Perry, who announced last month that he is resigning by the end of the year, has refused to cooperate with the congressional probe.
In a statement to AP, Bleyzer denied that Perry helped his firm get the gas deal.
"I believe that Secretary Perry's conversations with Ukrainian government officials, if they in fact took place, did not play any role in Ukrainian Energy winning its bid," Bleyzer said Tuesday. He said the process was competitive and transparent and "will hopefully serve as an example of how the Ukrainian energy market can be opened for new investments."
Read alsoEnergy Secretary Perry refuses to testify before Trump impeachment inquiry – media
Amy Flakne, a lawyer for Cranberg's company Aspect Holdings, said Wednesday that Perry and other U.S. officials supported "a fair, competitive process to bring foreign capital and technology to Ukraine's lagging energy sector."
"Aspect neither sought, nor to our knowledge received, special intervention on its behalf," Flakne said.
As Trump's energy secretary, Perry has flown around the globe to push for U.S. exports of liquefied natural gas, which he calls "Freedom Gas." He's made multiple trips to Ukraine and other former Soviet-bloc nations, where shipments of American gas and drilling technology take on strategic importance as a potential alternative to continued dependence on imports from Russia.