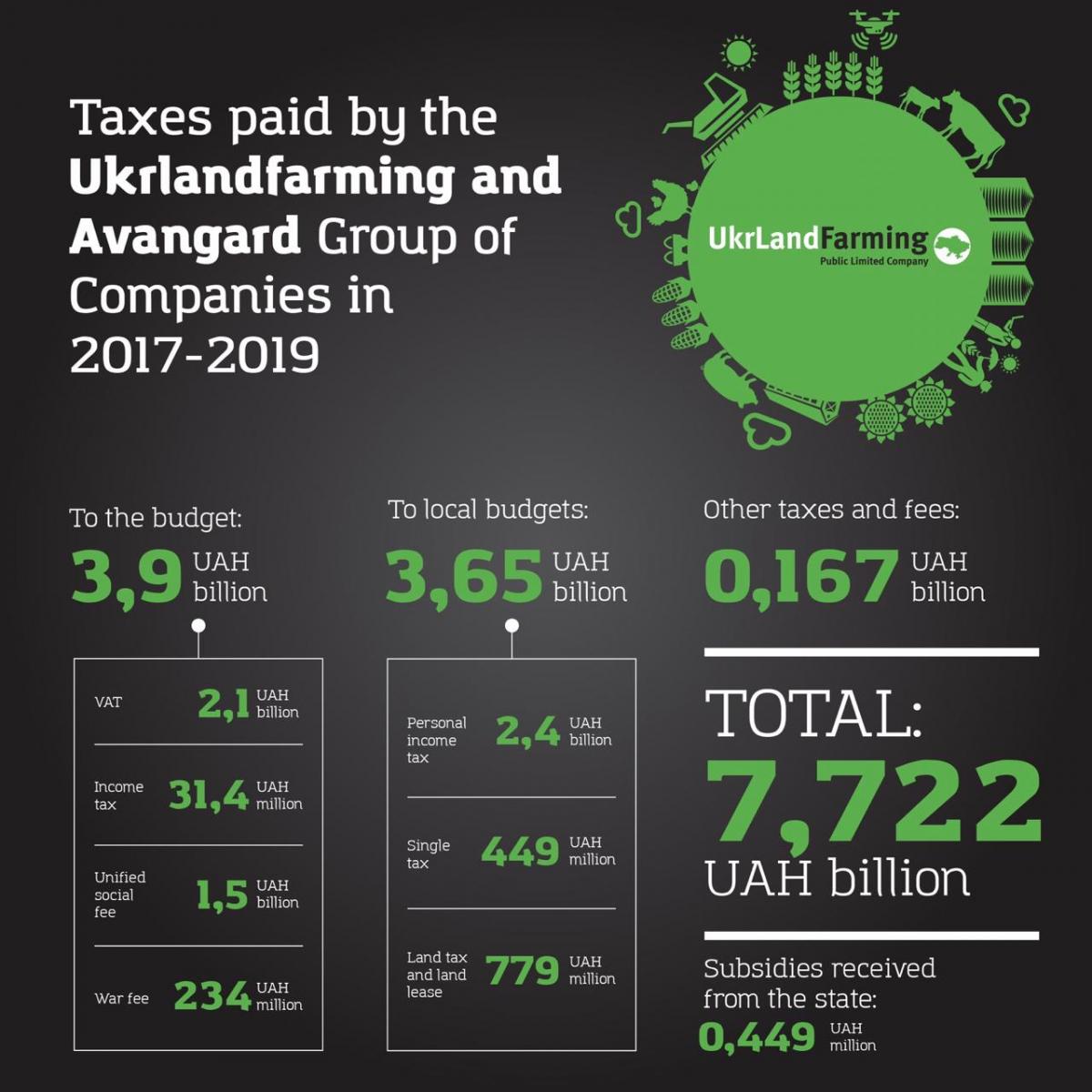 The amount of taxes and fees Ukraine's consolidated budget received from the UkrLandFarming and Avangard Group of Companies owned by Oleg Bakhmatyuk for three years was UAH 7.722 billion (US$313.2 million).
During 2017-2019, UkrLandFarming and Avangard Group of Companies paid UAH 7.722 billion to the country's consolidated budget; of this amount, UAH 3.9 billion (US$158.2 million) was transferred to the national budget alone, the press service of one of the country's largest agri-holdings said in a statement on its official website, according to the Ukrainian News Agency.
In particular, VAT payments to the national budget amounted to UAH 2.1 billion (US$85.2 million), corporate profit tax to UAH 31.4 million (US$1.27 million), single social security tax to UAH 1.5 billion (US$60.9 million), and war tax to UAH 234 million (US$9.5 million).
The company transferred UAH 3.65 billion, or US$148.1 million, to local budgets. In particular, payments of personal income tax totaled UAH 2.4 billion (US$97.4 million), those of single tax (group 4) amounted to UAH 449 million (US$18.2 million), and land tax and land lease tax to UAH 779 million (US$31.6 million).
Other taxes and fees stood at UAH 167 million (US$6.77 million).
In addition, the company says it is a decent employer, providing jobs to about 27,000 Ukrainians, and generates about 1% of Ukraine's GDP.
The company also said it had received UAH 449 million (US$18.2 million) in budget subsidies in the three years, of which subsidies for cows and young cattle were paid only in the last two years. This industry is traditionally subsidized in EU countries. In 2019, the amount of subsidies received by the group of companies was only UAH 12 million (US$486,815) out of UAH 4 billion (US$162.2 million) allocated by the government for agri-businesses.
The UkrLandFarming and Avangard Group of Companies is one of the largest agricultural holdings in the country by the size of the land bank. Its enterprises operate in 600 towns and villages in 22 Ukrainian regions. The group of companies is engaged in grain and oilseed farming, seeds production, cattle breeding, and egg production. The agricultural holding's enterprises are among the largest taxpayers in Ukraine.