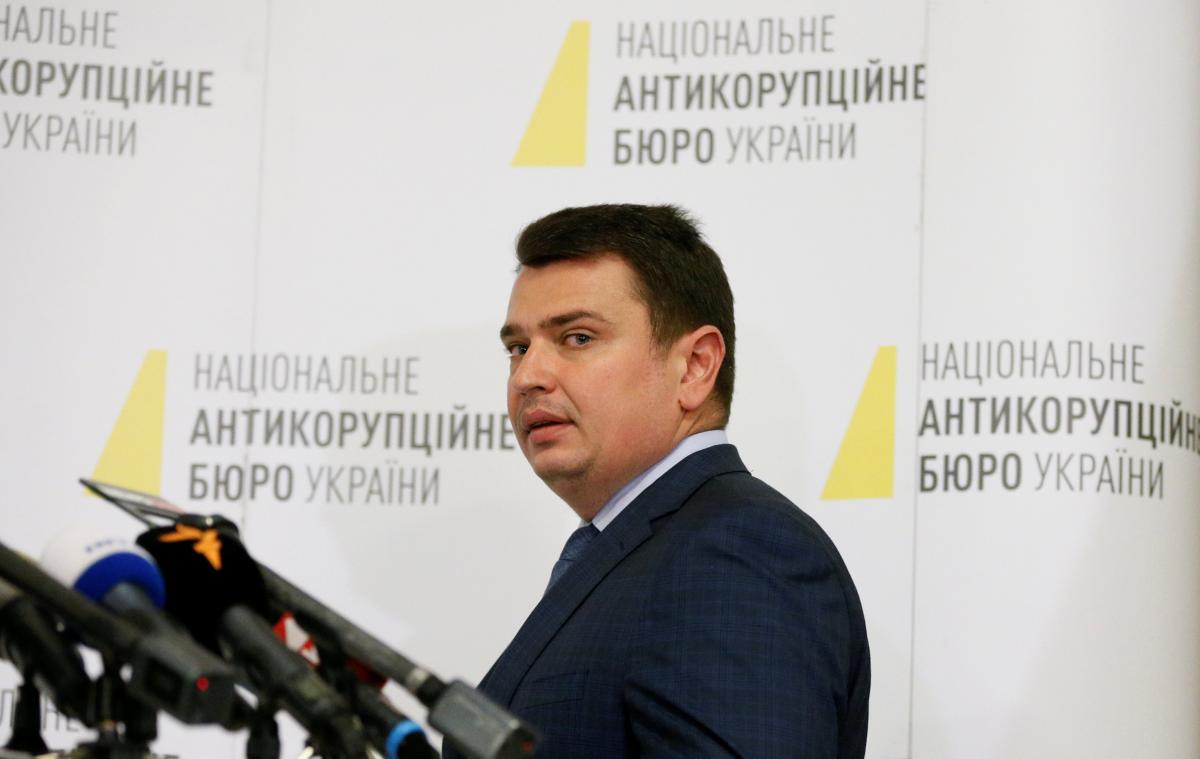 NABU chief Artem Sytnyk / REUTERS
More than 1,500 agrarians have joined in a rally outside the Verkhovna Rada building, demanding the dismissal of Director of the National Anti-corruption Bureau of Ukraine (NABU) Artem Sytnyk, who is accused of putting pressure on their business and posing a threat to their sowing campaign.
Protesters who are employees of the UkrLandFarming agrarian holding are chanting the slogan: 'Sytnyk is a Virus that Destroys the Country,' insisting that an individual who was included in the registry of corrupt officials cannot head NABU, according to a UNIAN correspondent.
Read alsoBakhmatyuk's companies pay over US$313 mln in taxes to consolidated budget
"Today we're urging the president to complete the work that the Verkhovna Rada has already begun – the dismissal of the corrupt official Sytnyk. Please let us be heard! The company that paid UAH 8 billion in taxes to the budget in the past three years and that employs 27,000 people in the countryside should not be destroyed by one person's unhealthy ambitions," UkrLandFarming Operational Director Halyna Kovtok said in a comment.
Agrarians hope that since lawmakers are considering the dismissal of a number of ministers and heads of law enforcement agencies today, March 4, they will also make a decision regarding Sytnyk, a resolution on whose dismissal has already gathered 216 signatures in parliament.
"Sytnyk abuses his office, and over his personal claims against our owner, he terrorizes employees, threatens them with dismissal, therefore they have come to protest here. NABU, having no procedural documents and violating the law, conducts daily interrogations of UkrLandFarming employees and tries to extract confidential information on a case in which these people are not involved," Director of the Avangard enterprise Vasyl Marchuk said.
"A sowing campaign is pending, and we must be in the fields now, but we are standing here. All that we're seeking is to be left alone. It's good for us to work in this country, and we don't want to immigrate to Poland over the loss of jobs," said an employee of one of the UkrLandFarming enterprises in Poltava region (LLC Agrokrai), who was present at the rally.
This is a third meeting since the beginning of this year – UkrLandFarming employees had previously handed their demands with 30,000 signatures over to the President of Ukraine and members of the Cabinet of Ministers.
As UNIAN reported earlier, NABU opened proceedings against the owner of the UkrLandFarming agricultural holding, Oleg Bakhmatyuk, within the framework of which, it started interrogating 10,000 employees of the enterprise without a court warrant. NABU Director Artem Sytnyk is accused of taking personal revenge on the owner of the agricultural holding over the fact that the main witness of the prosecution in the trial of Sytnyk, where he was found guilty of corruption, was the adviser to Bakhmatyuk's sister.
UNIAN memo. UkrLandFarming is the largest Ukrainian agro-industrial holding, which manages the country's largest land bank, which is 500,000 hectares. It is engaged in grain and oilseed farming, seeds production, sugar production, cattle breeding, and distribution of agricultural machinery. It includes the Avangard agricultural group, whose companies produce eggs and related foods (their design capacity is 1.6 billion eggs per year), which are exported to about 40 countries.