Early grain harvesting campaign over in Ukraine
Ukraine has threshed 36.66 million tonnes of grain from 10.1 million hectares sown with early grain crops, according to Ukrainian Agrarian Policy and Food Minister Oleksiy Pavlenko.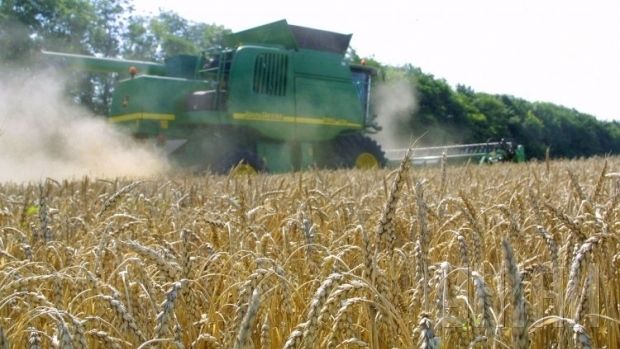 Farmers have threshed 26.8 million tonnes of early wheat from 6.8 million hectares / Photo from UNIAN
"We have threshed almost two million tonnes more than last year. This year nearly 36.7 million tonnes of grain was gathered from 10.1 million hectares with the yield capacity being 3.62 tonnes per hectare," Pavlenko said at a press conference on Wednesday.
Last year Ukraine harvested 34.8 million tonnes from 9.8 million hectares.
In particular, farmers threshed 26.8 million tonnes of wheat from 6.8 million hectares and 8.5 million tonnes of barley from 2.8 million hectares in 2015, the minister said.
A total of 365,000 tonnes of rye was harvested from 144,000 hectare, 482,000 tonnes of oats from 203,000 hectares, 392,000 tonnes of peas from 169,000 hectares, and 1.7 million tonnes of rapeseeds from 674,000 hectares.
Odesa region was in the lead during the harvesting campaign, having gathered 3 million tonnes of early grain. It was followed by Dnipropetrovsk and Kharkiv regions, which harvested 2.8 million tonnes of grain each. Zaporizhia region's yield was 2.6 million tonnes, that of Mykolaiv and Kherson regions was 2.4 million tonnes each. Vinnytsia harvested 2.3 million tonnes.
As UNIAN reported earlier, the Ukrainian Economic Development and Trade Ministry projects a gross yield of grain crops in Ukraine in 2015 at 59.1 million tonnes against 63.9 million tonnes harvested last year. 
If you see a spelling error on our site, select it and press Ctrl+Enter