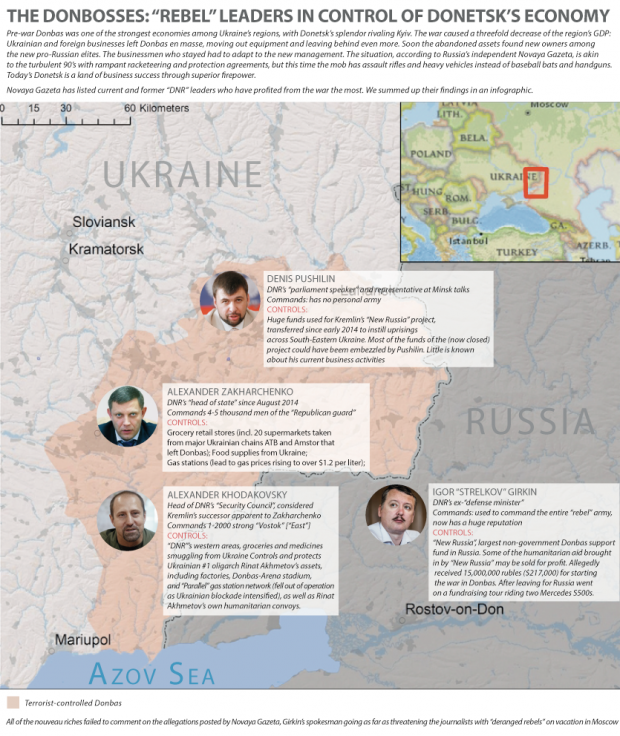 EuroMaidanPress
Novaya Gazeta correspondent reveals "business interests" of four key figures who effectively control all businesses in the militant-occupied areas of Donetsk region: Aleksandr Zakharchenko, current leader of the self-styled "DPR";  Aleksandr Khodakovsky, who calls himself the head of the "DPR security council"; Denis Pushilin, "deputy prime minister" and one of the so-called negotiators in Minsk, and Igor Girkin [nom de guerre: Strelkov] – the former "DPR defense minister" and commander of the "Novorossiya army," khpg.org reports. 
It is no accident that information about the militants should be coming from a Russian source.  It is not possible for Ukrainian journalists in militant-held areas of eastern Ukraine to write openly and critically about the events in Donbas, and most were forced to flee the region.
Aleksandr Zakharchenko's personal wealth has been obtained at a time when hundreds of thousands of Donbas people have been forced to leave their homes, and those who remain in areas under militant control are suffering serious poverty.  Kanygin points out that the economy of the region is three times smaller than it was before the fighting began. 
For the moment, Zakharchenko has 4,000-5,000 fighters in his camp, many from the pro-Russian Oplot.  Kanygin believes that Zakharchenko wields control over most of the liquid assets in Donetsk and the surrounding cities, with his fighters controlling supermarkets, restaurants, etc., as well as those enterprises that remain working.  Kanygin spoke with a representative of the Ukrainian chain of shops ATB. Speaking from Dnipropetrovsk, she confirmed that ATB shops had simply been taken over, with Zakharchenko's wife Natalya in control of them. Zakharchenko's family is now also controlling the Amstor chain of stores. Zakharchenko also has his grasp on the sale of oil and related goods.  
Read alsoSBU exposes sponsors of Russian-backed terrorists in DonbasKanygin spoke with a source "close to the President's Administration" (he presumably means Vladimir Putin's administration) who suggested that the Kremlin knows what such individuals like Zakharchenko are about.  It is not concerned, however, about internal squabbles and how they divide up the goodies.  If the Kremlin wants to put them in their place, it will do so instantly, and they should all remember that, the unnamed source says. 
Aleksandr Khodakovsky controls 1,000-2,000 fighters from the Vostok brigade. The ex-head of a Donetsk SBU [Ukrainian Security Service] Alpha special force unit has also, according to Kanygin, retained many of his old close ties with the Donetsk elite which raises his influence. 
Surely most importantly, he is widely seen as Zakharchenko's replacement, and judging from Kanygin's report, this is how he is viewed by Moscow.  Whether or not with grooming from Moscow, Khodakovsky publically supports Donbas' reintegration into Ukraine, but with close contacts with Russia.
This, it should be noted, is increasingly the line taken in Moscow. 
Read alsoSmuggling trade balloons in war-torn Ukraine's Donbas regionKhodakovsky also presents himself as the potential leader, able to reach agreement with everybody.  According to Kanygin, he is supported by Rinat Akhmetov, Ukraine's richest oligarch and former close ally of Viktor Yanukovych. 
Denis Pushilin does not have his own fighters, nor influential patrons, yet he remains in a prominent position and takes part in the Minsk negotiations.
Kanygin's sources in Moscow and Kyiv assert that from early in 2014 Pushilin received tens of millions of rubles for organizing protests, buying food, transport and equipment.  Huge amounts were spent, for example, on the pseudo-referendum in May, 2014.  The coordinators of the 'Novorossiya project' say that most of this money was simply stolen.
Read alsoFiscal Service official: Ukrainian coal siphoned to Russia, drugs smuggled back
Igor Girkin who was identified by US officials as working for Russia's GRU military intelligence service.  Kanygin notes that "the Kremlin removed Girkin from its list of war managers a year ago." After returning to Russia, Girkin created a civic movement called 'Novorossiya' and collected lots of money, including through tours around Russia, accompanied by PR consultants and ideological comrades.  This was supposedly a volunteer movement and fund that was independent from the Kremlin. 
Kanygin's source for some of his allegations is Vera Girkina, whom he refers to as Girkin's former wife.  She claims that Girkin "made a fortune on this war and the 'Novorossiya movement' is his project".  He was paid generously, including for Sloviansk, she says, and asserts that the amount of money may have been as much as RUB 15 million.