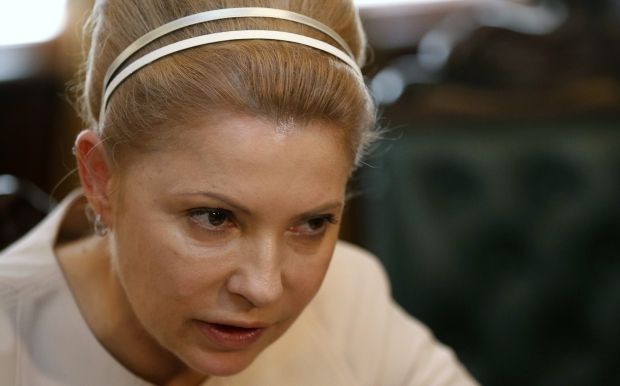 REUTERS
Tymoshenko claims that due to the leak of insider information from the Ukrainian government, Russian Alfa-Bank's subsidiary in Ukraine has earned $320 million on the purchase and sale of Ukraine state debt, which was to be written off by the Ukrainian Cabinet.
The scheme became possible due to the leak arranged, among others, by Vitaliy Lysovenko, who until 2014 held senior management positions at the bank, Tymoshenko said.
"Negotiations with creditors were conducted according to internationally recognized standards of transparency, with a committee of creditors and under the surveillance of the International Monetary Fund. No market anomaly was signaled by market participants or any of the international regulators involved," the ministry said in an official statement posted on its website.
The ministry notes that the importance of the results reached with the creditors was recognized by a constitutional majority at Ukraine's Verkhovna Rada on September 17. "Mrs. Tymoshenko recognized the value of this operation by giving her own vote as well as votes of her political faction. Groundless attacks cannot change the truth and minimize the success of the deal on the restructuring," the statement reads.
Alfa-Bank (Ukraine) also rejected Tymoshenko's accusations, saying that based on the bank's official statements submitted to the National Bank of Ukraine on a daily basis, Alfa-Bank (Ukraine) did not carry out any such transactions involving government eurobonds either in 2015 or earlier, because Ukrainian banks are expressly prohibited to invest in this instrument, according to a statement.
Moreover, the bank is steadily guided by the principles of the rule of law in Ukraine in its activity, in compliance with all the laws and regulations of the Corporate Code of Ethics, which prohibits the use of insider information for the purpose of enrichment, the bank said in the statement.
As UNIAN reported earlier, the Ukrainian government reached an agreement with the creditors' committee on restructuring part of the public debt totaling $18 billion. The restructuring involves a write-off of $3.6 billion, deferral of principal payments in the amount of $11.5 billion for four years, as well as setting a coupon rate under all bonds at 7.75% per annum.
On September 17, the Verkhovna Rada secured the constitutional majority to give the green light to a package of bills drafted by the Ukrainian government on the restructuring of Ukraine's sovereign debt.
On September 18, President of Ukraine Petro Poroshenko signed a package of government-prepared laws stipulating the procedure of restructuring Ukraine's sovereign debt. According to these laws, the Finance Ministry will start exchanging the restructured bonds for new ones, and will stop servicing the old bonds.