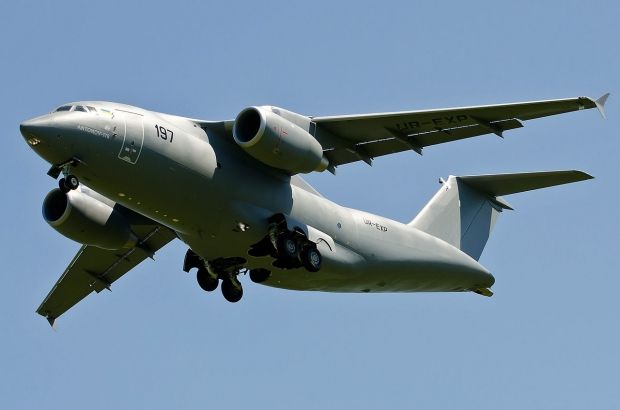 Antonov An-178 / Photo from uk.wikipedia.org
The new AN-178 plane has already left for the United Arab Emirates, where Ukraine will also announce its new AN-132, which is designed to replace AN-32, currently widely used in Asian, African and Latin American countries.
The prototype of the AN-132 plane, which is to make its maiden flight in the second half of 2016, is now being assembled at Antonov's workshops.
"The new Ukrainian plane, which could be seen on blueprints six months ago, is now becoming a prototype. State-run enterprise Antonov's engineers are now assembling the nose cone of the fuselage of the AN-132. Laborious operations become easier thanks to modern technologies. A monitor displaying every detail as a 3D image is standing next to the prototype. Both this transport plane and AN-178 were designed with the use of digital technologies alone," according to Channel 5.
AN-132 is a new light, multi-purpose transport aircraft jointly developed by Antonov and Taqnia Aeronautics Company (Saudi Arabia). The aircraft is based on Antonov AN-32 (NATO reporting name: Cline) twin-engine turboprop.
This light transport aircraft is primarily intended to transport freight weighting up to 9.2 tonnes, while its secondary roles will include aerial delivery of cargo on parachute platforms, airdropping of paratroopers, medical evacuation, reconnaissance, maritime surveillance, and other military and civilian missions.
AN-132 will have Canadian engines and U.S.-made avionic equipment. Its weight-lifting ability is higher by a third.
Saudi Arabia plans to build a plant in its territory to manufacture AN-132 planes. Potential customers are countries in Asia, Africa and Latin America, which now actively operate AN-32. All the advantages of the new plane will be presented at Dubai Airshow 2015 (Stand: 2210).
AN-178 is a short-range medium-airlift transport aircraft currently under development by Antonov. The first AN-178 prototype was rolled out in Kyiv on April 16, 2015. The construction of the second AN-178 aircraft began in March 2015.
The aircraft will be available in both civil and military configurations, and is to replace the ageing aircraft such as Antonov AN-12, Antonov AN-26, and Antonov AN-32.
The AN-178 is expected to face potential competition from Alenia C-27J Spartan, EADS CASA C-295, Lockheed Martin C-130J, Embraer KC-390, and the Ilyushin Il-214.