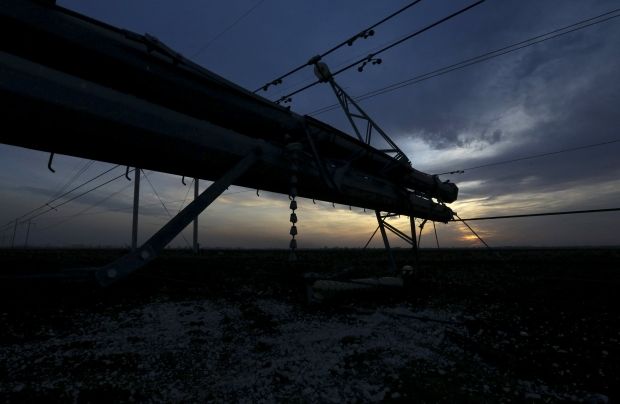 REUTERS
"In spite of the difficult working conditions (the heavy rain, the wind, soaking soil), the repair teams of SE NEC Ukrenergo's Kherson division have carried out planned activity today to repair 220 kV Kakhovska-Titan power lines. They dismantled a damaged pillar, installed a new concrete supporting facility, aligned and fixed the neighboring pillars," the company said.
The repairs to the Kakhovska-Titan power lines, which started on Tuesday, are expected to be completed tentatively by November 26.
According to Ukrenergo, November 26 is set as the nearest deadline for the repairs to the transmission tower in Kherson region, but it depends on a number of factors, including the weather conditions.
As UNIAN reported earlier, the two out of the four transmission pylons on the administrative border between mainland Ukraine and Russian-occupied Crimea, which were damaged by blasts in the early hours of November 20, were destroyed completely in a new explosion on November 21.
The four pylons belong to the power grids supplying electricity to Crimea and some areas in Ukraine's Kherson and Mykolaiv regions.
After the incident, the Crimean occupying authorities reported about a total power blackout on the peninsula in the early hours of November 22. According to some reports, strategic facilities were switched to the independent power supply.