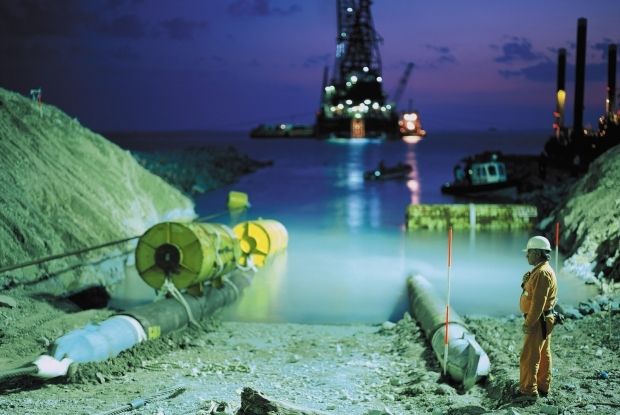 gazprom.ru
"Turkey's actions and the tone of the Russian government's comments do not give grounds for much optimism for those who are lobbying the project. Russian Foreign Minister Sergey Lavrov has canceled his visit to Turkey, scheduled for November 25. The new gas pipeline was going to be one of the main topics of this visit," Nadein said.
"Given the fact that the [implementation of] Turkish Stream has recently stalled because of a fight over Russian gas price, there is good reason to believe that in the near future this issue will not be on the agenda any more. Thus, by the end of next year, there may be no new gas pipeline bypassing Ukraine."
Nadein said that the launch of the Turkish Stream project was officially announced in February 2015, having previously shut down an alternative South Stream project.
"It was assumed that Russia would be able to pump up to 32 billion cubic meters of gas through the Turkish Stream, securing part of the volumes for Turkish consumers, and another part to countries of southeast Europe through the gas hub on the Turkish-Greek border," said the expert.
At the same time, he stressed that the Turkish Stream project from the very beginning has been determined by political rather than economic factors, as any other gas pipeline project bypassing Ukraine.
Read alsoNo deal on Turkish Stream between Moscow and Ankara – foreign media"There is no economic expediency in this, because European countries are not interested in increasing their dependence on Russian gas, but maintaining the volume of supplies at the level of 130-140 bcm annually. Another thing is that Russia is trying at all costs toleave our gas transportation system without transit, therefore it invests heavily in new gas pipelines. But in light of today's events, the Turkish Stream is unlikely to be built," the expert said.
In his opinion, such situation plays into hands of Ukraine and opens up new possibilities for the protection of national interests, as well as gives Ukraine a chance to resume the construction of LNG-terminal, because "the geopolitical situation in the region has changed dramatically," according to the expert.
On December 1, 2014, Russian Gazprom and Turkish company Botas signed a memorandum of understanding on construction of the Turkish Stream gas pipeline, a new gas pipeline from Russia to Turkey that runs across the Black Sea, having an aggregate capacity of 63 bcm a year. In June of 2015, Turkey allowed Russia to conduct an engineering survey in the marine areas of the Turkish Stream. Other work under the project has not been carried out.