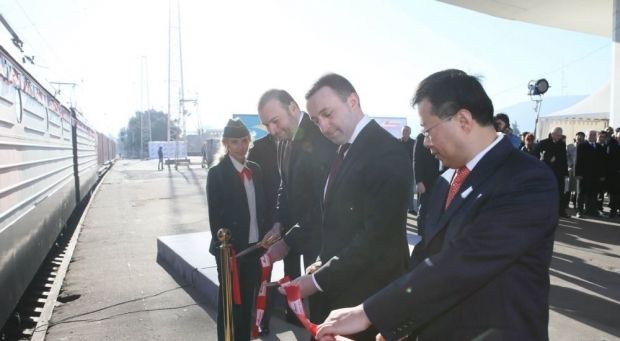 azattyq.org
The project will connect Europe, Eastern Asia, India, Central Asia and the Middle East, the newspaper reports.
The train departed from the Lianyungang terminal in China's eastern area several days ago.
It has travelled through Kazakhstan, Azerbaijan and, after passing through Georgia, will soon arrive in Turkey.
Georgian Prime Minister Irakli Garibashvili, together with the diplomatic corps and Georgian high officials, welcomed the first Silk Railway train that entered Georgia today.
"Today we start to contribute to international wellbeing. The Silk Road has been a significant ground route connecting Europe and Asia," Garibashvili said, highlighting that the Silk Road project will bring more investments and stability for Georgia.
"We started working on the issue two years ago. I presented the initiative at the UN General Assembly on Georgia's involvement in the project. We held the Silk Road Forum which was attended by 1,000 guests from 32 countries. 500 representatives arrived from China. It was a successful beginning," he continued.
According to the PM, the Silk Road will be the cheapest and shortest road between Asia and Europe.
"We can receive goods in 8-10 days from China and send them to Europe in 3-5 days," Gharibashvili added, "Our country is a part of the scale. It allows us additional chances to become a participant of world economic developments. The Silk Road is an impetus in terms of deepening the political, cultural and economic relations," he concluded.
According to Garibashvili his Government will make an effort to turn the country into a regional hub and make it attractive for investors.
"I would like to remark that our relations with China have deepened in recent years. I paid a visit to China where we finally decided to launch negotiations on free trade. Several days ago the Minister of Economy of Georgia signed the memorandum to start the negotiations," Garibashvili said.
According to him, Tbilisi Central Station will receive one more cargo train from China before the end of the year. From 2016, as part of the project, thousands of cargo trains will pass by Georgian transit.