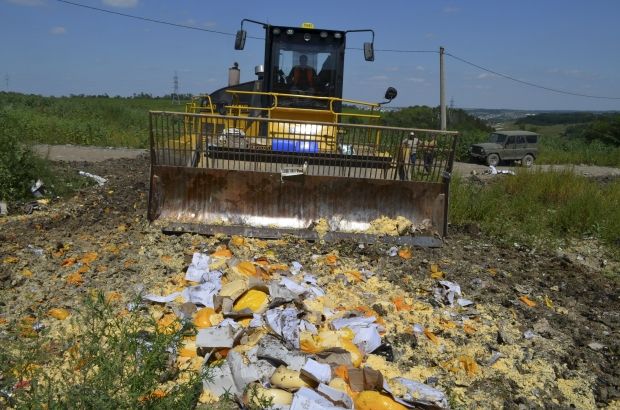 REUTERS
According to data of the Russian Federal Customs Service, seven EU states had their trade turnover with Russia increased in the last year: Belgium (8.8%), Denmark (23.2%), Latvia (18.2%), Romania (+0.2%), Slovenia (2.5%), Croatia (12.4%) and Estonia (10.6%). However, only three of them boosted own exports to Russia, namely, Romania - 8%, Croatia - 7.5%, and Estonia - by 104.8%.
Cyprus also increased its export to Russia by 2.1%, against the background of a 68.3% decline in Russian imports. Thus, total trade volume with Russia shrank 66.8% in 2014 as compared to 2013.
The major EU exports to Russia are machinery and equipment, chemical products, ground transportation, nuclear reactors and boilers, pharmaceutical, agricultural and food products, clothing and footwear, that is products with high added value.
Read alsoYatsenyuk: Ukraine quits FTA with Russia, raises duties on Russian goods, introduces trade embargoAt the same time, energy and other commodity products constituted the lion's share of Russian exports to the EU states.
Almost all EU countries saw their trade relations with Russia decline in 2015. Over ten months, only Bulgaria increased bilateral trade with Russia, but only due to the increase of Russian imports, rather than the country's own exports to Russia.
Even those countries that are not facing conflict with the Kremlin, and have not imposed sanctions against Moscow, have suffered from exports decline to Russia. China, Russia's major trading partner, saw its export to Russia decline 32.4% in the first ten months of last year; the Republic of Korea - 50.7%; Turkey (until November incident with the downed Russian aircraft, there were no trade restrictions between the two states) - 37.9%; Thailand - 34.5%; Brazil (from where Russia intended to import products to replace the banned imports from Europe) - 20%.
Read alsoRussia bans all transit of Ukrainian goodsMoreover, Belarus, Kazakhstan and Armenia had their trade relations with Russia deteriorate in 2015, despite the fact that they had free access to the Russian market within the framework of the Eurasian Union.
Thus, it is clear that anti-Russian sanctions and the Russian embargo were not the main cause for a decrease in exports to Russia for most countries. The main factors accounting for a drop in goods flows to Russia may be the decrease in purchasing power of the Russian population, a significant weakening of the ruble, declining oil prices that cause more pain to the Russian economy and the lack of reforms.