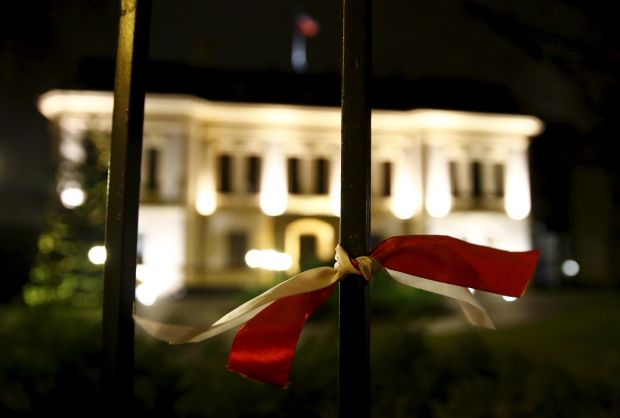 REUTERS
The cut, the agency's first for Poland's hard currency debt, deals a major blow to the nationalist-minded government of the Law and Justice (PiS) party, which won an election in October promising more welfare and widely-shared prosperity, Reuters wrote.
Poland, which joined the European Union in 2004, has gained a reputation as an exemplar of post-communist transformation in Europe, registering the highest economic growth in the bloc over the last decade as it attracted billions of dollars in foreign direct investment.
But any rise in funding costs for central and eastern Europe's largest economy could now put pressure on the government's budget, already strained by promises of additional spending.
S&P said it cut Poland's foreign currency rating to BBB+ with a negative outlook from A-. The A- rating had a positive outlook.
The rating remains well within investment grade, but the agency said it could cut further in the next two years if the credibility of monetary policy is undermined.
The cut immediately sent the zloty currency to a four-year low versus the euro.
"We expect a major Polish government bond sell-off next week," said Rafal Benecki, chief economist at ING Bank Slaski, predicting the zloty currency would weaken too.
"The downgrade reflects our view that Poland's system of institutional checks and balances has been eroded significantly," S&P primary credit analyst for Poland, Felix Winnekens, said in a statement, criticizing legislative changes to the constitutional court and public broadcasting under the new government.
Earlier this week, the European Union began an unprecedented inquiry into whether Poland has breached the bloc's democratic standards by passing the new laws.
The Polish finance ministry said the rating downgrade was "incomprehensible" in economic and financial terms.
Fitch ratings agency confirmed its Polish A- rating on Friday with a stable outlook. Moody's rates Poland at A2 with a stable outlook, one notch above Fitch.
But S&P said: "A law that moves the power to appoint the management... of public broadcasters to the Treasury... significantly weakens the independence of these institutions and has the potential to make them political instruments."