Jaresko discusses steps for 3rd loan guarantee from U.S. in Davos
Ukrainian Finance Minister Natalie Jaresko said she had met with U.S. Treasury Department's Under Secretary Nathan Sheets on the sidelines of the World Economic Forum in Davos (Switzerland) to discuss next steps enabling Ukraine to receive the third $1 billion loan guarantee from the U.S.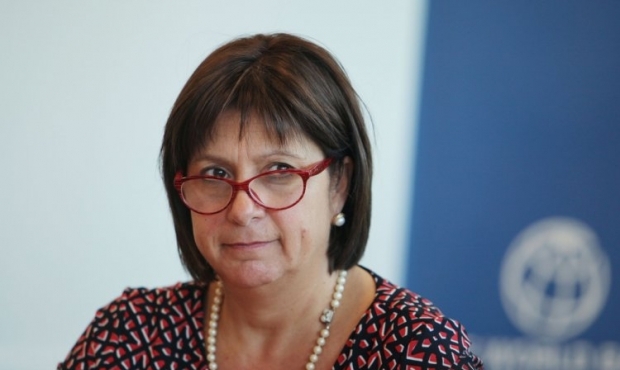 Photo from UNIAN
"Great to meet with Nathan Sheets at WEF16 to discuss next steps to unlock the third $1 billion loan guarantee from the USA," Jaresko wrote on Twitter.
Continuing support, technical support for financial sector and the IMF program were also on the agenda, acording to Ukraine's Finance Minister.
W/ @USTreasury Under secretary Nathan Sheets also talked on continuing support, technical support for financial sector reform & IMF program.

— Наталія Енн Яресько (@n_jaresko) January 20, 2016
Jaresko informed that she had also met with Pierre Moscovici, European Commissioner for Economic and Financial Affairs, Taxation and Customs, and discussed with him the conditions to unlock next tranche of the EU macro-financial assistance.
The minister reported about the meeting with the management of Lazard investment company, which was involved in providing services to Ukraine concerning its debt operation. The sides discussed ways to expand cooperation, as well as attract greater investment to Ukraine, according to Jaresko.
Read alsoUkraine will seek expansion of IMF financing at Davos Economic Forum – expertAs UNIAN reported earlier, the official Ukrainian delegation is participating in the World Economic Forum in Davos, where a series of meetings is planned with Ukraine's international partners, including the International Monetary Fund and the European Bank for Reconstruction and Development.
As is known, Ukraine and the EU signed May 22, 2015 the Memorandum on receiving macro-financial aid from the European Union in the amount of up to EUR 1.8 billion by Ukraine, which comes in three tranches. The first tranche was received in 2015.
In late January 2015, Ukraine and the United States signed the Declaration on providing Kyiv with a loan guarantee of the U.S. government in the amount of $2 billion. At the same time, U.S. Treasury Secretary Jacob Lew said that the U.S. government intended to increase the package of loan guarantees to $3 billion, subject to implementation of reforms in Ukraine in the fields of combatting corruption, energy sector, and business climate improvement.
The first tranche of guarantees was received in June last year, which was followed by the issue of eurobonds by Ukraine for the same amount.
In 2014, Ukraine also received $1 billion loan guarantee from the U.S. government.
If you see a spelling error on our site, select it and press Ctrl+Enter